THE WINNERS: Maker of the Year 2023!

Australian Wood Review is thrilled to announce Award Winners for Maker of the Year 2023, presented by Carbitool!
Melbourne designer maker Wei Wu has taken out the top award of Overall Maker of the Year in addition to winning awards in the Chests, Cabinets & Boxes and Recycled & Rescued categories. He is featured on the cover of the December issue (#121) of the magazine which presents the top 100 entries along with judges' comments and an interview with Wei Wu.
The Ming Noir Cabinet by Wei Wu is an elegant tambour cabinet with a 'frame+storage' structure that configures by means of a simple and finely crafted 'stop stick' – the cabinet body can sit atop or below to create a flexible display space. It is made from recycled Tasmanian oak sourced from a school demolition in Melbourne. While the cabinet and supporting structure are ebonised, the stop stick is left in its original colour 'as a precious point of reference'.
Huge thanks go to our incredible judging team: David Boucher, Lisa Cahill, Ashley Eriksmoen, Jon Goulder, Jess Humpston and Aled Lewis – with such a diverse range of finely crafted work, it's not an easy job! Award winners are shown below and now share in a prize pool valued at over $18,000, including $9750 cash.
Now in its fourth year, Wood Review's Maker of the Year is a unique and respected platform for elevating and highlighting contemporary finely designed and crafted works in wood. The value of these Awards is recognised and supported by leading industry brands. We thank Australian tooling manufacturer Carbitool, our major sponsor for 2023, and greatly appreciate the support of our sponsors American Hardwood Export Council, Bora Tool, Felder Group Australia, Flex Cut Carving Tools, Laguna Tools, The Ultimate Renewable, Whittle Waxes and Wood Solutions.
The December issue #121 is on its way out to subscribers and newsagents now. Subscribe from the March issue #122 to take advantage of our 40% off subscription offer – only $30 for one year print+digital to Australian addresses. Digital editions of the new issue are available within the next few days on Zinio.
Stay tuned for February 14, when Maker of the Year 2024 opens for entries!
Congratulations go to Award Winners and all who entered Maker of the Year 2023!
OVERALL MAKER OF THE YEAR – WINNER
CHESTS, CABINETS & BOXES – WINNER
RECYCLED & RESCUED – RUNNER-UP
Wei Wu, The Ming Noir Cabinet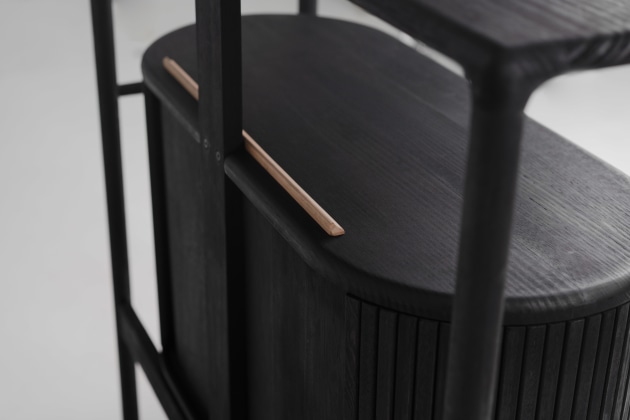 MAJOR SPONSOR

SUPPORTING SPONSORS