AWR Studio Furniture 2018: Meet the Entrants 13
Entries for AWR Studio Furniture 2018 closed on June 26. The process and rationale for the subsequent shortlisting process can be read here. Shortliested entrants are now engaged in producing original and exceptional works for the exhibition which will open on October 20, 2018 at Bungendore Wood Works Gallery, NSW.
Winners of awards valued at $20,000+ will be announced on the night. The exhibition takes place during Wood Dust Australia, however it will run until January 31, 2019.
We will continue to introduce the entrants in a series that will take us up to the opening. You can also see work by shortlisted entrants in the lead-up on our Instagram and Facebook pages.
We are grateful to our sponsors for their support: Bungendore Wood Works Gallery, Felder Group Australia and Branch 95 Timbers.

Benjamin Reddan, Soul of Bespoke
Benjamin Reddan is a passionate designer maker who believes that well made furniture can have a soul with all aspects of making. Whether it's a corner block, hinge or piece of inlay, all can be treated with the same respect and care. In 2014 Benjamin completed his studies and apprenticeship in Cabinet and Furniture Making at the Royal Melbourne Institute of Technology. His final assessment piece was the Ikebana cabinet "Awakening of a Dream" (shown here) for which he received two awards from the Australian Furniture Association.

Vanya Smythe, New Zealand
Newly based in Nelson, New Zealand, in 2017 I completed the full-time program at Nelson's Centre for Fine Woodworking and became interested in woodworking for personal development. I am grateful to the school and to David Haig and David Upfill-Brown for the excellent teaching and assistance they gave me in designing and building my Flying Heart and Epiphany tables. The Flying Heart table was inspired by Sufism and the way of the heart. The Epiphany table is about the five pointed star that guided the three wise men in their quest for perfection. I was raised in a Sufi church and my understanding of the allegorical story of the three wise men is that they represent the three aspects of our psyches; emotion, intellect and instinct. On a good day of fine woodworking, when my emotions, intellect and body seem to be working in harmony, I feel more settled in myself and sometimes experience a deep sense of inner peace. I am interested in designing and building fine woodwork to represent esoteric themes.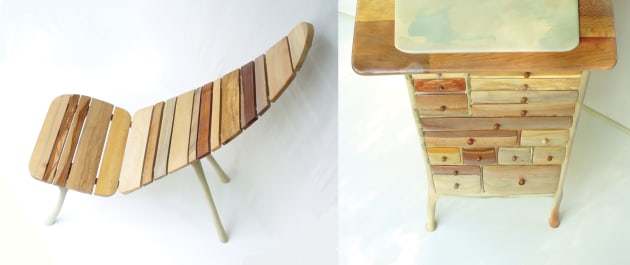 Hayden Hopwood
I've been woodworking for more than 30 years, and in that time I have collected a lot of timber; of which the most appealing are the more unusual, rare and unpredictable spalted woods. These can be very colourful, and are often streaky, spotty worm-holed woods with an olde world-worn aged look to them. They are caught in a process of decay and that gives them an interesting story to tell about Nature and Life. I think all the best woodwork has a story to tell, so when I use these timbers in furniture, I add to and embellish their basic story with the help of paint, texture and softly curved forms. I put flesh on the bones to give life and energy to the work. I'm looking for a robust finished piece, something individual with plenty of character; something having, sometimes, maybe, a semblance of personality to it.

Kanun Onsel
I am a South Coast based artistic furniture designer and maker. My passion and skills grew and developed within me from a young age creating and making things in my father's work place who also was a custom made furniture maker. Designing is very important to me. Working in a contemporary way using other materials like fabric and glass, I'm also involved with home interior product design. I love my work to reflect my passion in working with geometry to create unique and artistic work.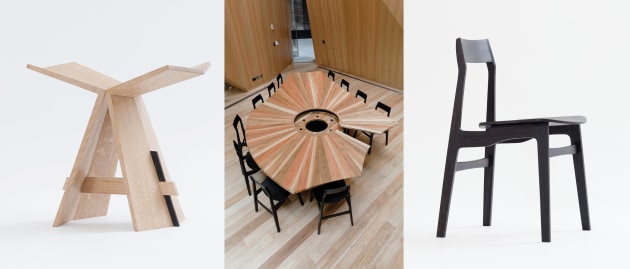 Adam Markowitz, Colin Hopkins
A collaborative work between woodworker Adam Markowitz and ceramicist Colin Hopkins will aim to intersect two traditional streams of craft, Ceramics and Woodworking, and the juxtaposition of these two ancient materials. Shown here work by Adam Markowitz.

Robert Howard, Robert Howard Woodworker
Graduate mechanical engineers are not supposed to work as trade cabinetmakers. Yet, on a fine sunny day, sometime in the mid-1980s, I found myself standing in the middle of a solid cedar, four poster bed that I was making, in a furniture factory in Sydney. I remember, very clearly, looking around at my fellow cabinetmakers, and thinking to myself: 'I can't believe I'm being paid to do this'. I was in woodworking heaven, blessed as too few are, doing work that I absolutely loved. Now, thirty years later, I can look back and see the full significance of my luck. I went on to become a self-employed woodworker in mid-1988, and have continued as one ever since. I buy this freedom by indulging in another love, teaching, in both private classes and by writing for the Australian Wood Review. I have been doing both for more than 25 years. I hope to continue in this way until I depart in a box. Of my own design, and made with my own hands, of course. Website: www.roberthoward.com.au

AWR Studio Furniture is proudly sponsored by: