AWR Studio Furniture 2018: Meet the Entrants 9
The June 26 deadline for entering AWR Studio Furniture 2018 is approaching. An entry comprises a submission of past work. If shortlisted, entrants have until October 16 to complete and deliver their exhibition piece
This is the third of a series of exhibitions produced in partnership with Bungendore Wood Works Gallery, NSW. This year SF18 is presented by Felder Group Australia and sponsored by Branch 95.
SF18 is an awards exhibition now offering $19,000+ including a main cash award of $10,000. Entries are invited from all over the world. The exhibition opens Oct 20, 2018 during Wood Dust Australia and runs until Jan 31, 2019.
It's our pleasure to introduce five more of the talented makers who have entered SF18.
For more details and to enter see here.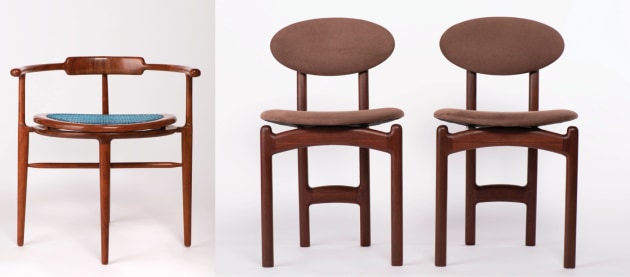 John Coventry, NSW
John Coventry initially trained as a carpenter/joiner, completing his apprenticeship in 1979. He went on to work in various states around Australia. In 1992, John was accepted into the Associate Diploma at the ANU Wood Workshop, headed by the late George Ingham. He had the honour of being part of the final year exhibition which was held at Parliament House in Canberra. John has exhibited his work in various shows including the Craft Council of ACT, ANU alumni exhibition and in Studio Furniture 2010. He has been managing a successful business that produces functional art for the last 25 years.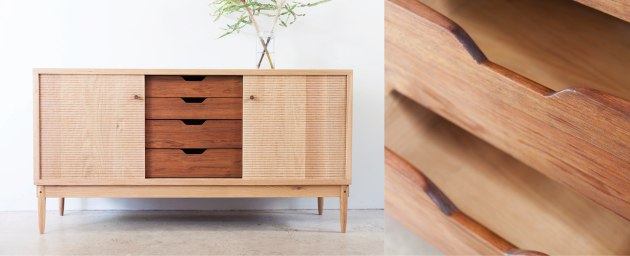 Jonathan West, NSW
Jonathan West makes furniture, joinery and objects from his St Peter's based studio in Sydney, Australia. He designs and crafts one-off commissions, small production runs and site specific works that are considered and aim to express a sense of place. Working with wood, metals and other raw materials his designs are simple but expressive. His materials create an honest and natural palette demonstrating playful and tactile characteristics that invite interaction. Collaboration and experimentation are at the heart of Jonathan's practice as he is connected to a community of designers, makers, artists and friends who provide a constant source of inspiration.
Ian Houghton, WA
Ian Houghton has been a fine woodworker utilising solid timber and veneers from Australian and International timber for over 25 years. His forms often use curved shapes and starbursts with some having a 3D appearance. Ian hand cuts forms and has started designing laser cut pieces for newer work. Ian is the most awarded exhibitor in the furniture category of the Fine Woodworkers of WA annual exhibition, having won seven first places over the last 10 years. He has studied with Michael Fortune and admires the works of Brian Reid. Ian works from his studio in Mt Lawley, WA. His work has been at Bungendore Wood Works Gallery since 2010.
Kristian Frandsen, Denmark
In the heart of Copenhagen you'll find Snedkersind, a workshop and studio with the following paradigm. Stay honest in your approach. Study your traditions and think ahead. Respect your material. Always create with the utmost care and attention to detail. Whether it concerns comtemporary design within furniture or crafts, Kristian Frandsen stays true to the philosophy of always passing on exceptional and personal craftsmanship, handmade with the utmost care and skill. As an educated cabinetmaker from the Royal Household of Amalienborg in Copenhagen, he studied further in field of arts and crafts in Sweden for two years. After travelling around Japan and Australia he finally returned to Copenhagen to establish Snedkersind, which translates to "a makers mind".
Phoebe Everill, Vic
Phoebe Everill is a third generation woodworker with a passion for beautiful timbers and the details that make them sing. Defying convention as a female tradie, she established a successful carpentry and renovations business that focused on personalised designs and exquisite finishing. She then turned her eye to fine furniture by moving interstate to study at Sturt School for Wood in 2009.In 2011 she completed a Certificate IV in Furniture Design & Technology. 2012 saw her awarded an Artist in Residence, providing a studio space and machine access to further develop her portfolio, as well as the the opportunity to spend time with the international and local makers and teachers that Sturt attracts. Phoebe is also an accomplished and popular teacher, with experience teaching a wide range of students ranging from primary and secondary school children, the Certificate IV class, and adult classes. 2013 sees her return to Victoria to re-establish and expand her workshop to include the new wood school at her property in Drummond. Her philosophy towards furniture making revolves around paying respect to the tree by utilizing its wood wisely and respectfully. The result is work that celebrates the unique character of timbers in contemporary and thoughtfully functional designs. Phoebe is an Accredited Member of Studio Woodworkers Australia
AWR Studio Furniture 2018 is proudly sponsored by: