AWR Studio Furniture 2018: Meet the Entrants 6
The sixth in a series of updates introduces some of the talented entrants in AWR Studio Furniture 2018, an exhibition produced in partnership with Bungendore Wood Works Gallery, NSW and presented by Felder Group Australia.The deadline for entry is June 24. Shortlisted entrants will be invited to exhibit their work at Bungendore Wood Works Gallery. The exhibition opens Oct 20, 2018 and runs until Jan 31, 2019.
Designer makers all over the world are invited to enter by uploading six images of past work and including a short bio in the "Entry Description field". There is an $80 fee to enter. Enter AWR Studio Furniture 2018 now.
Alan Walker, NSW

Fine woodwork may seem an unusual hobby for a retired civil engineer and socio-economist, but actually it is not. Fine woodwork like my career requires attention to detail and a willingness to challenge conventional wisdom to achieve a desired outcome. As in my career, my woodwork is continually evolving. I still make standard pieces such as boxes but my interest is now more towards one-off small furniture pieces to my own design. Through private commissions my work is included in presentations to Royalty, Presidents and high profile people. I also sell my work through a local gallery. When your career was your passion you need another passion in retirement, fine woodwork is mine.
Gray Hawk, SA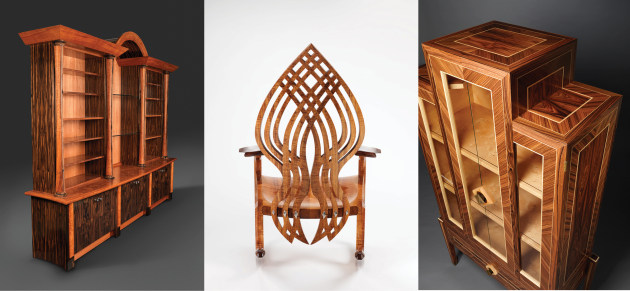 I have been commissioned to design and make bespoke furniture for over 40 years. It has been a great honour and I am deeply grateful to my teachers, mentors and the many great makers who have illuminated the scope of this wonderful profession. My life has foremost been a spiritual quest, and my vocation simply to create beautiful, ergonomic and functional objects to complement our experience of the material world. My practice is steeped in history, tradition and experience. My work is inspired by the edifice of civilisation and in awe of the beauty of nature. For me the challenge is to generate objects with the utmost integrity. For this reason I strive to use tools, machines and processes which produce the highest possible quality. Fortunately I gave up on the search for perfection a few years back. Now I simply aspire to excellence. See: www.grayhawk.com.au
Zina Burloiu, Romania and Terry Martin, Qld
Zina is a Romanian carver and sculptor who lives in Brasov, Romania. Terry is an Australian turner and carver who lives in Brisbane. Between them they have 63 years of woodworking experience and they believe that their combined efforts surpass what they can achieve individually. They have been collaborating for 20 years and now devote much of each year working together. In 2018 they are working in Australia for many months, culminating in an exhibition at Bungendore Wood Works in August 2018, immediately before AWR Studio Furniture 2018 exhibition. See Terry Martin's website: www.terrymartinwoodartist.com
Simon Hooper, Qld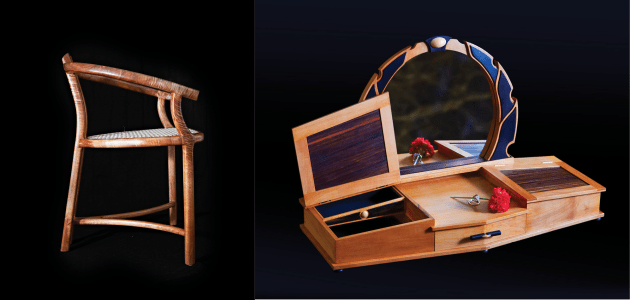 My woodworking career began on the end of a Hargen saw cutting sleepers and fence posts in North Queensland. I became fascinated with the timber and was always excited at the prospect of opening a new log and being the first person to discover the hidden treasure within. My early furniture was built out of necessity and was big, solid and rustic. I was forever hobbled by my lack of equipment and woodworking skills, however, I was obsessed, and continued making furniture which I began to sell at the local markets. After moving to Sydney decided that if I was ever to make a living out of furniture I needed to get some formal training. Two of the most rewarding and productive years of my life were spent at the Canberra Institute of Art wood school. In Brisbane I started a small building company but over the years furniture became my main focus. My designs now draw from Art Deco and oriental practices. The techniques used in these pieces are extremely challenging, and require a degree of perfection that constantly taxes my ability. Therein lies the extreme sense of satisfaction gained through being challenged and coming through the process with a piece you look at, and say, 'Did I make that?' See: www.simonhooperfurniture.com
Ross Williamson, Qld
Ross Williamson is a designer maker from Samford, Brisbane. An emerging talent in the furniture world, he has a background in graphic design and hospitality branding. Ross trained under the watchful eye of Roy Schack at the Brisbane School of Fine Woodwork to pursue his original love of furniture design and creation. Having grown up in a rural setting and been involved with his family's agricultural engineering business from a young age Ross is happy to fall back on a strong engineering background to create his furniture. Through their business Lee Sinclair Design Co, Ross and fiancé Katelee, have developed a range of customisable furniture based on quality craftsmanship for everyday living. See: www.leesinclairdesignco.com
Proudly sponsored by: