AWR Studio Furniture 2018: Meet the Entrants 16
With three weeks to go before the October 20 opening of AWR Studio Furniture 2018 things are really taking shape with many pieces now complete. Over $21,000 in awards will be presented:
Bungendore Wood Works Gallery is sponsoring a massive $15,000 in cash awards, including a first prize of $10,000.
Felder Award for Fine Woodworking, a Hammer N4400 bandsaw valued at $3166
George Ingham Chair Prize, $1000 sponsored by Adrian Potter
Interwood Award for Excellence, $1000 sponsored by InterwoodShop.com.au
Emerging Designer Maker, $1000 sponsored by Studio Woodworkers Australia
The exhibition opens during Wood Dust Australia, and will run until January 31, 2019.
There is one more instalment in this series that introduces you to all the talented entrants. You can also see work by shortlisted entrants in the lead-up on our Instagram (see #studiofurniture 2018) and Facebook pages.
We are grateful to our sponsors for their support: Bungendore Wood Works Gallery, Felder Group Australia and Branch 95 Timbers.

David Luckensmeyer
I have the privilege of making things with my hands, things which enrich the lives of those around them. For me, timber evokes something transcendent. I like the concept of 'listening' to each piece of timber in order to determine its single purpose. Such a purpose involves giving timber a 'second life'. That resonates with me. Every aspect of my work, from design concepts through to delivery, and the shaping, crafting and care in between, is imbued with my creative energy. But more than that, I embrace every technique, traditional and modern, and use the best methods to achieve the finest outcomes. With an extensive shop at my disposal, including European CNC machinery and tooling, a high level of efficiency and accuracy is brought to my work. But sometimes the old ways are still better and faster—for example, no machine can cut dovetails with proper proportions between tails and pins. I craft this prized joint by hand. Website: www.luckensmeyer.com.au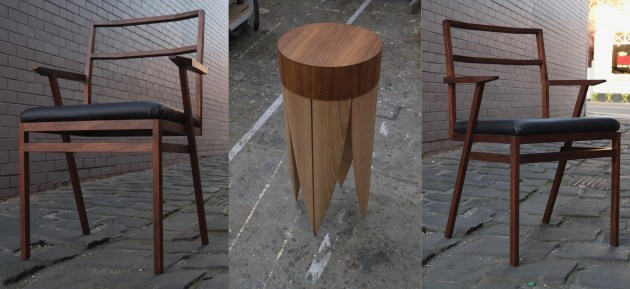 Alex Hamilton
I am a second year apprentice working for Anton Gerner Furniture in Melbourne, Australia. I strive to design furniture that is unique in style whilst still remaining practical and marketable. My entry to this competition will be a table I have designed called the Tulip Table. In the photos I have submitted you will see a prototype I made, however if shortlisted, the piece I will submit to you will have more detailed features and be made of blackwood and Huon pine sourced by Hydrowood from Lake Pieman in Tasmania. With this design I have married elements of the natural world with contemporary furniture whilst creating a piece that is both functional and saleable.
Marinos Drakopoulos, Marino Made
I founded Marino Made in 2016, designing and making furniture. A combination of both traditional craft and contemporary digital techniques. I strive to create pieces that are refined, with attention to detail, care in material choice and process. I take time to design each product with care and consideration from the beginning. This begins by thinking about what a piece needs to do and how I can achieve this in both a beautiful and functional way. The final product is always a balancing act between my own instincts as a designer and the realities of creating a functional piece from raw materials that will be both comfortable and last for years to come. Website: https://www.marinomade.com  Instagram: @marino_made
Martin Goebel, Goebel & Co Furniture, USA
Partnering with designers around the world, Goebel & Co Furniture headquarters is both their showroom and production studio in Saint Louis, USA. Distinguished by fine materials, handcraft, automation and original design, Goebel & Co partners with luxury brands and designers in the residential, hospitality and contract furniture markets. Goebel & Co continues to present designs of superior quality and innovation evident through the use of timeless lines and uncompromising craftsmanship. Products are created using our unique American manufacturing process rooted in the intersection of hand-craft, digital design and automated production. Goebel & Co's aesthetic emphasizes simplification, facilitating better life through elemental design while celebrating the world's finest materials. The Calypso is a modern table made from billet brass which has been mirror polished to highlight Mexican Ziricote from Quintana Roo. www.goebelfurniture.com
Ruth Thompson
After 35 years as a high school teacher, I am living the good life in my studio/shed. I enjoy working with fine materials, combining beautiful timber and textiles into objects that I hope will be passed through a generation or two. I describe my aesthetic as a melange of Bauhaus, Shaker and Arts and Crafts; quiet shapes teamed with extravagant decoration.
Julian Beattie, Makestuff
Julian Beattie has been designing and building furniture for the past 25 years. Starting from humble beginnings in the garages of whichever rental property he was occupying in Geelong, Melbourne and finally Torquay, to the workshop built by him to house his company Makestuff. Building many bars and comercial fitouts, among other things, has given him practice in different design and building techniques borne of varied and challenging briefs. While all the time returning to the rewarding work of custom made furniture, often with the curves that are one of the signatures of his style. Julian is all about creating unique spaces with heart and warmth and loves to bring graceful curves to a piece, softening the edges to be gentler on the eye. This – combined with a love of timber – has lead to many distinctive pieces over the years which are now becoming a collection. Website: www.makestuff.com.au
Orest Danylak, Croydon Suspension Light
The touch and smell of wood is a driving force within – it is bewitching, it exudes tradition but yet allows for seasonal changes. It is authentic. It can be designed, considered, sawn, planed, roughed out, finished out individually or replicated in form. It is a material that testifies to the skill, judgement, honesty and integrity of the maker. I have chosen to live and breathe woodwork and the art of furniture making. This choice has come about following completion of studies in architecture at Sydney University and postgraduate studies in Fine Furniture Design and Technology at the Sturt School of Wood. Working on a commission basis has shown me the need to be constantly on the lookout for new opportunities and as a result I am in the process of collaborating, designing, and manufacturing my first collection. I am keen to contribute and be part of a broader creative, learning and making community and to share my passion, knowledge and skills with others.
Bill Burford, Bill Burford Detailed Joinery
Bill Burford completed his carpentry/joinery apprenticeship in 1994 working at Fairbrother P/L in their Devonport workshop where he credits the owner, Royce Fairbrother, and his senior tradesmen for instilling a high level of pride in his completed works. Subsequent years saw Bill expanding his skill set into workshop and project management with commercial joinery companies in NSW and Victoria, but he realised his passion was working hands-on with Australia's finest timbers, pushing the boundaries of what could be achieved using various construction techniques. The opportunity to work with Reid Brothers Furniture in the Southern Highlands of NSW opened his eyes further as to what could be achieved in this field, and also the realisation that there are still discerning customers who demand the finest attention to detail. Bill is now based in Ulverstone, along with his apprentice, Isaac, specialising in solid timber stairs, balustrading and architectural timber joinery to some of Tasmania's finest homes of which have won many national awards. Laminated Huon Pine combined with Marine ply to create the most comfortable non-upholstered dining chair.
Chelsea Lemon, Chelsea Lemon Design
Chelsea Lemon is a Canberra based designer and maker who works with timber. Many of her pieces include foliage and plant themes, mixed with interactivity and the decorative woodworking technique parquetry. Chelsea's work explores new ways of incorporating shapes into design, by creating dynamic geometric arrangements and forms that are influenced by nature. In 2015 she graduated from the Australian National University with her Honours in a Bachelor of Visual Arts, majoring in Furniture Design. Chelsea received the 2014 Designcraft: Craft + Design People's Choice Award for her Triangulation Chair, and has exhibited her furniture at Parliament House, Australia. Chelsea's work questions archetypical furniture, and showcases a new and fresh approach to a traditional woodworking technique. Her practice incorporates art into craft and design, and offers a new perspective on furniture design within Australia. Website: http://chelsealemon.com.au
 AWR Studio Furniture 2018 is proudly sponsored by: