Isaac Ferguson: Featured Maker of the Year entrant

Above: Isaac Ferguson in his Townsville, Qld workshop.
This year and last we've enjoyed the caricature 'whittles' that Townsville based woodworker and teacher Isaac Ferguson has entered in Maker of the Year presented by Carbatec. We took the opportunity to ask Isaac how he developed his skill for carving portraits.
Carved characters byIsaac Ferguson, left to right: Hugo Weaving as Agent Smith, Mr Bean aka Rowan Atkinson, Hugh Jackman as Logan, Owen Wilson, Sylvester Stallone as "Rambo".
Isaac, you've said that you 'need to love who you're carving', but are there other things that influence your choice? What makes a good subject for caricature?
You become engrossed with the character because you're meditating on them for so long, and if it's Hannibal Lecter or The Joker or Heisenberg you're meditating on a pretty dark subject matter. So it's good to switch gears and make a Carl Fredrickson or a Colin Buchanan.
As to what makes a good caricature, 95% of my subjects have a 'Y' chromosome simply because I can't capture women very well. They're too soft and smooth and beautiful. Flat plane carving typically lends to hard, sharp facets so it's easier to make crusty old bearded men. A good caricature identifies and accentuates the distinctive feature of the person. Owen Wilson's crooked nose for example.
Above: Whittle Carl Hendrickson: Inspired by the cantankerous cartoon character from the Pixar movie 'Up'.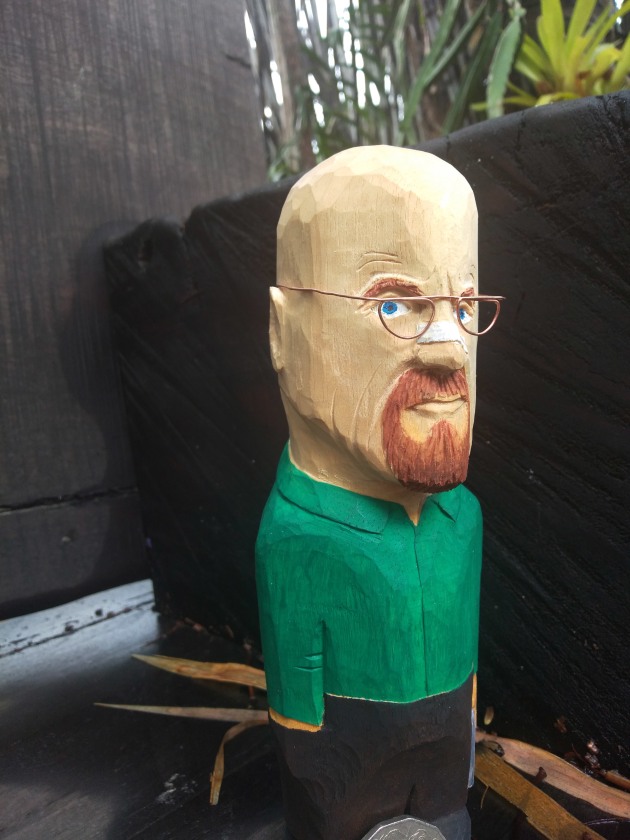 Above: Isaac Ferguson's whittle Walter White: 'As a secondary school teacher I must admit to fantasising about a secondary vocation at times. After watching 'Breaking Bad' in 2020, I was reminded how greed, pride and self justification are a scary, insidious cancer. Lung cancer is one thing, soul cancer is another thing entirely. I carved Walter White to…remind me to be wary of cancerous compromise and not grow weary of doing good.'
Where did you learn your woodworking skills and what inspired you to whittle these character carvings as well? What's the thing you enjoy most about this facet of woodworking?
I learned furniture making being apprenticed with an outstanding craftsman – Joel Dubbeld of Studio Dubbeld. I still love making on the scale of furniture and joinery, but whittling/carving is just so portable. The time spent sidelined at your kids sporting practices and other extracurricular events can be redeemed by bringing a little leather bag of tools and a block of jelutong to whittle away the time. Also the resultant products are easily accommodated at home. My wife grew tired of trying to fit superfluous chairs and coffee tables into our house, but a 6" whittle Walter White takes up very whittle space. So, there are pragmatic reasons for it, but primarily, it is a very satisfying pursuit I've found.
For the whittles we've seen in your MOTY entries and other characters shown on your Instagram page you've used broad knife cuts and textures. It almost seems like you're using less to create a whole lot more. What's the secret to capturing the essence of someone's personality?
The toolkit is simple. I use a carving knife for 90% of the time perhaps because where I learned (Doug Linker's Youtube channel) he advocated this, or perhaps I was reluctant at first to splurge on some palm chisels. I have added a few gouges and a V-tool for occasional shaping or texturing. Depending on your school of thought, sandpaper can play a role but it's rare for me. Capturing the essence is an elusive challenge. A character's likeness may manifest with just the right slice of the knife (Edna's frowny mouth or Hugo Weaving's forehead for example). But sometimes it's about trusting the processes and knowing a good paint job can redeem a piece and bring it to life.
We know you're a high school design and technology  teacher. What do you think are the most important things that your students learn from this subject? What do they enjoy the most?
Above: Pinocchio CO2 Race Car carved by a Year 8 student.
The teachers I gleaned from were those who knew their stuff and showed that the knowledge was valuable; I try to do this for my students. I do this by being as prolific as possible and showing that woodwork isn't just an industry pathway with possible employability outcomes (which is important) but perhaps arguably has further reaching communities of people and possibilities.
I do the almost obligatory custom job on holidays using white melamine, and I sometimes do a market and sell bowls and homewares with my woodturning brother (woodbgood.com.au). But then I have sold through Bungendore Wood Works and have an animal carving in The Percivals at the Perc Tucker Regional Gallery. Students see the validity of the subject and its scope and suddenly the low rigour subject has greater weight, at least in their perceptions.
Furnishing skills born out of industry experience is what they primarily learn from me, though carving gets the occasional feature. A Year 8 girl designed a Pinocchio CO2 Race Car (shown above). And a few years ago a furnishing student carved a face mask (shown above) and the class signed the back of it and gifted it to me when they graduated.
See Isaac Ferguson's 2022 Maker of the Year entry here. See more of his work at Instagram @timbertnt
Enter Maker of the Year presented by Carbatec at www.woodreview.com.au/moty2022
MAJOR SPONSOR

SUPPORTING SPONSORS