Historical: Early Australian Toolmakers

Falcon No 5 (Pope Products)
Words: Rod Thomas, Hand Tool Preservation Association of Australia Inc
Toolmakers have always played a vital role in Australia's history, from the indigenous toolmakers through to individuals who are today making classic style tools to meet the needs of a discerning clientele. Because tool making is such an extensive subject, this article mainly draws its examples from manufacturers of planes, as I believe the plane to be a common denominator between woodworkers, collectors of tools and the average person. This is in no way the complete story of Australian toolmakers but, hopefully, it will give some indication of the important part toolmaking has played in Australia's history.
Early history
The first Australian tool makers were the indigenous people, who used stone, shell, bone and wood, to fashion tools for their day to day activities. As other materials became available, glass and metal for instance, these were incorporated into tools – metal in axes, glass in 'Kimberley' points, knives and spear points.
McConnell welded metal
With the First Fleet, tools to support the young colony also arrived. These wore quickly and needed repair and replacement. As the supply turnaround from England was a lengthy process, the skills of the blacksmiths were soon required to fashion replacement tools, mainly axes, and it is reasonable to suggest that blacksmiths were the first European tool makers in Australia. Many of the tradespeople on the first and subsequent ships would have carried on the tradition of making their own tools. By choice, and also by necessity, again because of delays with supply from England.
The discovery of gold in the mid-19th century brought many people to Australia, including some with toolmaking skills. For example, some of the Chinese immigrants were cabinetmakers and also recognised planemakers, making a form differing from the European style of plane and using some of Australia's harder timbers, such as ironbark. Chinese-made planes usually had a plane blade or chisel of English manufacture as the cutter, wedged with a nail. Louey Woon and Lim Toon are two who marked their work.*
Jas McLaren infill
Growth of toolmaking
Toolmaking increased in Australia, but there are few recorded tool makers from the 18th or 19th century. In the late 1900s there were a number of established toolmakers. Amongst them, John Mann of Ballarat, Victoria, made a nicely engraved 28" level of mahogany and brass, dated 1868. He was also responsible for a large sliding bevel constructed of brass. Percy Nichols from Tasmania made a closed handle three reed moulding plane (1890s) and Jos. Wehner & Co of Queensland made moulding planes (c. 1900). William Blakeley, saw doctor, set up business in Melbourne during 1867 and was very successful. The business, run by his descendants, continues today.
Between WWI and WWII a few wooden plane makers tested the market. William James, Melbourne, developed an adjustment mechanism which he fitted to his wooden planes. E. Kennedy, Melbourne, made a full range of bench planes using blackwood, including one in the Chinese style. Innovators, such as Richard Bray of Melbourne, patented a multiple blade woodworking plane and Herbert Watkinson of Tasmania an adjustable spokeshave plane. Watkinson also designed two adjustable planes and patent details show the complexity of his ideas.
Turner No.5
Others followed; Berg Aust Tools Pty Ltd, Sydney, made a series of bench planes, the most common example seen today being the German Jack. HPL, Sydney, made rebate planes. Infrequent examples have also been seen of planes made by Morris Manufacturing Co, Melbourne, and C. Wood, Maker, Sydney.
Marked planes, made of what appears to be English beech, have also been sighted. The English beech, however, creates some doubt as to whether the planes were locally made, as some merchants imported unmarked tools and applied their name, or possibly had their mark put on by the overseas supplier. Some names that could fall into this category are Thos B Linley, Sydney and T & M Woolley, NSW. An example is a plane with the name J. Edwards – Maker – Vic, which is also marked Mathieson, a large Scottish maker.
S&O Handee pressed metal block plane
There are examples of planes made of Australian woods but they carry no mark to indicate whether they are a once off user made or the product of a small toolmaking operation. Arguably, the nicest plane made in Australia from this early period was a classic style dovetailed metal plane with blackwood infill, made by Jas McLaren, Melbourne. A few variations and sufficient numbers seen suggest a small commercial enterprise.
Select diecast hobby plane
Major changes
The major changes in Australian toolmaking took place towards the end of, and post, WWII. Imported tools were scarce and to meet the increased demand some of the war time production facilities were channeled into tool making. The Lithgow Small Arms Works had done contract work since 1922 and, as the war came to an end, they involved themselves in the production of quite a diverse range of components for manufacturers of the day. Tools by the name of Zircalloy, Gyrex and handsaws marked River Lett are from SAF (Small Arms Factory).
Level by John Mann of Ballarat
Other manufacturers who were a part of the boom in Australian toolmaking included BHP, Gregory Steel Products and Carter Tools Pty Ltd. BHP established the Titan Chisel factory in Tasmania. Gregory Steel Products (est. 1911) made a diverse range, including replacement blades for small planes, spokeshaves and the like. Although they did not make planes, it is not unusual to see a Gregsteel marked blade in a tool, including Richard Bray's previously mentioned plane.
Carter Tools Pty Ltd set up their plane production line around 1945 using machinery purchased from the Lithgow Small Arms Works and adapted to suit their needs. Their range of planes was extensive and involved production variation. To the collector they are quite a challenge. For instance, there are four different No 4s, size, casting and marking variations. Throughout the range there are four different markings on cutters, and five different lever caps.
Goodwood small block plane, diecast
New materials
New materials came into use with the boom in Australian toolmaking. Bakelite, nylon, stainless steel, duralium, aluminium, alloys and diecasting of zinc and aluminium were available and were embraced by many tool makers. Examples include Acme Engineering, a bakelite drill stand, Ridex Engineering & Plastic Mouldings, a bakelite marking gauge, Roe-Mardon, nylon folding rules with stainless steel fitments and William J. Peacock – Pyramid, a duralium roofing square.
Planemakers also embraced the new materials and departed from the accepted norm of a cast iron body, frog and lever cap with a wooden handle and knob. Falcon/Pope, Turner and Stanley adopted diecast zinc frogs for their planes. The small Goodwood and the Select hobby plane were totally of diecast zinc. A further innovation of the Select was the use of a razor blade as the cutter. The Adept chamfer plane and the Masonite chamfer/edge trimming plane were of aluminium. The Alanware bench plane had a bit of everything, an alloy body and frog, aluminium handle and lever cap and wooden knob.
Falcon No 220 block plane
QPC (Quality Patterns and Castings) concentrated on aluminium castings, making replacement plane handles and knobs, also file and saw handles, a small hacksaw frame, a range of glue pots and other items from aluminium.
With heavy presses available, planes with pressed metal bodies came onto the market. These included similar planes marked Vaughan and Handee (presumably from the same maker) and a slightly larger block version from Whittingslowe. Robert McConnell's last variation had a heavy pressed base. McConnell had started with a fabricated riveted construction, then a similar version welded.
Innovation
Inventors played their part in Australian toolmaking. Robert McConnell from Queensland and William Whittingslowe from South Australia were two of our most active inventors, registering dozens of patents and registered designs. Both had a version of a woodworking plane. Other items included a device for projecting a boomerang, tent and hammock combination, meat press, wringer, impeller for mixing drinks and kitchen utensils incorporating grater, slicer, peeler, corer and cutter. As far as tools, McConnell had only three items that came to production. His plane in its different forms, a drill bit resembling a flattened nail and a vice. Whittingslowe produced his pressed metal plane, a machete, paint scraper and a number of pocket knives, including those he supplied to the army. A number of his kitchen utensils turn up today.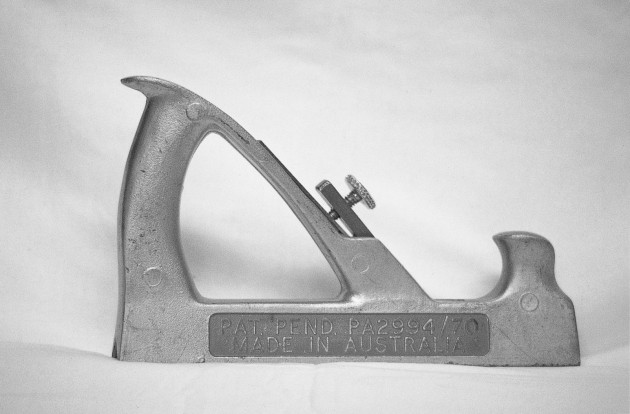 Adept aluminium chamfer plane
Large company involvement
Many large companies were involved in Australian toolmaking. Pope Products Ltd (started 1925) and Turner Industries Ltd (started 1935) were two well established companies, possibly better known for washing machines, mowers and other domestic items, who were involved in the production of a range of tools.
From about 1945, Pope made woodworking planes and some other tools, and from 1960 Turner made a wide range which included woodworking planes, levels, hammers and, of course, their well known screwdrivers which they had been making since the 1940s. As an example of the innovation of Australian toolmakers, Turner overcame the problem of wooden plane handles breaking by making their handles and knobs from cellulose acetate, a nice ruby-red translucent colour, the same material used for their screwdriver handles. A further innovation saw the handle and knob keyed into the base casting to overcome lateral movement.
The biggest player, Stanley Tools Division of The Stanley Works Pty Ltd, the worldwide tool manufacturer, entered the Australian market during 1963 by acquiring a half share in Titan Manufacturing Co Pty Ltd, which then became known as Stanley-Titan Pty Ltd. Planes were introduced to the range alongside chisels, tape rules, drills and various other items.
During 1970 Stanley-Titan Pty Ltd acquired Turner Industries Ltd and approximately 20 years later, in 1991, The Stanley Works Pty Ltd acquired from Siddons Industries Ltd, the Sidchrome Brand, famous for its spanners, wrenches and also the Dawn Brand Products. Earlier, in 1973, Siddons had acquired Dawn Manufacturing Co Pty Ltd (started 1917). Dawn returned to individual ownership (1998) and continues to manufacture as Dawn Quality Tools Vices and Clamps. As a result of company acquisitions The Stanley Works Pty Ltd became the number one player among Australian toolmakers but, in early 2002, ceased all tool production in Australia.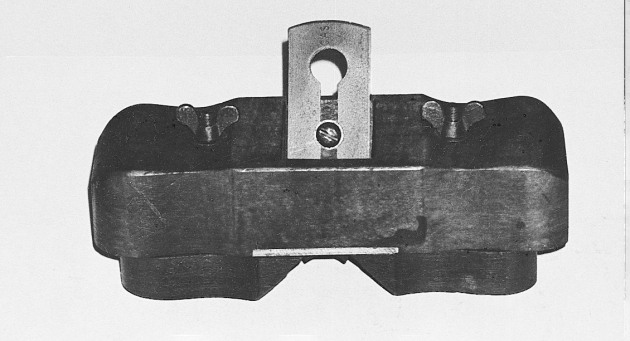 Bray multi-blade
Current position
Toolmaking was not the main activity of many companies and, as imported tools became more available and competitively priced, tool production was phased out. Companies were taken over by larger companies and gradually the companies involved in tool making reduced from several hundred to several dozen. Currently, as in many areas of manufacturing, it is hard to compete with some overseas producers.
As the 21st century begins it seems toolmaking in Australia has virtually ceased, particularly when compared to the vibrant ten years or so following WWII. However, some small manufacturers are still operating and there are individuals engaged in tool making who produce a small number of planes and other tools, generally in classic styles.
Australian toolmakers still exist, although on a much reduced scale. Planemaking was the common denominator for this article so, in closing, I point out that from time immemorial man has been scraping bits of wood, using shell and stone, gradually evolving to ever harder forms of steel, as the blade. Refinement of the apparatus to hold the blade and the quest to make a better shaving continues and Australian toolmakers have certainly made a contribution to these activities.
Other Australian planemakers not already mentioned are Davleco, Durham, Pacific, Sharmanco, Surform (of Ballarat) and Woodstock. Additional information was gleaned from Trevor D. Semmens book Australian Woodworking Planemakers, the first publication on the subject. If some of the comments in this article are not from my original research they can be credited to Trevor Semmens, John McDonald, Graeme Plaw or Bob Crosbie who amongst others share my interest in Australian makers.
* See Chinese-Australian furniture makers and their tools
Republished from Australian Wood Review, issue 37, December 2002
Rod Thomas was a long-standing member and former librarian of the Hand Tool Preservation Association of Australia Inc. The aims of the Association are to encourage the preservation and documentation of hand tools, to increase knowledge of their use and of the trades and crafts that used them, and to share this knowledge and co-operate with other individuals and organisations with similar interests. More information regarding HTPAA membership and publications is available from www.htpaa.org.au