The Apprentice


Above: 'Looking back on the first half of my apprenticeship, it's hard to believe I've worked on every product in this shot.'

How does a Canadian with a newly kindled interest in woodworking come to be apprenticed less than two years later to a renowned craftsman in Miki, Japan? We asked Benedict Viertelhausen this and many other questions about his year-long experience in the workshop of Toshio Tokunaga.
Three years ago you took a beginner boxmaking course and now you are totally committed to a new path in life. Where did the interest in Japanese woodworking come from?
I attended an intro course at my local community wood shop in the beginning of 2016. During a brief slideshow, the instructor described various schools of woodworking; one of which was Japanese woodworking. It was described as a style of woodworking that valued wood as a living material with an important history. It employed tools of outwardly simple design, and used very few fasteners, as a rule. Additionally, it seemed to stress the critical importance of building one's skill with hand tools. 'We won't be doing any of that today', he told the class. Whether that was a little bit of reverse psychology or not...I think that peaked my curiosity.
Do you speak Japanese?
I didn't speak a word when I started out. By the time my apprenticeship began, it was expected that I would be able to. There were a few late nights of studying in the time leading up to my training.
Left to right: Apprentices Hiromi Otake, Ayako Ohama, Benedict Viertelhausen in front of the workshop with master craftsman Toshio Tokunaga on the day before Benedict returned to Canada.
How is it possible for a Canadian to be apprenticed to a craftsperson in Japan?
I would say more than a little bit of luck. As a foreign apprentice, learning the language proved a great way to demonstrate commitment. That being said, finding a teacher that suits your working and learning style can take years, even for Japanese students. So I think I got very lucky to find my place with Master Tokunaga.
Can you tell us a little about Toshio Tokunaga, his style of work and the principles that guide it?
Master Tokunaga embodies many of the characteristics of what you or I might picture as a master craftsman. He is dedicated, tireless, disciplined, and of a singular talent. Beyond that however, he is kind, quick to laugh, and possessing of a contagious joie de vivre.
If I had to try to explain his style, I would describe it as 'inviting'. His work invites you to touch and to look closely at subtle detail. Carefully selected materials invite you to reflect on the line between nature and human imagination.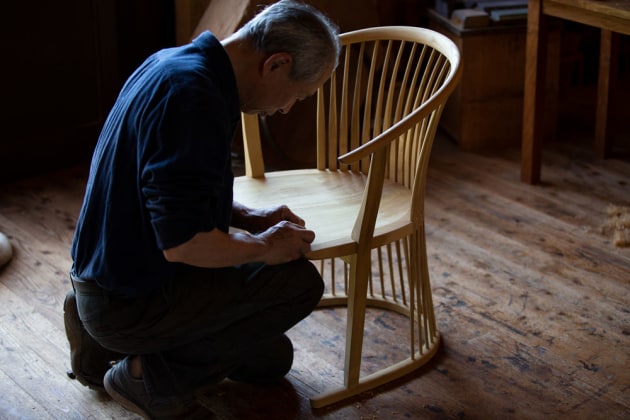 Above: One of the last made during Benedict's apprenticeship, a chair made from Japanese mulberry receives a final correction from Master Tokunaga.
What did you hope to learn as an apprentice? How many other people / apprentices work in his studio? Were you a paid? What were your duties? How did you survive financially?
I had a little experience before I arrived, and was working independently on honing my skills with a saw, kanna (a Japanese hand plane) and a chisel. I could sharpen to a passable edge on my tools. In Japan, I expected to learn how to do those things professionally, and to try to master the kanna. I did so alongside two other apprentices in my teacher's studio. One was very distantly my senior, another was very closely my junior. As an apprentice in the traditional sense, I was treated as a member of the family – and we would often eat dinner together.
My duties increased steadily, and I was soon making entire pieces of furniture under master Tokunaga's name. There is a sobering amount of responsibility that can be felt when your work bears a master's name. For these pieces, I was paid and often met my teacher's clients and business partners. Such a high amount of accountability certainly kept me focused on the quality of my work.
Above: The seat contour is the result of hours of hand planing.
How did you learn while you were there? You mentioned three stages – were there lessons as such? What sort of a teacher is Toshio Tokunaga and how did you respond to his manner of teaching?
Traditionally, an early apprentice is referred to as a minerai – one who observes. After some time spent observing others, one is given a steadily increasing number of tasks (for example: shape a chair leg, sharpen a round blade, cut a tightly fitting joint and so on). Each task, the apprentice is likely to have observed only once. One chance to succeed at its completion is permitted. If you fail to develop a skill, it is unlikely that you will be given another chance.
Once the majority of a craftsman's skillset is mastered, an apprentice enters into the repayment stage. He or she is fully qualified to work independently, but continues to work with their sensei as a means of showing gratitude.
As a foreign apprentice whose time was limited by working permits and visas, my observation and early work stages overlapped. I was given observation duties, skill building exercises and paid work simultaneously – and for each I felt I had my teacher's complete confidence. Wanting to maintain that confidence, I worked as hard as I could, as quickly as I could, and as finely as I could, all at once.
I suspect he intentionally kept me well outside of my comfort zone. As a result, I found myself developing skills quickly. Tea times, lunch times and late nights were spent taking notes of everything I had learned each day.
Above: Tokunaga Vibrato chairs in Yoshino cedar.

Did you ever doubt yourself and your decision to take what may seem to others like an extreme and even risky path?
I constantly doubted myself. Having an apprentice junior to me meant I was not only responsible for my education, but to a certain extent, for his as well.
'See one, do one, teach one' became an unintentional mantra for me – and I second guessed myself often. There's an old business analogy that's says, 'Be like a duck: above the surface, remain calm. Below the surface, paddle like hell!' Ducks and good apprentices might have that in common.
There was a casual deliberateness to the way my teacher did things – and when I was in my greatest moments of crisis or self doubt, I simply mirrored his way of being. Perhaps I still do.
Now that you are back home in Canada what are your plans? Will you make in the same style? What is the significance and importance of kanna finishing in the context of a contemporary maker?
I remember Master Tokunaga saying that, in his mind, the kanna is the point where human ingenuity and nature converge. The tool itself is composed of two components, a blade made in the ancient tradition of forge laminated high carbon steel, and
a carefully selected block of wood. My instruction focused on using the kanna to both shape and finish wood. Our goals in the shop were to achieve a level of design that emphasised the richness of wood as a living material, and surfaces that were smoother than could be achieved with sandpaper. In Japanese, this unique finishing texture is called kanna-shiage.
My personal style in Canada is similar to my teacher's. I am most passionate about chairmaking. I share Master Tokunaga's perspectives that when it comes to changing human minds about the value of wood, the chair is the 'how', but kanna-shiage is the 'why'.
Above: Designed by Mori Kohtaro and made by Benedict Viertelhausen with hand tools only, 'Mori-san's armchair is elegant, minimalist and ultra comfortable. I was lucky and very honoured to have the chance to build a few with him.'
Has this changed your life? You said that before your apprenticeship in Japan you had planned to be a doctor or work in health care. Woodworking seems very far removed from that, or do you see parallels? How do you feel about being back home in Newfoundland?
I would say yes and no. 'Yes' because when I first started woodworking, I never envisioned myself becoming a professional furniture maker. On the other hand, I was very surprised to find out just how many similarities exist between a traditional Japanese apprenticeship, and the residency program we use to educate physicians. Some of the friends I met in school joke that I've simply traded out my patient populations.
Living in Newfoundland is a real privilege. Both Japan and Canada have beautiful and diverse forests. They are great places to work with wood. I look forward to sharing what I have learned so far, and to building lasting connections between professionals in both countries.
Being in Japan gave me perspective on how lucky I am to be a Canadian, and have the ability to cross the world in pursuit of my dreams. Being back home gives me perspective on just how different my life has become – and how much my apprenticeship has shaped who I am today.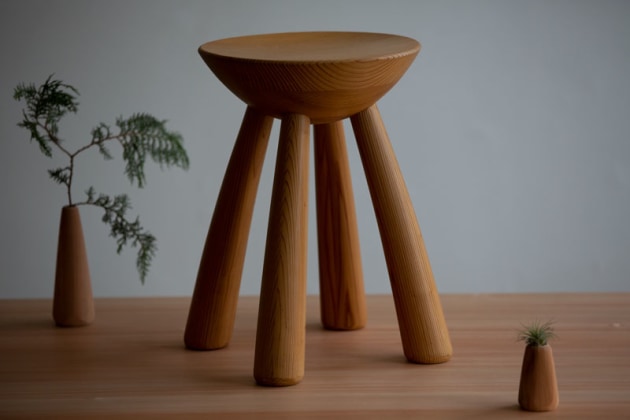 Above: Mushroom chair by Mori Kohtaro.

Learning the craft skills of another culture in its country of origin must give you the ability to compare. What are the differences you see between timbers, tools, skills and attitudes?
In Canada we appreciate and value beautiful timbers but most craftsmen buy their wood from a lumber dealer or a sawyer. In Japan, knowledge of an intact tree and the environment from which it came is critical to the finished product. Pieces are never built from different trees of the same variety. As a craftsman in Japan, you are intimately aware of your supply chain, and work with other professionals to cultivate, harvest, mill and dry wood in such a way that future generations are able to carry on your efforts.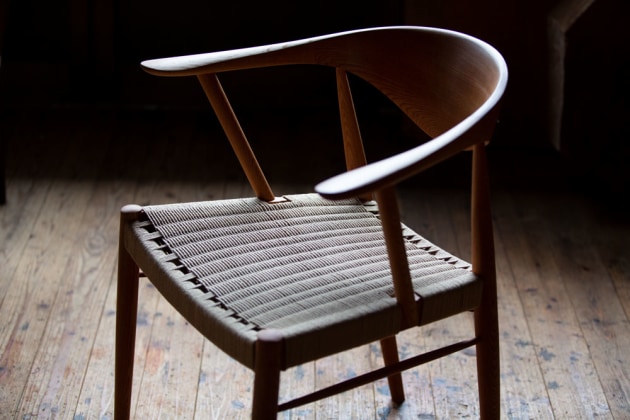 One of Benedict's final projects made at the Tokunaga furniture workshop. This 'tatara type f' chair with washi cord seat weaving was one of the most technically demanding chairs Benedict worked on.
The first chair I built was made from a cedar from Yoshino mountain in Japan. It was planted by a woodworker like me over 400 years ago. It was cared for by generations of arborists in the Yoshino mountain afforestation project before it was purchased at auction by the local sawyer. He consulted with our shop, and milled the cedar according to the requirements for that chair. In an effort to minimise waste, our shop received the heartwood from that cedar, while the sapwood (which is not used for furniture), was delivered to the local chopstick maker.
All of this is to say that: someone had to be the first to plant and care for trees in Japan for the benefit of future professionals. Perhaps the Japanese model is not suitable for every community, but it certainly highlights some of what we can achieve by working cooperatively.
Photos: Benedict Viertelhausen, Instagram @viertelhausen
First published in Australian Wood Review magazine, issue 104, September 2019