Small Worlds: The Work of Leigh Sloggett

Traditionally speaking, the miniaturised forms of netsuke are carved in such a way as to tell a story. They are 3D forms that can nestle in the palm of your hand, and very of-ten their themes derive from natural and mythical worlds.
Wood and ivory (nowadays from mammoths) continue to be the most commonly used materials. For centuries netsuke were the toggles of the small pouches worn Japan to carry personal effects. Despite the fact that netsuke need to be functional to be described as such, for some time now they have been an artform in their own right, keenly sought by a fervent following of collectors.
Leigh Sloggett is part of a very small worldwide fraternity of artists who create netsuke, in fact he knows only of one other person in Australia who carves netsuke on a full time basis. Most of Leigh's work is bought by Japanese and North American collectors, and his 2011 exhibition in Melbourne was the first showing of his work in Australia since 2006*.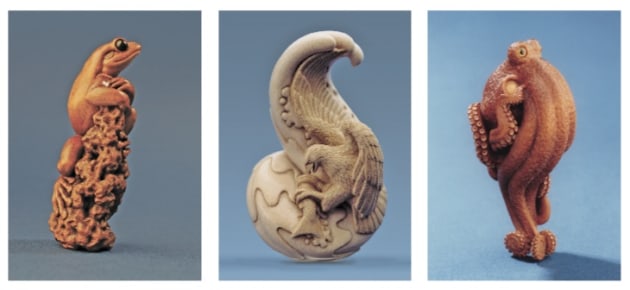 Above, left to right: Watching the Moon Rise, 2008, 80mm; Sea Eagle, 2001, 70mm dia; Octopus, 1998, 77mm dia.
Leigh's passion for netsuke was stoked during his adolescence, when he borrowed a book from the school library (these were pre-Google times) on the subject. He went on to study fine art and then exhibited paintings in group and solo exhibitions for the following ten years, all the while thinking he should be sculpting instead. 'Even then my paintings had a sculptural quality to them, in the way they treated light and form', he said.
In 1992 he decided to start carving netsuke but felt he needed to study at the source. A year later Leigh went to visit friends in Japan and ended up staying on for over four years. During that time he studied with Bishu Saito, the English-speaking president of the Netsuke Carvers Association, and also at the same time with four other netsuke artists.
Above, left and right: Tortoise and Hare, 47mm, 2006; Winter Forest, 45mm, 2006.
In Japan he was able to place himself in the 'centre of things', not only immersing himself in the traditions and techniques of netsuke, but also networking with the art dealers that mount regular exhibitions in some of the huge department stores that house usually have one or two floors of gallery spaces.
Collectors of netsuke tend to favour work created within a traditional, that is story-telling and naturalistic, vernacular. Although Leigh has never copied, his designs have been influenced by tradition. However he now sees himself as a contemporary artist, 'throwing off heavy tradition' to produce pieces that he regards as 'spiritual' rather than allegorical. Leigh's abstracted, geometrical pieces reflect, in his terms, more of the 'soul' of a piece and relate to his passion for land- scape and his Australian identity.
* Leigh Sloggett's 2011 solo exhibition took place at the Japan Information & Cultural Centre, Consulate-General of Japan, Melbourne. 
Republished from Australian Wood Review issue 72, September, 2011.
Words: Linda Nathan, Wood Review Editor
Photo of Leigh Sloggett: Yusuke Sato
Photos of netsuke: Leigh Sloggett
Learn more at www.leighsloggett.com for more information.
See also an article by Australian netsuke artist Susan Wraight