Historical: Colonial cabinetmakers

Above: Red cedar sofa made in Tasmania in 1840. Large quantities of red cedar were imported into Tasmania in the 19th century from NSW and Qld for use in furniture and buildings. Discovery of large tracts of this soft timber in the early 1800s enabled elaborate carving of fine furniture pieces.
Words: Jamie Bell
Although few pieces of early Australian (pre-1820) colonial furniture are known to survive, it's possible some undiscovered ones may be gathering dust and value in unlikely places. The other side of the world could be one place to start looking, as one Australian antiques dealer visiting England a few decades ago found.
Wandering through an English antique fair in 1971, the dealer came upon what is now known to be Australia's earliest piece of signed and dated locally made furniture—a casuarina (sheoak) specimen cabinet made in 1815. It was brought back to Australia and is now displayed in Old Government House at Parramatta, NSW. The colourful history of this piece provides some insights into colonial life and cabinetmaking, and the adventurous spirit of its maker.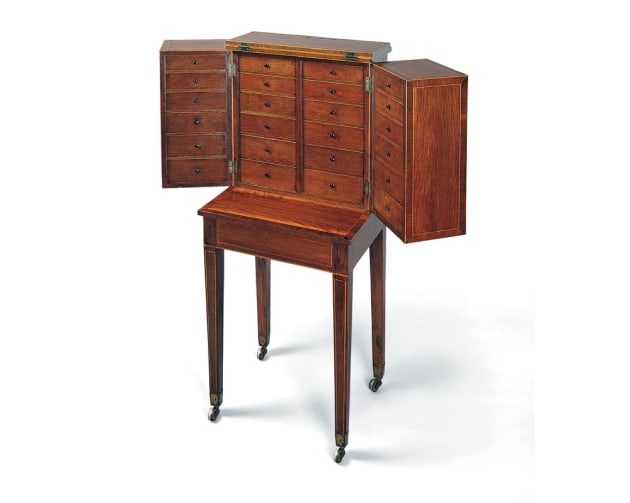 Above: This sheoak veneered specimen cabinet is Australia's earliest piece of signed and dated furniture. Made by apprentice cabinetmaker James Packer in Sydney in 1815, it was found in England in 1971 minus its Australian legs. The early turned sheoak legs had been replaced with the present tapered mahogany legs by English restorers who had no sheoak to replace one missing leg.
Above: The inscription beneath one of the drawers on the specimen cabinet reads: 'James Packer Sydney New South Wales an a Prentice [sic] 1815'.
William James Packer was born in Sydney in 1794 and is believed to be Australia's first native-born cabinetmaker. After serving his apprenticeship he joined an exploration of the Lake George area in southern NSW, and then went to sea for several years. He later took up farming, did some more exploring, and eventually settled at Gundaroo, south-west of Sydney. He died 'in reduced circumstances' in 1881.
Irish rebel
Packer's cabinetmaking apprenticeship was with a noted furniture maker of the time, the Irish-born Lawrence Butler. Transported for his participation in the 1798 Irish rebellion, Butler set up business in Sydney as a cabinetmaker, upholsterer and undertaker while on conditional pardon in 1811. He had five employees by 1814, including the well-known convict cabinetmaker William Temple who worked part-time for Butler after he had completed his 'government work' each day. Although a skilled craftsman, Temple was somewhat unreliable, often absenting himself from his government obligations. His misdemeanours included the theft of a boat and carpenters tools with the intent of escaping from the colony.
Above: Sheoak (casuarina) is the main timber used in this c.1810 chest of drawers, believed to have been made in the Sydney workshop of the Irish transportee Lawrence Butler. A fine Australian chest of drawers of this quality cost about £15 when this one was made. Sheoak was known as either Botany Bay wood or Beef Wood by the early colonists. Records from the time describe it as 'very hard but [it] will not stand in the solid and is therefore only used in veneering'. The cockbeaded drawers on this chest have a sheoak central panel with pine stringing bordered by scrub beefwood (Stenocarpus salignus) crossbanding. The veneered drawer blades, feet and apron are sheoak. The panel in the top is red cedar.
Butler would have advised and directed Packer while the apprentice made the casuarina specimen cabinet—his advertisements of the time state that 'all work is made under his immediate inspection and warranted of the best materials'. Professional conservators describe the cabinet as extremely well made, by a cabinetmaker with a natural talent. It was likely to have been used for storing natural history specimens, a popular interest at the time. Casuarina veneer is the feature timber, and it has pine substrate, Huon pine stringing, ebony knobs and red cedar components. The tapered West Indian mahogany legs fitted in England replaced turned casuarina legs, although these 'originals' may have been made later than the cabinet.
Casuarina was a popular timber with early Australian furniture makers, preferred for its more interesting grain and superior working qualities to eucalyptus. It was originally known as Botany Bay wood, where it was first felled and sawn by Europeans, or Beef Wood. Eucalyptus, hard on tools and difficult to work, in time came to be used mainly for turned table legs and bed posts. When WA was colonised the local jarrah was held in higher regard than the eastern states eucalypts, and it was used for all types of furniture. In Tasmania the local Huon pine, especially that with birdseye figure, was widely used along with celery top pine, tulipwood, musk and Tasmanian myrtle.
Red cedar
When large tracts of red cedar were discovered on the east coast this timber, not surprisingly, became the favourite with many early cabinetmakers. Not only was it far easier to mill, season and work than other local timbers, but its swirly grain and deep red colour were reminiscent of the mahogany used widely in Europe at the time. More elaborate furniture with extensive carving could also be made from it. Unfortunately the excessive logging of red cedar trees for many years, both for its timber and to open up farming land, led to its extinction from many areas by the 1870s. Much of this timber was exported to the UK, and locally it was used for building fit-outs as well as furniture.
This c.1815–1820 red cedar sideboard was purchased by the Sydney Powerhouse Museum with a $185,000 bequest from an early Australian furniture collector. It is of exceptionally high craftsmanship and has extensive acacia and pine crossbanding and stringing. The cupboard doors have crossbanded frames and bookmatched veneered panels with pine stringing and lozenge-shaped inlay. The brass knobs are replacements but not unlike the originals. The fineness of its lion paw feet helped to accurately date the piece.
In the early 1800s much fine cedar furniture was made for governors and government buildings, military officials and the few wealthy colonists. The designs closely followed English fashions of the time, and were either drawn from memory, copied from imported furniture or taken from illustrations in furniture pattern books. Much everyday furniture of unpretentious and often original design was also made at this time, especially in country areas. But the well-to-do apparently felt that their wealth and status was more accurately reflected in furniture of classical English styles.
Local character
It was not until the mid 1800s that fine Australian furniture acquired a distinctly Australian character, with carvings of banksias, wattles and eucalyptus decorating pieces. The centenary of the arrival of Europeans in 1888 further encouraged their use, and by the time of Federation in 1901 the local flora was accompanied by kookaburras, kangaroos and emus as national sentiment grew.
Secretaire bookcase c.1803 with sheoak veneer door and drawer fronts. The three sections—cabinet, fold-out desk and chest of drawers—are designed to be used together or separately. The sides are rose mahogany or rosewood (Dysoxylum fraserianum) and the cockbeads on the drawers are an unidentified ebony-like local wood. Genuine African ebony and other exotic timbers are sometimes found in early Australian furniture, small amounts probably having been brought out by convict and free cabinetmakers in their tool boxes.
Design-wise this later furniture is perhaps more authentically Australian than the pre-1820 furniture of English style. But the fine furniture of early colonial times displays amazing craftsmanship considering the difficult times it was made in, and it also provides fascinating glimpses of early Australian colonial life.
Republished from Australian Wood Review magazine, issue 44, September, 2004
Photos supplied by Andrew Simpson of Casuarina Press except for Red Cedar Sofa supplied by Historic Houses Trust of NSW.
Old Government House at Parramatta has a large collection of early Australian furniture. It is run by the National Trust of Australia (NSW).
References: Australian Furniture, Pictorial History and Dictionary 1788-1938. Casuarina Press 1998
Red Cedar in Australia. Historic Houses Trust of NSW, 2004.