Queens birthday award for sculptor Silvio Apponyi

Wood artist (Albert) Silvio Apponyi was awarded a Medal of the Order of Australia in the Queen's Birthday Honours for services to the visual arts as a sculptor.
Silvio Apponyi is an Australian sculptor based in Balhannah in the Adelaide Hills, South Australia. Silvio has been sculpting for around 40 years. His main inspiration is Australian fauna, and he hopes to draw attention to these unique and often endangered species. In his self built studio Silvio creates his sculptures in a variety of media, primarily wood, Australian granite, marbles and bronze. His scupltures range from delicate netsuke to massive public granite works.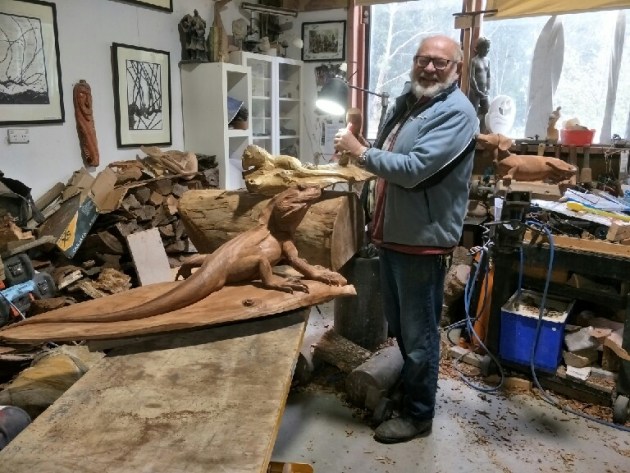 Silvio Apponyi in his studio in May this year.
Silvio began carving at an early age and was awarded the Sculpture Prize in his last year at High School. He then did a four year Diploma of Fine Art at the South Australian School of Art, majoring in sculpture. Upon completion he was awarded a German exchange scholarship and he spent a year in the Munich Academy of Fine Arts. When he returned to Australia he continued to develop his skills and in 1982 devoted himself full time to his art.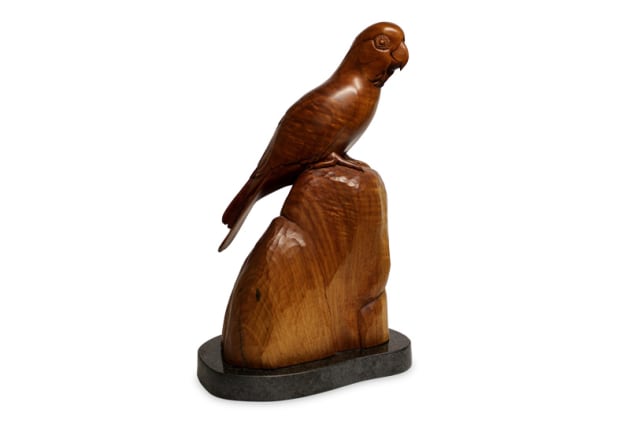 Silvio Apponyi, Galah, red cedar, 510 x 250 x 220mm. Shown this year at Egde:Exploring Boundaries (Studio Woodworkers Australia). 'Galah is a depiction of a native Australian bird perched on a rock like form.'
Silvio Apponyi, Goanna with Rat, 2014, shown at Next Exhibition, Bungendore Wood Works Gallery
Since then he has had one-man shows and group exhibitions locally, interstate and overseas. He has won several prizes,accepted commissions, conducted workshops in Australia and Malaysia, and studied wood-block printmaking under a Japanese master.
His work has been featured in Australian Wood Review several times and is featured in many private collections both here and overseas and in public spaces across Australia.
Read a review of Silvio Apponyi's work by Evan Dunstone here
Learn more at www.apponyi.net