Versatile edge sanding: Hammer HS 950

Hammer's HS 950 sanding unit swivels 90° and 0° to table level.
Offering maximum flexibility thanks to its open design, Hammer's HS 950 oscillating edge sanding machine is built to sand larger workpieces. The cast iron worktable adjusts to 150mm via the handwheel, meaning the sanding belt can be used over the entire height.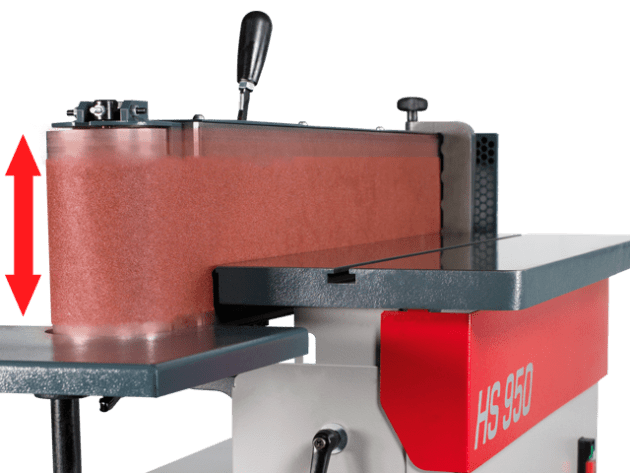 The height of the grey cast iron work table can be adjusted by 150mm using the handwheel, allowing the sanding belt to be used over the entire height.
Together with the oscillation, height adjustability means sanding belt life is maximised. The sanding unit swivels from 90° to table level while an additional table caters for cylindrical sanding and is also height adjustable. A T-slot over the length of the table permits mounting of an accessory mitre fence.
An additional and height adjustable table enables the sanding of radii > 60mm.
To summarise, features include:
• Belt oscillation for optimum use of sanding belt surface can be switched on and off
• Open design permits sanding of oversized workpieces
• Table tilts 0°–90°
• Handwheel table height adjustment 150mm
• Includes cylindrical sanding table
• Sanding support length 950mm
• Sanding belt dimension 2515 x 150mm
See the machine in operation in the video below:
Learn more at www.felder-group.com/en-au/products/stroke-edge-sanders