Helmut Lueckenhausen, Speaker at AWR L!VE 2018
 
This year AWR L!VE event will take place in Sydney on Saturday August 4, 1:30–5pm. Leading Australian designer makers will  present talks that focus on the theme of design. Helmut Lueckenhausen is a designer and designer/maker with an equally distinguished record as an academic and researcher.
In this abridged article, reprinted from AWR#78, Helmut talks about his work and also his long-standing collaboration with maker Ian Higgs. Book tickets to AWR L!VE here.
AWR L!VE is proudly sponsored by:
I originally graduated from industrial design at RMIT although in my object design career I have nearly always worked at the interface between crafts and contemporary, industrialised production methodologies. The reason I started down that path is as prosaic as traditional crafts practice is itself—because I could. I was a designer, I had some ideas for the development of forms based first on plant forms (developing gradually into zoomorphic fantasy furniture), I wanted my ideas, my designs made, therefore I needed to begin making them myself.
Consequently I began a process of experiential learning, making it up as I went along and eventually, innocently, I adopted the term 'designer/maker'. Not long afterwards I was swept into the world of crafts, crafts councils, and the Australia Council and became associated with the language and practice of craft, woodcraft and studio furniture.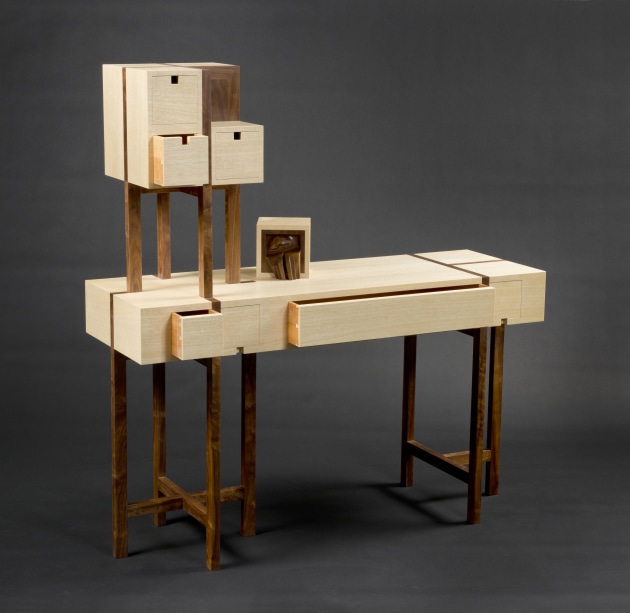 House Teraphim 2, 2013. Side table with drawers in American walnut, walnut veneer, Qld silver ash veneer, marine plywood. Collection of Warrnambool Art Gallery
I also naively stepped into the frontline trenches separating the various forms of creative practice and was called on to gird my loins for the relentless and often destructive struggle between art forms—especially between fine arts and crafts but also between both of them and contemporary design culture. Particularly in funding support terms, practitioners set themselves against each other for a place in a shrinking patch of sunlight.
Around 2011, I came across the Studio Woodworkers Australia (SWA) project which, in a way, bookends my entry into this field, the earlier bookend having been the founding of the Victorian Woodworkers Association (VWA) in 1979 just as I was getting going.
Nothing much has changed, woodworkers continue to strive for definitions and validations for the work they are driven to do. In its manifesto, SWA states that: 'studio woodworkers are skilled at their craft and typically work in commercial workshops or studios as individuals or with a small number of employees. Their work is distinguishable from mass produced products by the high level of quality in design, making, finishing and after sales service'.
For my part, the claim that the work produced by studio woodworkers 'is distinguishable from mass produced products by the high level of quality in design' is questionable. Actually no sector of the spectrum of creative practice and no production methodology, tradition, or innovation is inherently any such thing and arguably a making tradition steeped more in material and process than design may be even less so.
And Yet Another Heir, 2002, ceremonial bowl in Huon pine, mahogany, aluminium. Stack laminated and carved pieces such as this are made entirely by Helmut Lueckenhausen. Private collection, Australia.
The claim also begs better and more thoughtful engagement with the huge, worldwide discussion on the changing nature of design and its evolving place in, and promise for, contemporary culture and national economies. It became evident to me early on that the most likely route for the expression of, and financial and critical success with, the body of work I was developing was that of the exhibition gallery circuit. It also became clear that a sole trader, a one-person show was not going to be able to produce the critical mass or types of furniture and woodwork required by a regular exhibition schedule, or even a growing clientele.
I came to realise that just as the absence of a broadly shared critical discourse and a crafts-specific critical vocabulary threatened to hold crafts practice at the journeyman end of the creative industries power continuum, so did the prosaic nature of its production methodologies. The experience of making celebrated by craftspeople paradoxically limits the reach of its products and ideas.
How did makers of famously branded furniture and decorative arts, especially in the 19th and 20th century succeed with their outputs? What models could the Ruhlmanns and Printzes, who designed works requiring a cross section of high-end skills to produce, offer the Melbourne backyarder in the 1970s and 80s? I clearly needed collaborators, subcontractors, or even employees.
A small number of direct employees and work experience candidates came and went, some of them talented and ultimately successful in their own right. Other subcontractors also collaborated for a period, the most significant of which, in terms of capabilities and the scope of work we undertook together, eventually found it less personally threatening (and probably more lucrative) to make Georgian reproductions rather than work with me on my original designs.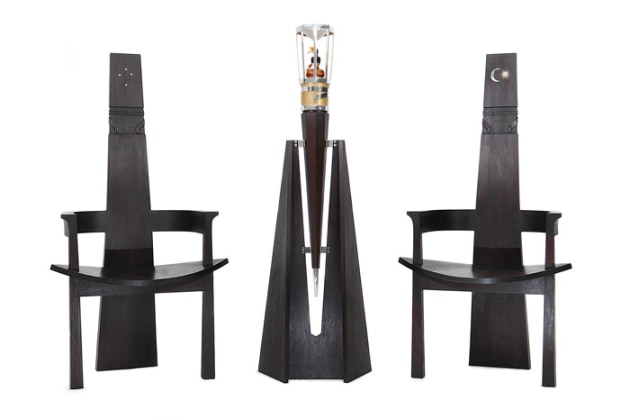 Ceremonial Suite, 2009, Swinburne University of Technology, Sarawak. Belian, sterling silver, gold. The team that collaborated on the manufacture of the suite included Ian Higgs, Hendrik Forster, Sue Wraight, and Marion Marshall.
The standout in 35+ years of practice is Ian Robert Higgs.  Ian styles himself as a cabinetmaker but he is much more than that. He works at a level of professional integrity that always results in commitment to quality; he is constitutionally incapable of making compromises that would threaten his hard-earned sense of honour and self-worth. In our collaboration he has been required to cede the limelight to me, the brand is mine and is, for me, the most precious outcome of my endeavours. I claim the narrative; it is my output and validation. There is the ego thing, we have had our moments.
On the other hand Ian does get paid, for me it has always been a matter of feeding a habit, a lot of money has been turned over but not that much has stuck. A lot of money has been lost as well, American agents going broke and disappearing with my money and goods—and even when sales have been significant, intermittent cash flow has been a problem for me to own.
CRC Sidetable, 2008, Qld silver ash, Qld silky oak. Collection of Castlemaine Art Gallery and Historical Museum, Victoria
How has it worked? For one thing we have not been totally invested in each other's careers and output, and have motored along on our own journeys, crossing paths at regular intervals. The working relationship also requires us both to be intuitive, I need to be sensitive to materials and making and he needs to be sensitive to narrative and image.
The designer and maker relationship can be vexed, troubled with conflicting egos, competition for monetary reward and, most significantly, ownership of the brand, however when it works it is a powerful union that can extend the creative potential of both parties.
Words: Helmut Lueckenhausen
Main image: Paul Lunnie
Learn more about Helmut Lueckenhausen at www.lueckenhausen.com