Adam Markowitz: The Modern Maker
 
Above: Adam Markowitz in the machine room of the Meat Market Arts House in North Melbourne, next to the workshop he shares with other makers. Photo: Ben Clement
Words: Linda Nathan, Wood Review Editor
Adam Markowitz, 31, straddles worlds. They don't collide, in fact they allow him to be a  uniquely well rounded creator, but at times they can seem at odds and as though he may ultimately have to chooseone over another. Architect, product designer, maker, teacher – Adam is all those things.
He teaches at the timber furniture workshop at Melbourne School of Design within the faculty of architecture at Melbourne University. It's a place which for over 20 years has offered a workshop environment for primarily digital designers to explore the physicality and use of materials through the making of models, prototypes, furniture and experimental structures. It's where he got into making things when studying for his architecture degree. Now, in a new building with Adam now the teacher, there is more
focus on digital technologies and a more contemporary approach to furniture making.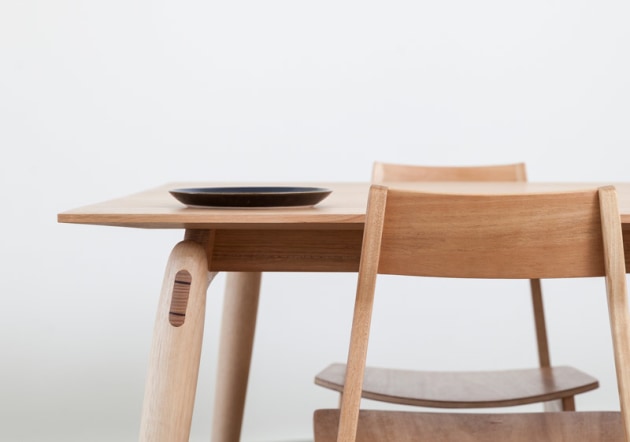 Fred Table, Tas oak, jarrah splines. Designed by Adam Markowitz, made by Stephen Ziguras. Flea chair, blackbutt, natural and ebonised. Designed and made by Adam Markowitz. Photos: Ben Clement
After graduating, Adam wantedt o learn more about the making side of things so he enrolled for a postgraduate diploma in furniture design at the University of Tasmania in Hobart. This led to an opportunity to study for six months at the Royal College of Design in Copenhagen in Denmark. Most recently he got himself over to Maine, USA to spend four months at the Centre For Furniture Craftsmanship.
Even in formal study Adam takes charge of his own education. One story illustrates this well. Towards the end of his study at the Centre for Furniture Craftsmanship he wanted to focus on chair design rather than techniques he had already covered. 'We were shown how to make templates, mark out lines and sand slowly to the curve. So I just googled, found a guy down the road with CNC, went down there, and came back with all my parts milled out and ready to go. And they were just gobsmacked.'
The Hanging Studio Table, 2015/2016, spotted gum, black oxidised steel. Photos: Ben Clement
'I think that CNC is totally part of the woodworker's tool set and needs to be,' said Adam. Expressing his ideas to Peter Korn, CFC founder and director, Adam said, 'Youcan't be putting guys out into the woodworking industry who don' t know how to use CAD and CNC, because (at that point) you stop being craftsmen and you're more like a historical re-enactment.' Not long after, the school acquired CNC.
However, Adam is not saying there should be a lessening of emphasis on hand skills. 'I think the mistake a lot of schools make is they focus too much on the digital and not enough on the traditional.'
The reverse can happen with the old guard though, he said: 'The mistake some woodies make is that they stick their heads in the sand and say I want none of this. The reality is that 100years ago when bandsaws came in  there would have been the exact same discussions. There are inefficiencies that come through not preparing wood through a traditional manner but (CNC) is just a thousand times faster.'
The Mobius Ch air, 2012, final project from Danish Royal Academy of Fine Arts, Copenhagen. Laminated birch plywood with curly maple veneer outer layer. Photo: Tamara Maynes
Once again, there is a tension between worlds. 'My interest is the connection between making and designing. Most of the excitement comes in the prototyping phase where you're actually influencing the outcome through making. Once that's done I tend to quickly lose interest in the repetition of batch production.'
However he can't divorce that interest from the fact that it's the processes of making – hand, machine and digital – which enable that conduit into creating better designs for furniture based on tactile and physical observations of strength and resistance. 'I'll sketch and make, sketch and make – but there's this thing that happens when you're working with your hands and you're also in control of the design, where you're dynamically making decisions, and it results in a far better things.'
 Moshi Moshi Stool, 2014, American white oak, ebony wedges, handcut dovetails. Built at the Centre for Furniture Craftsmanship whilst studying under Tim Rosseau. Photos: Ben Clement
According to Adam, designing and making is a reciprocal conversation. 'I think a lot of makers are focused on the making, and some designers are too focused on the designing. What I'm trying to do is combine. You see some woodies that design exquisitely made but ugly things, and you see a lot of designers that have got no idea how wood works and how to put things together.'
Mass-made technology has fuelled consumerism and a new maker culture has arisen in reaction to that. 'Younger people are rethinkingthat, wanting authenticity and a relationsh ip with makers and local design. People want to see the dirt under the fingernails, and shake the hand of the guy of that made it.'
That doesn't mean however that it's any easier for makers to earn a good living. 'There is wider interest but it is still a challenging environment for makers. A lot of them have their noses to the grindstone just to make ends meet. Trying to compete against low quality imports with big marketing budgets, makers are trying to cut costs to be competitive. We need to work together to educate people as to what quality is and why people should be investing in it.'
Adam Markowitz on the cover of issue 98 of Australian Wood Review. Photo: Ben Clement.
Figuring out the money equation is a very real pressure point. Subbing work out to others can speed production and lower per unit costs, but that in turn means spending more time on marketing and promotion. Time spent creating a sustainable career can paradoxically take a designer maker away from doing what's most enjoyable.
Custom work can be stressful. Working with tight budgets, compromising and putting often unpaid for time into prototyping and testing designs also makes it hard to make money from bespoke. Teaching and also practising as an architect – all these things are worthwhile but demand more and more of the finite amount of time available.
Choosing between worlds is not restricted to a particular age group. Often it comes down to questions of happiness  and living a so-called authentic life. Creative people more than others are faced with the needto justify their own worth in their own and others' eyes. Achieving financial sustainability in creative industries can force decisions that a lot of other people don't have to make.
Adam Markowitz is one of the speakers who will present at AWR L!VE on August 4 in Sydney this year. See here for more information and to book tickets.
Learn more at www.markowitzdesign.com and Instagram @markowitzdesign