Santa's shop relocated to Blackall Ranges...last weekend

A variety articles including wooden drawers and an intarsia bird shown at the Blackall Range Woodcrafters Guild's annual Santa Shop.
The Blackall Range Woodcrafters Guild's annual Santa Shop was held at St Mary's Hall, Montville Green on December 1 and 2.
A steady stream of people passed through the hall, several purchasing items made by the Woodies. A large number of families enjoyed the cooler evening on Saturday for the lighting up of the tree and for the visit by the bearded gentleman who handed out gifts to the many children. The Woodies also conducted a very popular sausage sizzle which was well-patronised.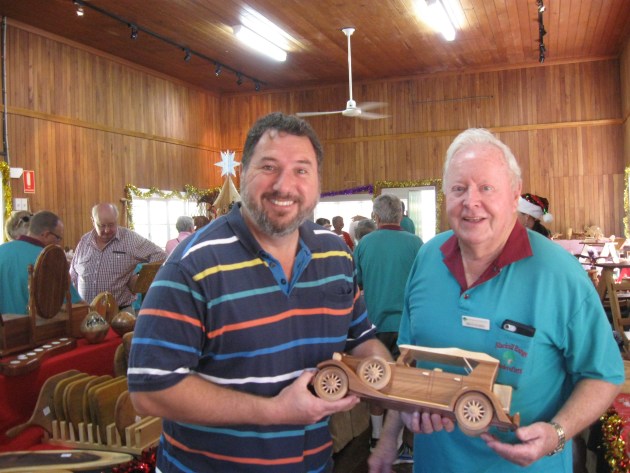 Woodie Brian Harris showing Andrew Powell one of the vintage wooden vehicles made by Hugh McKenna.
The raffle prizes were smaller in size this year, making it easier for the winners to carry them home. All prizes were items made by members of the Guild.
Visitors on Saturday included Councillor Jenny McKay, State Member Andrew Powell and Federal Member Andrew Wallace.
Items made by Guild members included vintage cars and trucks.

The Guild exists to foster and promote an active interest in all matters relating to the history, development and artistic expertise of working in wood with interested citizens on the Blackall Range. It raises funds for club activities and for the improvement of the Guild as well as for suitable charitable organisations, research, and community projects.
Learn more at www.blackallrangewoodies.org.au