Krenov Foundation Award Winner

Back in July we announced The Krenov Foundation's establishment of a $2500 award for an emerging fine woodworking professional as an artist-in-residence, or as a visiting scholar at a nationally recognised woodworking school or craft centre.
The recipient of this award has now been announced and is no stranger to Wood Review readers, having written a story on techniques for developing furniture designs in AWR#89, Dec 2015.
A veteran of eighteen years as an analytical chemist, Kelly Parker decided in 2010 to leave the corporate world to turn her passion for woodworking into a career. She opened Woodsong Studio in Kansas City, Missouri, USA, and began an odyssey of learning from masters working in the craft today.
Kelly has studied design and technique courses at the Marc Adams School of Woodworking, Anderson Ranch Arts Center and completed an internship with renowned furniture designer/maker Michael Fortune in Canada.
Kelly is currently in The Michael Fortune Fellowship program, during which she will participate in MASW's Artist-in-Residency Program. Then, with the help of TKF Professional Development Award, Kelly will work on advanced wood bending techniques as an artist-in-residence at the Centre for Fine Woodworking in Nelson, New Zealand.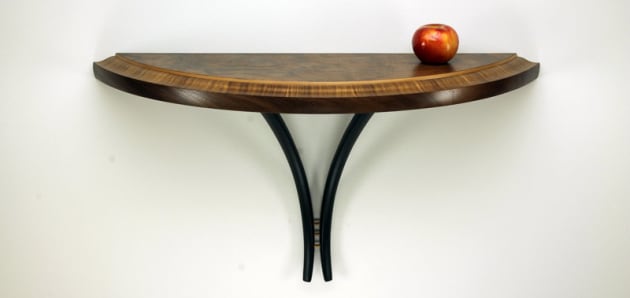 Above: Kelly Parker wrote about developing the design for the base of her Demilune wallpiece in issue 89 of Wood Review magazine. The demilune top was made from walnut burl veneer with sycamore inlay. It has a walnut veneer waterfall edge frieze and solid walnut edge strip. The brackets were made from ebonised sycamore with plain sycamore dowels.
While tackling bending wood at CFW, Kelly will continue her focus on design, mixed media, and using reclaimed wood, 'I think that the story of the wood's former life is an important one, and I write "the story" for every piece that I make. The story includes where the wood came from, what it used to be and a lot about the process of building the piece.'
On receiving her award Kelly commented: 'I feel that the work of The Krenov Foundation is critical on a number of levels. On a global level, exhibitions and public education help spread the word about art and craft. I believe there is a subtle message being sent about the importance and enduring quality of objects lovingly created by hand in contrast with our plastic, disposable society.'