Hydrowood Boatbuilding

Hydrowood's Managing Director, Andrew Morgan, hands over the first of many planks of recovered timber to Bert van Baar – after Saint Nicholas arrived aboard the Kerrawyn carrying the timber and other gifts.
The timber being used by six young apprentice wooden-boat builders and their instructor to build a traditional Dutch 16m2 sail-boat at the Wooden Boat Centre at Franklin in Tasmania was actually recovered from the flooded Pieman River on Tasmania's west coast and donated by the recovery company, Hydrowood.
The precious speciality timbers being recovered by Hydrowood from Tasmania's flooded lakes and rivers include Tasmanian myrtle, sassafras, the legendary Huon pine and celery top pine which has been submerged for decades since the flooding of these waterways for hydro-electricity infrastructure in the region.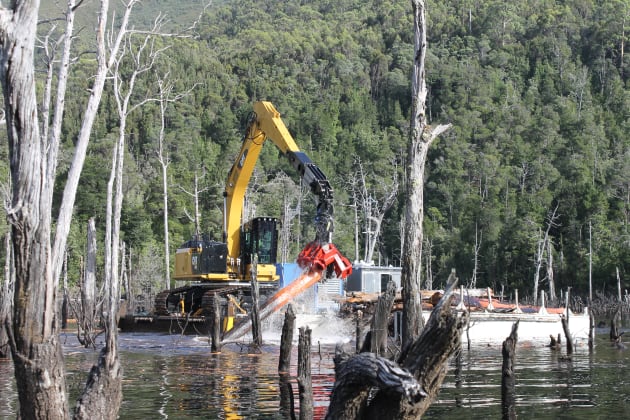 Underwater timber extraction at Hydrowood, Lake Pieman, Tasmania.
The students, who are visiting Tasmania from Amsterdam's Hout- en Meubileringscollege as part of the 12th MyState Australian Wooden Boat Festival, are using celery top pine timber for their boat-building project.
The General Manager of the Australian Wooden Boat Festival Inc, Paul Cullen, said the 16m2 is being built through Hydrowood's generosity and the Wooden Boat Centre's professional courtesy and hospitality.
The boat's build is progressing on schedule and will be finished at the MyState Australian Wooden Boat Festival on Hobart's waterfront, 10 – 13 February 2017. It will be launched at the festival and possibly sailed alondside a local yacht of a similar size as a finale to the event.
Two logs of celery-top pine were delivered to Linnell and Skinner's Huonville sawmill and milled by local boat-builder Dave Golding. A challenge was to ensure the milled timber retained an optimum moisture content of 12 per cent during the drying process.
This was achieved precisely with the apprentices' instructor, Bert van Baar, describing the timber as being "beautiful to work with" although some pieces were harder than the European timbers with which he was more familiar causing an occasional nail to bend. But he emphasised that this was all good learning for the students.
The MyState Australian Wooden Boat Festival is held on Hobart's waterfront from 10 to 13 February 2017.
For more information visit www.australianwoodenboatfestival.com.au