Charles Mak, Woodworker and Writer

Charles Mak, by any definition, is a prolific woodworker and that is because he is a prolific writer. His family are his loyal "clients" and he turns practically every family build into an article assignment. He has had some 120 articles published, since he started writing in 2008 for magazines in Australia, Britain and of course, North America. And on top of that, he is also a prolific tipster with a similar number of tips published under his toolbelt.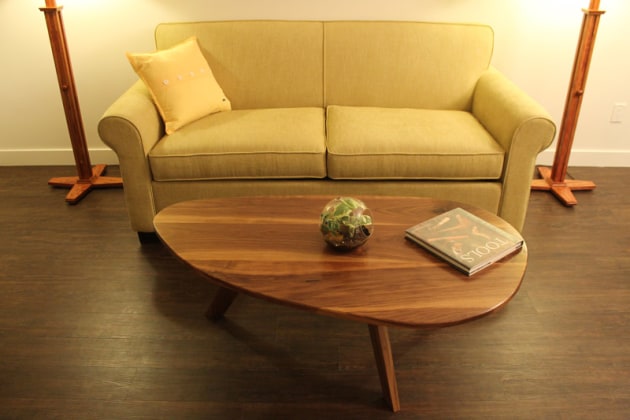 This contemporary walnut coffee table is built with hand-cut mortises for his daughter and was later featured in a magazine.
His publications reflect his wide-ranging woodworking interests and skills covering furniture making, woodturning, shop techniques, traditional skills and even mechanical sculptures. "I never stop learning, even if it means stepping out of my comfort zone and taking a little risk", Charles explains with regard to his woodworking philosophy.
"I am too old to quit learning, because unlike someone in their 20s or 30s, they can afford to restart the learning process after a break", Charles explained why he explored new techniques for his work like coopering which later he went on to write and teach about.
In the recent decade, he has taught at his local school board and Lee Valley Tools store, where he once worked part-time as a customer advisor. "Lee Valley is where I had my first taste of fine tools. Fine tools, good skills and patience almost always guarantee top-notch results in your work", he said. This season, his focus has been on Krenov-style work, including cabinets and sawhorses, with classes running a day and a half long.
Like in his articles, he has covered different topics (over two dozen of them) in his seminars, including tool making, and even photography. "Teaching hands-on workshops is a challenge. You must be prepared to handle situations when things don't go according to plan. And, as we know, things rarely sail smoothly in woodworking", he said as shared his classroom wisdom. Like the old English proverb says, "A smooth sea never made a skillful sailor".

"The biggest reward as a teacher is when your participants and you both learn something out of the classroom experience."
"When students can produce this kind of result on their first try – by hand – because of your guidance and their dedication, the feeling is priceless".
Does Charles have any favourite tools? He names two: The domino power tool was a game-changer for me when I discovered it. It allows me to finish the joinery part of a project a lot quicker and thus focus my attention on the more intricate elements such as the string inlay design seen on the dining table featured in AWR #94".
The other favourite tool of his is the low angle jack plane, a workhorse he uses in most builds. For handling difficult wood grain, he keeps a second blade that has a high bevel angle.
Finally, will he ever run out of project ideas? "My 'clients' seem to have an endless list of ideas or orders in their pockets while I have never been able to catch up with my to-do-list either. So, the short answer is 'no'", Charles answered confidently with a smile on his face.
Charles Mak, a semi-retired businessperson, works year around in his shop, except when he is away on vacation, or when the shop is simply too cold (he lives in a prairie province in Canada which has Siberian-like winter temperatures at times).
Contact Charles by email at thecanadianwoodworker@gmail.com