Using hardwax oils
SPONSORED BY WHITTLE WAXES
Have you considered using hardwax oils on any of your timber projects? It seems there has been a definite shift towards these oils over the last few years. Why the increasing popularity? Here are a few reasons that may explain:
Safe (food and toy friendly)
You can literally eat off hardwax-treated wood. They are made from non-toxic, natural products that contain no biocides or preservatives. Once dry, they are safe for humans, animals and plants and they comply with DIN 53160 and EN 71 for children's toys.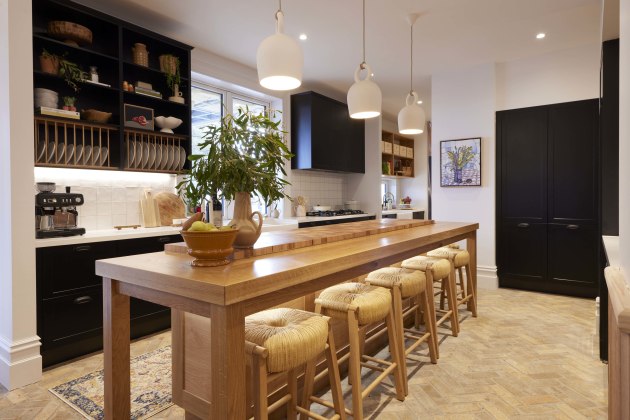 Kitchen island bench by Christian Cole
Kind to the environment
They are made from natural, sustainable raw materials such as beeswax, carnauba wax, candelilla wax, linseed oil, sunflower oil and jojoba oil – so they have no negative effect on our planet.
User-friendly
They are easy to apply with a roller or a brush, and very forgiving (it's difficult to mess up!), as well as being quick drying.
Jarrah picture frame by West River Design
Hard-wearing and low maintenance
Once you've put on a couple of coats, your creation is going to look good for many years. If it does fade at all, you can add another coat after 5 to 7 years, without re-sanding.
Microporous
Its microporous properties allow the timber to breath. In other words, instead of creating a skin, the oil integrates with the timber which means no cracking over time.
Bedside table by Wheeler Furniture
Economical
A little goes a long way, so you really don't need much, which makes it very cost-effective. For example, when used on floors you can expect to get between 20 m2 and 30m2 per litre.
Water-resistant
Apply an extra coat and these oils are perfect for kitchen counters and bathrooms vanities.
Jarrah coffee table by Slabbed Bespoke Furniture
Beautiful in a natural way
Perhaps the best reason of all for trying hardwax oils is how it accentuates the natural beauty of timber. It brings out the grain, looks rich and luxurious, but doesn't feel "coated". The transformation really is stunning!
One of the best hardwax oils on the market is Whittle Waxes' Evolution Hardwax Oil. Well-known furniture maker, Christian Cole, is on the record as saying that in his 30 years of hand-making timber furniture, he has "never used a better product than Whittle Waxes Evolution Hardwax Oil."
Fruit tray by Michael Bennett
For the uninitiated, it's easy to give it a go. Whittle Waxes supply small sample test tins (125ml for only $14) so you can try it out for yourself. It is available in Matt, Classic, Satin and Gloss so these sample tins are handy if you want to test the different sheen levels.
Learn more at www.whittlewaxes.com.au