Two-handed burnisher

Made in Canada, Veritas' solid carbide rod card scraper burnisher gives you a handle on scraper sharpening. A new take on typical single-handled burnishers, this tool's innovative design permits a two-handed grip, with the aim of improving control so you can roll the sort of hook you want on your scraper.
Much like a spokeshave, it is held between the thumbs and forefingers, keeping your fingertips close to the solid carbide rod. This gives you much better tactile feedback, which helps you maintain control of both force and angle as you run it along the edge of a scraper (typically clamped in a vise).
The burnisher's relatively small size helps prevent you from pressing too hard, so you're less likely to overwork the edge. Although designed for two-handed use, it can also be maneuvered one-handed if desired.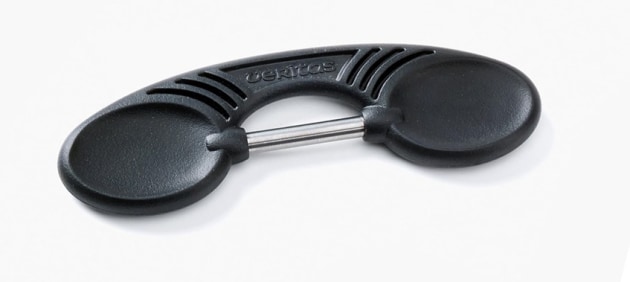 It has a 3/16" (4.75mm) diameter, 1" (25.4mm) wide carbide rod, injection-moulded into a plastic body and is compact enough to slip into an apron pocket.
Currently retailing for $25 from www.carbatec.com.au