Review: Woodfast DS300 disc sander

Review and photos: Raf Nathan
This is a very good machine with all cast iron components and a powerful 0.75kw (1hp motor) spinning at a relatively slow 1420rpm, so it's ideal for woodwork. I had it set up and going within a couple of minutes out of the box, as it only needed a clean-up and some guarding screwed in place.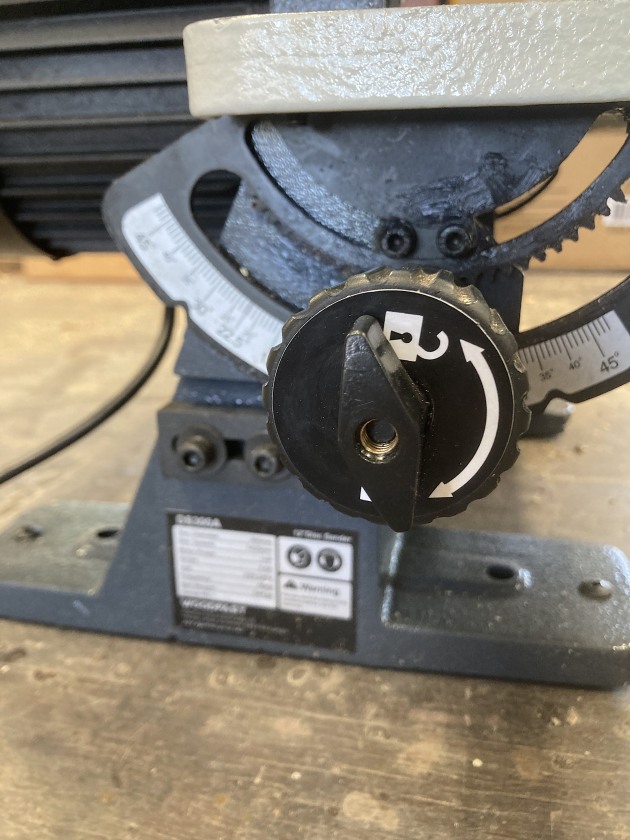 Table adjustment mechanism
The 435mm long cast iron table is nicely ground and accepts the supplied mitre fence in a machined slot. The table is easy to adjust to any angle with a large locking knob and geared action.
The 300mm abrasive rounds are attached with velcro to the main disc. It does take a little bit of time to remove guards and drop the table down when you want to change the abrasive, so usually you tend to run your favourite grit and leave it at that. For woodwork 150 or 180 is probably a good grit, however I trialled it with120 grit, which will remove stock very quickly if you press hard.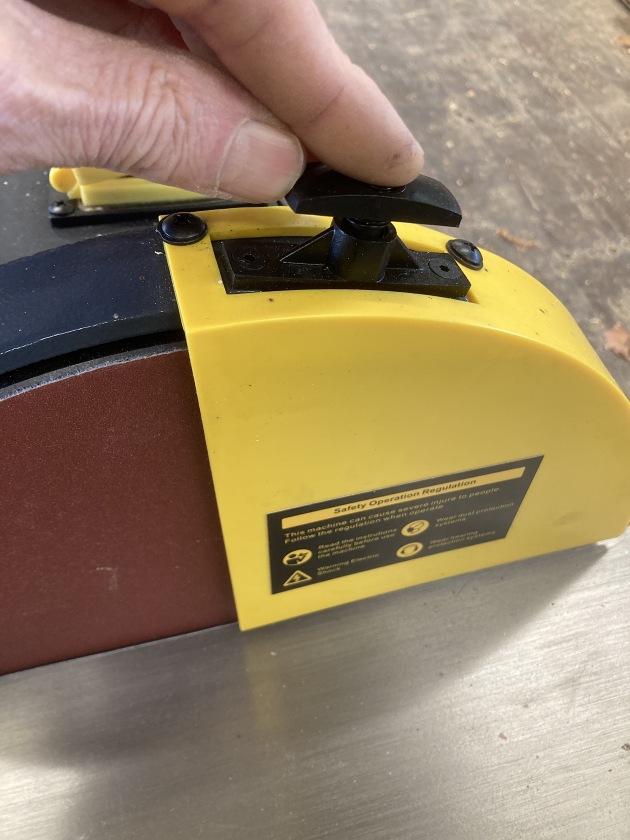 Press to operate the brake
You can sand anything you want on this machine. I flush sanded some brass that was screwed onto wood for a woodwork tool and what would normally be a slow hand job for me took literally seconds on the machine. For woodwork you can use it for shaping, adjusting mitres (to an extent) and sanding endgrain cleanly. Using the mitre fence at 45°, and with a little practice, you can produce perfect chamfers on endgrain, ideal for table feet, small boxes and similar.
Dust extraction is via a port on the side and this worked quite well connected to my dust extractor. It is a sander so a lot of dust is expected.
There are stop, start and quick-stop buttons.
On the electrics side there is a push button start-stop with a large quick-stop button, a brake you can press to bring the disk to a halt and 1hp motor with ample power. At 36kgs in predominately cast iron, it is both very stable and smooth running.
In my short trial of this machine I couldn't fault it at all. I thought it was a terrific addition to my workshop and it will leave a small hole in my sanding abilities when I have to return it.
Review machine supplied by Hare and Forbes Machineryhouse, see www.machineryhouse.com.au/L1335