Review: Whiteside Ultimate router bit
 
Review: Damion Fauser
Photos: Donovan Knowles

After testing, I have to say the title of Whiteside USA's compression bit is a worthy one. Made from a solid high-grade tungsten carbide cylinder brazed onto a steel 1⁄2" shank, these bits are CNC machined to a double-spiral, compression-cutting profile and are available in three different bearing-guided configurations (flush-trim, pattern-bearing and double-bearing) to afford maximum flexibility.
The manufacturing quality is evident, the edges are super-sharp and there is zero play in the bearing. Cutting length is 1-1/8" and diameter is 7/8". I particularly appreciate this additional diameter as it ensures the cutting edge is presented to the wood at a higher velocity and a better angle than with a narrower bit.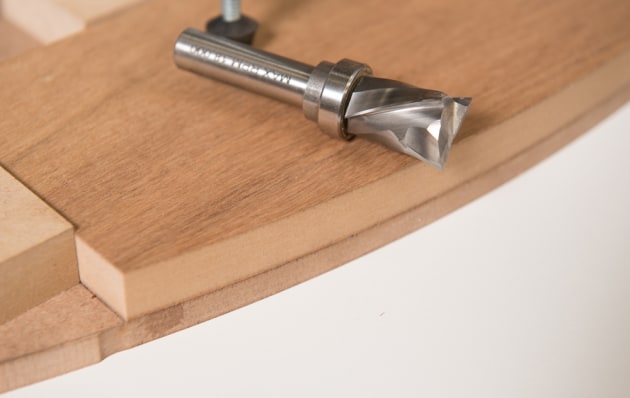 As a test I rough cut three pieces at the bandsaw to run in a curved templating jig at the router table, aiming to leave 1mm of material for the bit to remove. The test pieces were solid figured New Guinea rosewood, spotted gum and jarrah veneer boards.
Even against the grain on the NGR, the result was flawless. On the veneered pieces, the compression cutting action ensured the veneer edges were left perfectly intact.
These bits are available from Professional Woodworkers Supplies. If you are after a premium result, even in difficult stock, these are the bits for you. Information and pricing here.
Damion Fauser is a furniture designer/maker and woodwork teacher who lives in Brisbane.