Review: Redsail Laser Cutter

Review: Ash Vaughan
CNC laser cutting machines are now found in many workshops and used for cutting and engraving signage, templates and components in wood, plywood, acrylic, rubber, leather and paper. I initially purchased the RSX503050 Redsail laser cutter which has a 500 x 300mm desktop to cut costs for my business, Perth Cake Collective.
I wanted to make my own cake toppers from acrylic and wood for a fraction of the cost I was purchasing them for. I knew the machine would pay itself off in no time, however it wasn't long before I realised all the extra products I could create with it. The need for a larger machine was soon evident – I never imagined it would take a mere 10 months for me to upgrade to the larger model.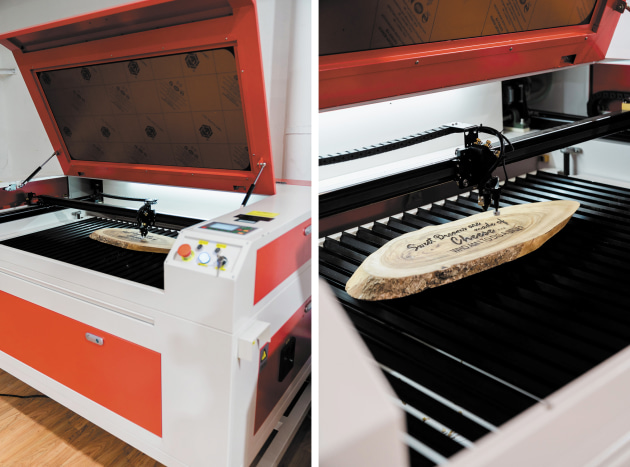 With its 1300 x 900mm desktop, the RSX130-1390 is the largest of Redsail's laser cutting machines and has opened many more doors for not only our new business Cut & Co., but also for my partner's carpentry-based business, Blu Builders, which is now able to offer extra services to clients.
Blu Builder's most popular requests are detailed MDF or ply images and signs that are used for a number of events and businesses around Perth. We have even cut opal acrylic to be used with neon-lit signage for events and boats with such ease. And evermore popular are the round and arched acrylic signs we make for events which are cut and engraved within a matter of minutes on the laser machine. Every day we find more ways in which this machine can help with all three of our businesses.
I have Apple Mac computers and use LightBurn software for the machine. It does take time to get used to the program, but when you get the hang of it, it becomes as easy as a couple of clicks. These machines really do all the work for you.
The installation and learning process was made easy with Beyond Tool's exceptional customer service. I wouldn't have discovered my original laser machine if it weren't for this family owned company.
Redsail laser cutting machines are available from www.beyondtools.com.au
More information on this machine at this link.