Review: Harvey Alpha HW110LC-36 Tablesaw

Above: The HW110LC-36 sits mid-range of three cabinet saws made by Harvey Machinery.
Review: Damion Fauser
A relatively new addition to the Australian market is the Harvey range of machines. This tablesaw currently sells for $3949 and is the mid-range model of three cabinet saws from this stable and has a golden titanium nitride (TiN) tabletop. There is also a plain cast iron table version of this model which sells for $3499. Anatomically, at first glance, this is just another saw, but upon closer inspection there are a number of features that could make this one stand out from the crowd for some users.
With a 10amp/230V/50Hz motor, a power rating of 1.65kW (2.2hp) that runs at 3850rpm, accessible and clearly presented on/off switch and smooth, lockable arbor controls for blade height and tilt, this machine will run a 10" (254mm) blade to fairly standard parameters. Careful blade selection may be required for deeper cuts in dense hardwoods. The use of a thin kerf blade will avoid taxing the motor too heavily.
The overhead guard is well thought out, made from clear acrylic for good visibility, with good anti-kickback cauls and overhead dust collection that pipes direct to the main 100mm port on the cabinet, negating the need for an additional hose. All of this can be easily removed for blade and riving knife changes and comes mounted on a rigid overhead boom that keeps the whole assembly up and out of the way of the stock being cut.
Both table inserts lock solidly into place and have levelling grub screws, but they also have custom access holes for the mechanism to change the riving knife (there is an accessory low-profile riving knife supplied), so those who like to make their own zero-clearance inserts will need to account for this.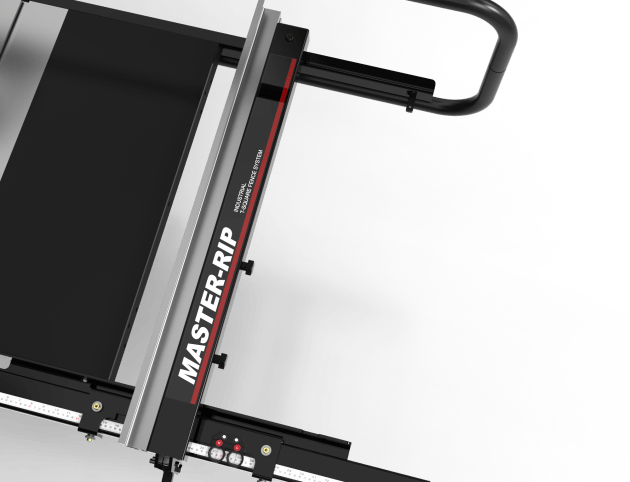 The rip fence has separate cursors for setting width on high and low fence settings.
The rip fence is a solid T-square arrangement with a high-low extrusion that locks solidly. One feature that I really liked is the separate cursors for setting the rip width, whether cutting on the high or low fence configuration. Tooling changes are easy with the arbor lock and the long spanner that is supplied. The arbor has two indexing pins similar to European machines for positive registration, but these can be recessed to allow for aftermarket blades to be used on the machine.
The included mitre gauge is a stand-out feature and operates smoothly with presets and a flip-stop.
The supplied mitre gauge is definitely worthy of mention. It has adjustable expansion slots to ensure a good fit in the track, is very solidly made, rotates smoothly and has preset detentes at zero, 90, 22.5, 45 and 60°. Included is an aluminium flip-stop that has three threaded indexing locations for the brass stop. This locks positively on the fence which extends telescopically, and there is an inbuilt micro-adjust with 0.02mm definition. The mitre gauge alone would likely make this saw stand out for some buyers.
The machine runs quietly, does not have a blade brake and there is convenient access to the inside of the cabinet via a hinged door.
This machine, equipped with the appropriate tooling, would be a solid and accurate servant to any home-based or smaller cabinetry shop. Machine supplied and set up by Gregory Machinery in Brisbane.
Learn more at www.gregmach.com
Damion Fauser is a Brisbane based furniture designer maker who also teaches woodwork classes. See damionfauser.com