REVIEW: Festool CSC SYS 50 EBI cordless tablesaw
 
Words and photos: Damion Fauser
I guess it was always going to happen – cordless tablesaws. And as we've come to expect from the Festool stable, this saw excels at what it has been designed to do.
Coming in at 20.2 kg without batteries and packing away (along with all the required accessories such as blade caddy, overhead guard, mitre gauge, push-stick etc) into a hard systainer-style case measuring 512 x 396 x 296mm, this unit is truly portable. Portability and utility on job-sites is further enhanced with the addition of the UG-CSC-SYS underframe, which serves as a rolling handcart when collapsed and a dual-height work platform for the saw unit.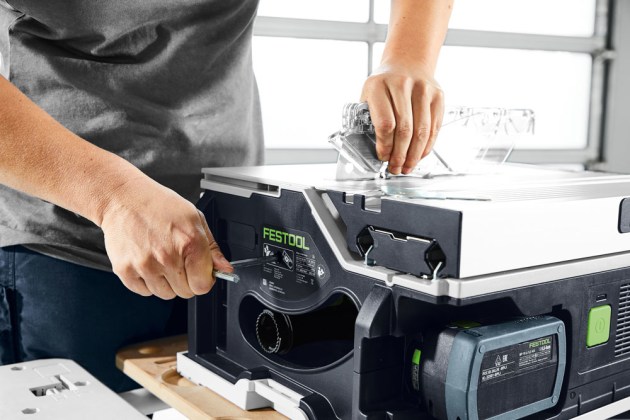 Blade adjustment and changes are easy with the included Allen key.
Aside from the obvious benefit of being cordless (and running on proprietary Festool 18V batteries (min 4Ah) common to other tools across the brand), Festool have gone way above and beyond to make this unit stand out in terms of both functionality and quality.
I have to say upfront – this is a portable tablesaw. It is diminutive in scale and therefore the scale of cut that can be achieved needs to be moderated by the user. But what Festool have packed into this unit is impressive. The saw runs blades of 168mm diameter with a 20mm arbor and maximum kerf of 1.8mm, which allows for a maximum cut height at 90/45° of 48/34mm respectively.
The digital control panel is clear and intuitive.
Festool state that other materials such as plastics and non-ferrous metals may be cut with the appropriate blades fitted, but they do recommend against cutting mineral plate materials such as plasterboard. The blade tilts from -10 through to 47°, which would be useful for both traditional woodworking as well as trim/detail finishing work onsite.
This saw is fully digital and programmable. Upon initially turning the unit on, the user is taken through a simple and intuitive calibration process, the steps for and status of which are clearly displayed on main control panel. Upon completion of this set-up process, I ran some test cuts and verified accuracy to be absolutely perfect when measured with digital calipers.
As a standalone unit, fitted with the included mitre gauge and overhead guard.
In use, blade height and tilt are controlled via some selector buttons and a primary control wheel. Adjustments can be done manually or preferred settings can be preset and selected from the main menu. Makers that require the very finest in accuracy or fast and easy repeatability will love this capability.
The rip fence is easy to adjust and sturdy when locked in position – a simple lever closes a lock tab at each end of the fence, ensuring a solid registration on the rail at both ends of the table. The aluminium fence extrusion can be switched between high and low configurations. A neat and sturdy fold-up extension table increases the available rip capacity to 280mm. A nifty little push-stick is securely stored on the back face of the main fence body.
Two riving knives are included. The first is a low profile knife that will allow cuts contained within the depth of the workpiece. Stored inside the systainer hood is a secondary riving knife which also has a clear acrylic overhead guard with several pairs of anti-kickback pawls. Switching between the two is easy and fast, and users need to remember that the systainer hood will only register back in place when the low- profile knife is in place. As far as switching accessories goes, blade changes are fast and simple via an access hood under the sliding table that can be unlocked and removed with the included Allen key.
The sliding table runs true and smooth, and greatly enhances capacity.
Cross-cutting is taken to a new level on this unit compared to others in this size class. There is a sliding table, which runs smooth and true along its full length. When paired with the included mitre gauge, this feature allows for a maximum safe crosscut width of 450/340mm at 90/45° respectively. This is superb for a machine of this stature and significantly boosts versatility in both fixed shops and onsite. The mitre gauge is angle-adjustable 0–70° and the aluminium fence is laterally adjustable, so the user can bring the fence closer to the blade for better workpiece security at various angles. To enhance safety when ripping, the table is locked in place with a simple flip-tab, and when cross-cutting the mitre gauge is locked with an indent lug in the track that is operated by another flip-tab.
Dust collection is effected via a port at the rear of the unit. I tested the included zippered cloth collection bag and found it to be surprisingly effective, although it filled quite quickly. Clearly a better solution will be to connect a shop vac to the unit. Those with newer shop-vacs will need to use a bluetooth battery adaptor and/or remotely start the vac as well as plug the saw into a separate power source as it draws too much power and will likely trip the safety switch if plugged directly into the shop vac.
After initially setting up and calibrating the machine, I set to, making a series of cuts in a variety of timber materials. I was only provided with a crosscutting blade, so began by doing a set of cuts in some MDF to verify accuracy as previously mentioned. Then I dressed some 200 x 50 Tasmanian blackwood and took a series of crosscut slices off the end at max blade height. The cut quality was superb and there was no noticeable reduction in available power at any time through the cut.
The review machine came with two 5.2Ah and two 6.2Ah batteries and a dual charger. To test battery stamina, I took some 16mm hardwood ply and started cutting narrow strips. When I ran out of ply I dressed some 200 x 38mm hoop pine and took narrow endgrain crosscuts until the batteries ran flat.
All up, with the initial calibration, test cuts and the endurance test, the batteries ran for over 45 minutes, with zero noticeable drop in power until there was nothing left and the unit came to a dead stop. Clearly, if more heavy cuts are being undertaken battery life will be reduced. I then timed how long the dual charger took to top up two batteries and it came to a bit over an hour, so in the unlikely event that continuous operation is required I'd suggest a set of six batteries may be needed.
Having spent some time with one, I'm confident the price tag will be justified for the standard and versatility of capability that it provides. I see these units being picked up by tradespeople seeking the very best for jobsite work. In the static shop situation, I could see those with small spaces or working regularly with small components for inlays, boxes and smaller furniture items getting great use from this unit.
Review machine supplied by Euro ToolTechnic, available from Festool retailers nationwide.
Damion Fauser is a Brisbane based furniture designer/ maker who also teaches woodwork classes. See damionfauser.com