Review: Felder FD 250 Mortiser

Review: by Damion Fauser
This is a versatile machine that packs a real punch in such a small unit. Billed as a horizontal slot mortising unit,
with some optional accessories and alternate tooling it is capable of so much more. I've had one for five years and find myself using it for more tasks every year.
With a 2.6kw, 3x400 volt, 3000rpm, reversible motor that caters for left and right cutting bits and a solid quad-jaw chuck with clamping range from 0–20mm, this machine is able to securely hold and operate some significant tooling, ranging from 1/4" shank router bits, mortising cutters, hollow chisel mortising bits and even large plug cutters and forstner bits. There is an optional upgrade of a two- speed motor – I chose this option to allow for the slower speeds that larger hollow chisel mortising and larger plug cutters etc require.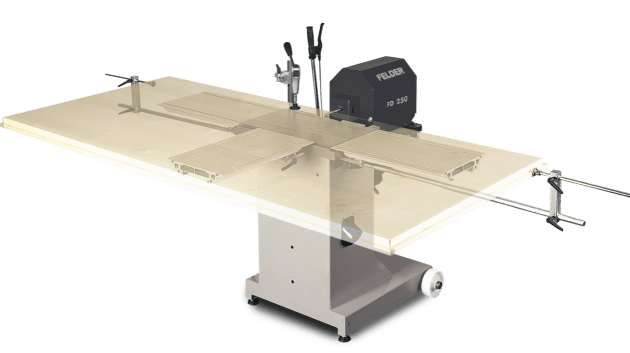 The cast iron table is fixed in the horizontal plane and is large enough to hold substantial workpieces. Further workpiece support can be added with proprietary Felder table extensions to either side and to the front. The table has pre-bored holes for accepting the precisely machined lugs on the included end stop, with a number of options at 0, 45 and 90° to the cutter. This creates a solid and extremely accurate foundation for registering workpieces and jigs for cutting.
The motor and chuck move the cutter forward and back and laterally in relation to the workpiece. All movements are
on the Felder roller-bearing system, creating an extremely smooth action. Movement can be driven by one of two handles – one is for simple forward and back (for boring or square mortising) and the other is omni-directional for slot- cutting. The lateral range of motion is 250mm, cut depth is 160mm, available height adjustment is 130mm and there are solid locking stops in all three directions for setting precise stops.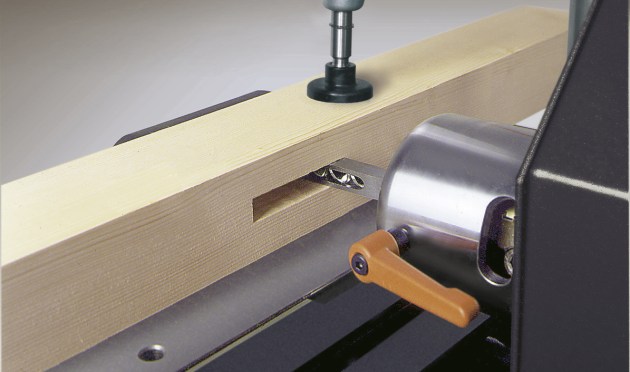 Dust control is good and is ported via a collection tray below the cutter out to an 80mm outlet. Controls are solid and easily accessible. There is an enormous range of accessories that can be used with this machine. The marquis option is the accessory chuck to accept hollow chisel mortising cutters, making this two machines in one with an easy five minute changeover. Included in
the cost is one of the Felder eccentric cam clamps for solidly securing workpieces and jigs.
There are two threaded ports in the table that the clamp shaft screws into.
I've also begun using this machine for many drilling and boring processes, particularly those that require cutting into the end of longer billets. As the table is horizontal, this cut is not limited by the range between the table and quill as on a traditional pedestal drill.
This is a machine that many shops would find extremely useful, requires very little floor space and is very well priced for the capability and versatility it offers the imaginative user. See this link for more information.
Available from Felder Australia www.felder-group.com/en-au
Damion Fauser is a Brisbane based furniture designer/maker who also teaches woodwork classes.