Dust buster: Laguna CFLUX new model landed

The new 2022 model shown on the left is taller than the older model next to it.
Affectionately known as the Dust Buster, Laguna's new CFLUX dust collector has just hit our shores. So new in fact is the CFLUX range, that it's landed here in Australia at Carbatec stores before making its way to the US.
Power in a package is the promise. To be precise, the 2022 model Laguna LGT-CFLUX3B cyclone is a workhorse designed for performance and said to be 'a quantum leap for cyclones'.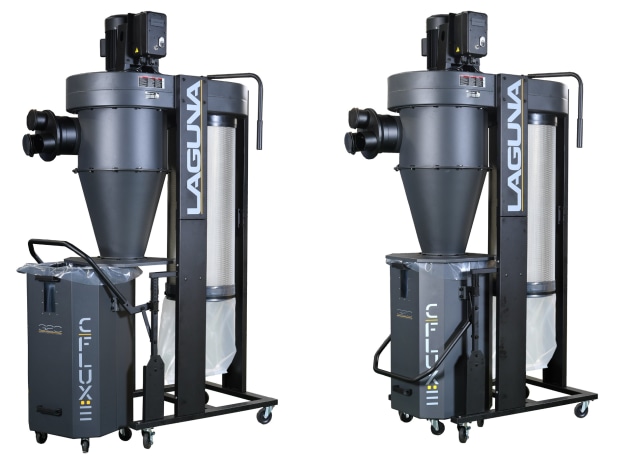 Standing 2.35m high, the new 2022 model has a bigger drum. Shown open (left) and closed.
The drum on the 2022 model is taller than previous models to give more capacity (174 litres), while a horizontal chute maximises airflow. The fan is housed inside a single piece horizontal plenum which reduces airflow resistance. The one micron canister is highly pleated to increase the surface area and maximise airflow. A remote control on/off is supplied standard.
Filter cleaning is easier with a hand-operated swing arm cartridge filter and the 'smart lift system' quickly engages or disengages the collection drum using a simple lever action. As shown above, these units are portable on four castors, and the drum also has its own set of castors to roll it to wherever emptying is to be carried out.
For those who like to see the specs:
Drum capacity: 174 litres
Filter rating: 99.97% of 0.2–2 micron
Motor: 2200 watts (3hp) induction, 15a plug
Max. airflow: 2250 CFM (1300 CFM real term)
Footprint: 1420 x 720 x 2350mm high
Available now from Carbatec, see pricing and other details at this link