10 tips for buying secondhand machinery

Words and photos: Darren Oates
Deciding whether to buy one machine over another is always going to be a balancing act. The most important side of the scales belong to you and consist of your needs and your budget. After that you will see whether the combined functionality, life expectancy and cost of that machine outweigh your needs. When considering a secondhand machine the cost factor in particular needs to take into account additional expense that may be incurred on repairs or transport.
After deciding to bite the bullet and go into full-time fine furniture production in 2006, I then of course had to equip myself with a workshop and machinery. I had two options: to go out and buy new machinery, which would have put me in considerable debt; or purchase a combination of new and used machines, which is the way I decided to go.
In my previous life, I spent twenty years in the Royal Australian Air Force and was trained and worked as a heavy vehicle mechanic. I then became an electronic technician, and finally a fridge/aircon mechanic. This gave me a very good background in machinery – both on the mechanical and electrical side of things.
Woodworking machinery by design is very basic. In most cases you have a motor driving a blade of some sort, so there is very little that can go wrong mechanically, although of course you can have electrical problems. Luckily, woodworking machinery also has very basic electrics and usually very little in the way of electronics. The benefits of maintaining and tuning existing and new machinery are enormous.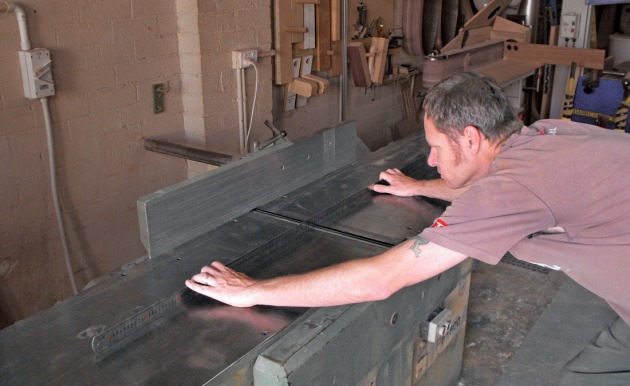 Single or three
The first thing is to decide whether to go single-phase or three-phase. If you have purchased or have a lease on an industrial unit, then you will almost always have access to three-phase power. Very few houses have three-phase power. There are several advantages in going three-phase but only one disadvantage comes to mind—the extra cost of getting it connected. However I believe this can be recouped when purchasing used machinery.
The horsepower rating of three-phase motors is about 150% greater than for single-phase motors of similar size. In a three-phase system, the power delivered to the load is the same at any instant. This produces superior operating characteristics. The power delivered by a single-phase system pulsates, with the power falling to zero during each cycle. This is fine for lighting and electronic appliances, but can be a problem when trying to drive larger loads, such as electric motors. The power delivered by a three-phase circuit pulsates as well, but never falls to zero. Three-phase motors are also cheaper to manufacture and are more efficient to operate.
The main advantage with purchasing used three-phase machinery is the cost savings you can make. I believe this is due to the fact that not many woodworkers have access to three-phase power, so the demand for these machines is lower.
Electrical testing
If you don't know the buyer or the history of the machine, or if the seller states it hasn't been used for some time, I strongly advise getting an electrician to carry out an integrity test on it before plugging it into mains electricity. It only takes a couple of minutes to test the electrical insulation of the machine to make sure that electricity cannot be passed to the chassis and then to the operator.
The earth continuity also has to be checked to make sure that the motor and all electrical components are properly earthed to the chassis and to the earth lead of the mains connection. When you buy a three-phase machine from a registered dealer, the power lead will not come with a plug attached, as it is illegal to do so. A plug will have to be purchased separately or the machine wired directly to an isolation switch—a job that can only be carried out by a qualified electrician.
Online or in-store
Used machinery can be sourced from several online sites however don't discount the value of visiting machinery retailers that give you the opportunity of seeing and inspecting machinery before buying. Buying used machinery can be a great way to equip your workshop if your budget doesn't allow you to buy all new machines. Like most things it's a question of time or money, but with care you may be able to save on both.
Ten tips for buying used woodworking machinery
1. As well as retailers, check local auctions and online sites.
2. Compare the pros and cons of single-phase or three-phase power.
3. Don't be afraid to buy from interstate if at the right price.
4. Ask to see the machine in operation, if possible.
5. Use your eyes and make a very careful visual inspection of the machine.
6. Check the cost of replacement parts—some may be hard/impossible/expensive to find.
7. Often, minor remedial work on a used machine can make it as-new again.
8. Make sure every single part of the machine is in place. If it isn't complete, don't buy it.
9. Be prepared to haggle—a buyer in the hand (you) is worth two in the bush!
10. If you don't have the skills required to keep your machinery well maintained, acquire them. See Phil Ashley's article as a starting point.
Suppliers of used machinery
Felder Machinery: www.felder-group.com/en-au
Gregory Machinery: www.gregmach.com
Hare & Forbes Machinery House: www.machineryhouse.com.au
Darren Oates is a furniture designer maker in Windsor, NSW. Learn more at www.darrenoatesfinefurniture.net and Instagram @darrenoatesfinefurniture