Celebrated Chairs

Tasmania in the 1800s had a unique culture of chairmaking. Around Deloraine, 'Jimmy Possum' was the name given to kind of stick chair made locally. Not much more than 100k south- west in Nabowla, and further south in Hobart however, the industry of making Windsor chairs, which the Jimmy Possum chairs resembled, was developed to a much greater degree.
In The Men Who Made The Celebrated Chairs (Pagunta Press, 2016), Denis Lake charts the course of Windsor chairmaking in Tasmania. In the 1800s, George Peddle migrated to Australia, and was followed a little later by his brother-in-law Henry 'Harry' Hearn. Both were trained in the Windsor chairmaking style that emanated from High Wycombe in Buckinghamshire, England.
From 1884–1909, George and Harry used local Tasmanian blackwood to make variations of what are now collectively known as Peddle chairs. During that time these chairs were commonly found in government offices, schools, railway stations, libraries and also homes.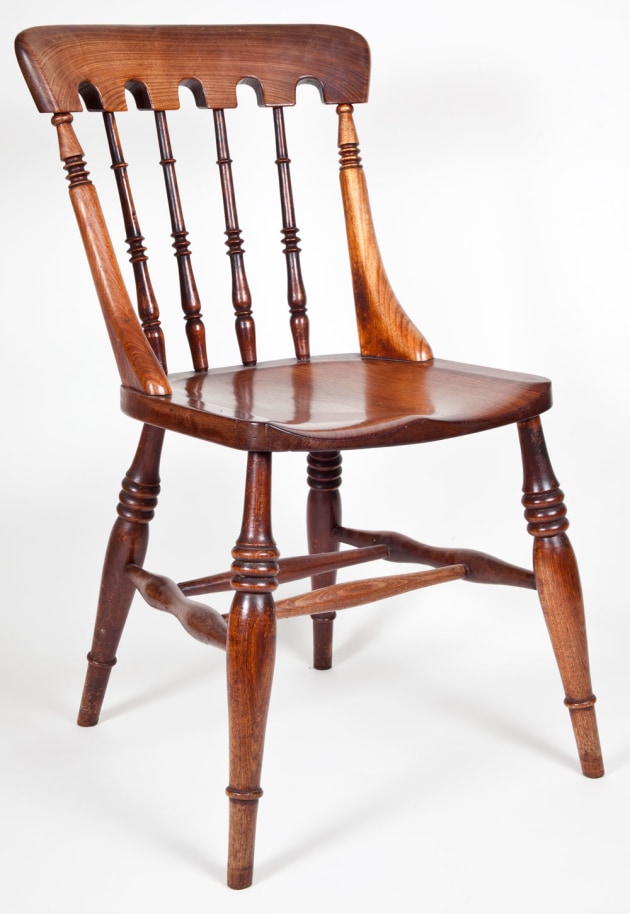 Hobart pattern dining chair made by George Peddle
Denis Lake trained at the London College of Furniture in the 1970s and has lived and worked as a furniture restorer in Tasmania since 1994. As well as revealing the subtle differences between the chairs created by Peddle and Hearn, the author gives a personal account of the makers' lives which also serves as an insight into the Tasmania in the colonial years. Lake details some of the history of the Windsor chair, and how it fared in the local chairmaking industry which was then under pressure from imports (some things never change).
George Peddle lived and worked in Hobart and went on to establish a sawmilling business. Harry Hearn worked as a chairmaker in Nabowla and remained there until his death. As similar as the chairs they produced were, the wealth of historical documents and images presented in the book show how the personalities and lives of the two makers were markedly different.
Peddle chairs are now highly collectible, a testament to their popularity and sturdy construction. In the course of his research and work as a restorer, the author has examined hundreds of them in minute detail.
So how do you tell the difference between chairs made by George and Harry? You'll have to get the book to find out!
The book has 173 pages, is printed in black and white and is cloth-bound in hardcover. Five hundred copies, numbered and signed were produced. Contact Denis Lake by email at celebratedchairs@gmail.com