The Art of Cabinetmaking: Daniel Poole

Dan Poole, dining chair and torsion table in shopsawn veneers. The grain on the top runs across the width. Photo: Barton Taylor
Words: Linda Nathan, Wood Review Editor
'My job is to make joins, basically...but not too basic.' Daniel Poole, 28 doesn't overstate things, however his work speaks volumes.
Viewing the joinery of Daniel's Wandel dining table is a voyage of discovery. It begins at the corner. From above there are angles, shadow lines and a flow of walnut grain you could swim in. Underneath, the joinery of the frame is sculpted. Curves, lines and transitions are resolved and refined – in other words, crafted.
First turned, this table leg will now be shaped with handplanes and spokeshaves. Photo: Elise Wilken
'What are you trying to say with your work', I asked. 'I'm not someone who needs to tell the whole story, not that I don't have one,' said Daniel. 'If someone doesn't appreciate this is a good piece, I don't mind. It's acknowledged by the people who can see.'
Daniel studied industrial design for a year and then took up an apprenticeship. He describes himself as a cabinetmaker, a reflection of the value he places on the craft. And yet he is an artist and a designer – but those, he feels, are labels for others to apply. Likewise evaluations and compliments are for others to make. 'If you're doing good work it will be recognised,' Daniel says.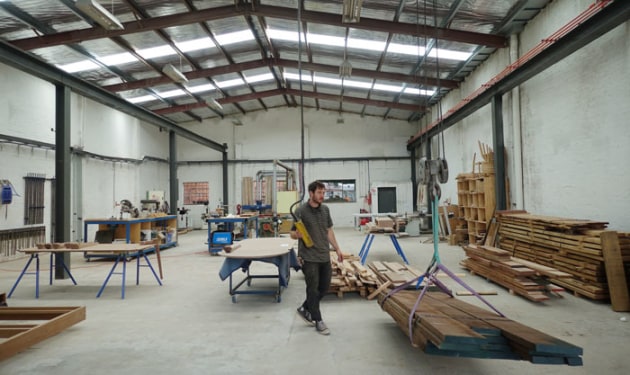 The North Coburg workshop. The winch and gantry installed by the previous tenant is being put to good use. Photo: Linda Nathan
Why did he switch to an apprenticeship? 'Just due to my personality', said Daniel. 'In industrial design you do all your drawing, and the skills you're learning are to communicate what you want to make...and then you get a manufacturer in China to make it. And I've always been hands-on. My family had an engineering business so I grew up with access to that and also learnt about resourcefulness (I grew up in a rural area) – knowing you could make something with very few tools.'
When Daniel says, 'often the art of cabinetmaking is overlooked', his words underpin the respect he has for others who have honed their skills without shouting about their virtuosity. 'All the best cabinetmakers in Melbourne that I know are very reserved and quiet people who work hard at being skilled. If you're trying to make a living out of this, you know when others are working hard. However, almost the more work you put into something, the less you're going to make.'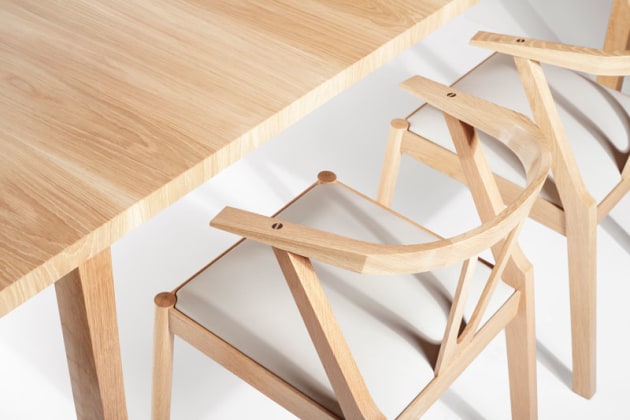 American white oak extension table and Williamstown chairs. Photo: Barton Taylor
When I visited, Daniel had just moved into larger premises in North Coburg. Up-scaling is a decision and commitment that grows out of necessity. 'You go in (to business) naively because it's what stimulates you, and then it's as much a curse, because by the time you get in this far you're tied down and you've got to make it work. But I've got the capabilities, the space and the machines to do the work. I'm on my own path trying to do what I want to do.'
Wandel table in walnut. Photo: Jonathan Revill
It can be easy to blow your mind as well as your budget when you're setting up: knowing who you are, what you want to do, how to make money. 'Essentially it's been four years of learning what not to do, in my time and working for myself', said Daniel. 'It's been a constant process of trying to refine, be smarter, be better. It's been refining to the point of making fewer pieces and repeating those, especially if you're going to employ (people) so those employees can get an understanding and develop their skills.'
A week is not much time for clutter to accumulate but looking around the new workspace there were few visible trappings of the artist craftsman or even a cabinetmaker. No tool wall or crafted benchspace. One drawer in a chest was opened to reveal some hand tools, and a few in use lay on a bench. Once again, the whole story doesn't always need to be told.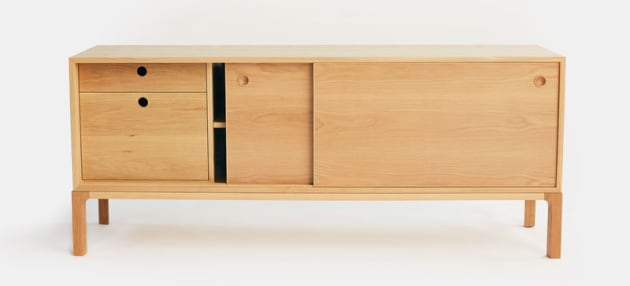 Melanie sideboard in white oak with handturned and recessed handles. Photo: Elise Wilken
There may be unspoken words but Daniel is obviously a thinker. 'I like to stir things up a bit – the design community – because they have most of the influence – but often with an inferior product, so there's probably that rivalry. Although, to be honest I do like to mix in-between.' Those who design and craft can sometimes claim authority over those who design but don't make.
Daniel's stated aesthetic is 'clean and simple'. Every age has its own version of this concept but the challenge, he feels, is achieving that when you're working with an organic material that literally moves in response to its environment. 'You can't just draw a picture and say this is what I'm going to make – it'll fall apart,' said Daniel highlighting how you need to understand how wood moves in order to design with it.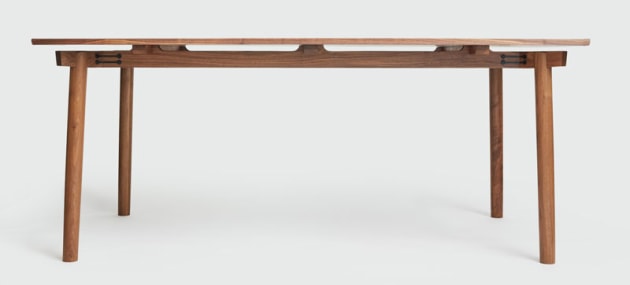 Sculpted frame supports and open through tenon construction on the Joanne table. Photo: Elise Wilken
Knowing how to refine designs and structures is a matter 8 of experience. 'At first you tend to over-engineer and be
overly cautious, but I'm balancing practicality with design and rigidity. Basically I'm trying to build a better and better product'.
Machine-wise Daniel has a good setup but 'anything that's curved has to be finished by hand'. In effect that's what sets his work apart. 'The craftsman ethic is what secures my employment, not everyone can cut dovetails and afford to pay the rent. I've developed the capabilities to do that. But my vision hasn't changed since I left industrial design. The space I want to create – the table I want to make, suits that environment. I want to be able to provide products that are accessible but that have the quality and integrity that being a cabinetmaker gives.'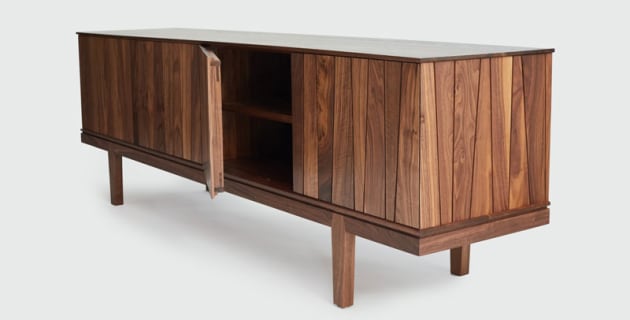 As an 'exploration of imperfect beauty' the Joanne sideboard highlights the grain and colour variations of blackwood. Photo: Elise Wilken
With overheads and part-time staff there's pressure but still some freedom. 'I need to produce three pieces a month to pay the bills but I'm pretty stubborn with only doing what I want to do,' said Daniel. The latter is more about refining designs that can go on to be produced with a profit, as well being selective about 'one-offs that you'll never get your time back on'. Down the track he'll make some stock items and create a display space.
Daniel Poole works hard to refine his designs for both aesthetic and economic reasons. But he's happy to let his work and other people speak for its appeal and integrity.
Contact Daniel Poole via his website at www.danielpoole.com.au or Instagram @danielpoolestudio