Lana Kagan: Making the Cupric Room Divider

Words and photos: Lana Kagan
It was meant to be quick and easy...
I was really excited to be invited to submit a piece for Beyond Ordinary, but had spent most of the year without access to a workshop (I moved around a lot last year). Such an excellent opportunity, I had to make it work. Fortunately, I found myself back in Melbourne in December. I had eight weeks. Scratch that. I caught the spicy cough. Six weeks.
With the timeline in mind, I decided to design something "quick and easy". After the standard design struggles, I settled on this room divider. The idea came to me fully formed*. It was meant to be an easy build because it's basically just a couple of frames with some (hopefully) classy shaped joinery. "It's a one or two week build", I thought. Simple.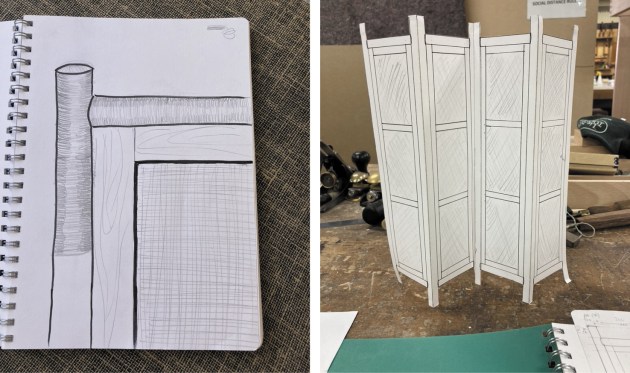 Concept sketch and cut-out mock-up for the Cupric Room Divider
Complex enough to be interesting
The curved joinery and rounded profile of the main posts and rails introduced a bunch of hand fitting and shaping that slowed the build significantly. CNC routed templates would have made the convex and concave joinery easy. Turns out it's not such an easy request when you're three days out from Christmas during a shadow lockdown.
Jig for shaping the convex joinery
Thanks to a clever suggestion from a friend, I remembered how easy it is to create a perfect arc on a sander using a pivot point. I used a bit of maths to start off and fine-tuned the radius with trial and error. Wedges in a recess formed a stop to ensure the second end of the rail was rounded off at the correct length. This jig worked perfectly.
The jig for the bobbin sander (shown above) to create the concave 'mortise' in the posts was more straightforward, essentially a sliding bed with a built-in stop.
Showing the rail to post join
The curved profile of the posts and rails was created on the router table. Given the radius of the joinery was smaller than the radius of the profile, it resulted in a small step between the post and rail. (There was no getting around it, all the rails had to be hand planed to fit flush into the posts. This was a fairly laborious process, but I still enjoyed it way more than buffing back the milk paint.
Painting with fire
Left to right: the copper wire mesh panels after "flaming", and then installed and trimmed.
I wanted an "organic" looking verdigris patina on the copper wire mesh panels, something almost sedimentary, like a landscape. I created some gorgeous colours from chemical reactions between the copper and everyday chemicals like salt, vinegar and ammonia. Purple, tiffany blue, rust, charcoal, musk pink, ink blue and verdigris. Unfortunately, I couldn't replicate any of them, my scientific methodology was pretty ramshackle. So I settled on a simpler method. Flaming the copper creates a bunch of copper oxides on the surface which vary in colour depending on the temperature reached. It's a really fun process and feels like painting with a flame.
I settled on a charcoal milk paint to contrast the flamed copper. The milk paint allowed me to maintain some texture and depth. Given some of the elements were hand shaped I wanted those to be evident to a keen observer.
Details and full view of the finished piece
A couple of elements took much longer than I anticipated, but overall I'm really pleased that the piece turned out so closely to my original design. I'm particularly chuffed with the jigs and hand shaping to create crisp joinery. I was super lucky to find workshop space at such short notice and am really thankful for the support I received while I was in Melbourne.
Note: It turns out the design did not "come out of nowhere". A month after finishing the piece, I realised I was heavily influenced by Richard Vaughan's piece in Australian Wood Review which I'm sure passed into my subconscious as I fell off to sleep, issue 113 sliding off the side of my bed.

Lana's piece is on display at Beyond Ordinary: Contemporary Women Makers, Sturt Gallery & Studios until 3 April 2022. The exhibition can be viewed virtually here.
Lana graduated from the Sturt School for Wood in 2020 and currently teaches at the Perth Wood School. Learn more about Lana Kagan at Instagram @lanakagan