Beyond Ordinary: Contemporary women makers

A view of the exhibition Beyond Ordinary at Sturt Gallery showing Laura McCusker's Barcode Screen, Clancy Warner's Bird: I see, I feel sculpture in reclaimed oregon and bronze and Tyla Veney's Cabin Lamp. Photo: Steven Foster
The background to Beyond Ordinary
About two years ago Ruth Thompson, Dale Dryen and Eliza Maunsell, all graduates of the Sturt School for Wood in Mittagong, attended a national exhibition of woodwork. Noting that only two of the exhibitors were women and knowing there are many more women working in this field, they felt it was time for women to stand up and be seen.
At the opening, exhibition curators and organisers Ruth Thompson (left) and Dale Dryen. Photo: Steven Foster
There followed a period of plotting, planning and spreading the word to gather expressions of interest for a large exhibition to be held at Sturt Gallery in early 2022. Replies came from around the world and there was a flood of applications. Covid became an unknown element and it was decided that accepting participants from the United States was logistically problematic but three from New Zealand were accepted. The original list was culled to 32 participants.
Lou Harriss @magselli Lily Table and Eno Stool, jarrah, Tas oak. 'A homage to dear friends to experience the symbiotic relationship that well considered form can engender between people and natural materials.' Photos: Matthew Duchesne
Covid and lockdowns then made it impossible for some to get to their workshops for extended periods, and uncertainties of transport, illness and family life all took a toll on the makers. The final list included 26 woodworkers, a mosaic artist and a porcelain light maker, all from Australia.
The philosophy
Understanding that the field of timber design and make has historically been dominated by men, this curated exhibition hoped to showcase the work of women, exploring an approach to fine woodworking embedded in questions of technique, utility, and the built environment. The exhibition was to show the breadth of the current field of woodworking, and how these makers are responding to the world around them. The exhibition presented a range of objects; from one-off works to batch products, representing a range of technical approaches and scales.
Carol Russell @carol.a.russell Sailing Away. 'The pieces I made for this exhibition centre on objects of comfort in difficult and extraordinary times. I want people to view them through the prism of their own life, the memory of a pet or a moment in time. The small scale is important to me as a piece doesn't need to be large to speak volumes.' Photo: Carol Russell
While primarily an exhibition for women in wood, the exhibition also included complementary selected works in other media such as bronze, ceramic mosaic and porcelain. This was an opportunity to converge and contribute to an all- women collective initiative. In the words of Cat Cook, one of the makers: 'This is a dialogue – makers coming together under a common thread of identity and what it is to be both woman and woodworker.'
Chelsea Lemon @chelsealemondesign Callam Offices Broad Tray in walnut and dyed veneer is 'a visual representation of the work of Australian architect John Andrews developed through on site sketches and photography'. Photo: Steven Foster
To encourage more women to participate in an area mostly defined by male gender stereotyping, it is important for women to support other women; to educate, represent and be role models, to show opportunities exist and that anything is possible. This would be an opportunity for young girls to see that they can do anything they wish to in life, without the boundaries of gender stereotypes.
Linda Fredheim @lindas_things Kurver 1 and 2, myrtle, eucalypt veneer. 'I enjoy making objects that store, contain, protect and obscure our possessions, but which also say something about the owner.'
The exhibition gave women makers from around Australia an opportunity to showcase their work in a unique setting. An all-women exhibition of this type and size had not been presented in this country for over 30 years. It represented an opportunity to bring increased exposure and from that, increase success to the participating artists.
Catherine Capan @catherine_capan.creations, Looking Out, golden sassafras, brass, ebony. 'In my practice I like to integrate other interests of metal, fabric or photography into quirky, unique pieces. Participating in this exhibition is a great opportunity to highlight the contribution of women to this field. Women bring their own interpretations, finesse, language and vision to this discipline. I hope this exhibition will inspire women of any age or background to know and believe they can be fabulously creative.'
Women are under-represented in many aspects of our society, particularly at the highest echelons of artistic practice, the exhibition hoped to make some redress to this situation.
Isabel Avendano Hazbun @isabel_ avendano_hazbun, Truss, blackwood, organza, copper. 'As a furniture maker, I'm exploring the concept of how a functional object can also be a work of art. Wrapped in silk organza, this shelf holds a box – to access the box you must tear the fabric. Like all things out of the ordinary it requires thought, courage and effort, and sometimes it can get messy.'
The exhibition
Works arrived from all over Australia by post, courier and some personally delivered by exhibitors. Sturt Gallery manager Slavica Zivkovic skilfully mounted the eclectic range of works to showcase them at their best, the catalogue arrived from the printers, the list of works for sale was drawn up and the first visitors were welcomed.
Eliza Maunsell @eliza_wood_co, Scupltural Wall Shelf No.2, southern mountain ash, brass. 'The goal was to create a dynamic wall-mounted artwork, as well as a surface to display treasured objects. A variety of techniques were used, including bent lamination, joinery of curved surfaces, steam bending and ebonising.' Photo: Steven Foster
The opening on February 13 was to coincide with the Sturt annual Tools & Techniques weekend which because of difficulties posed by the pandemic, saw more than half of the exhibitors unable to participate and so reluctantly that event was cancelled.
Cat Cook @takooc, Onslow Cabinet, silver beech, rock maple, walnut, white ash, brass. 'Onslow is a narrative. My work is both technically and personally driven. It is the diary of a relationship: the initial, the allure, the intrigue, the seduction and the residual. And how regardless of perspective, there is always something new to learn, to see, to unveil.'
After days of lockdowns, restrictions, cold and wet days, the opening coincided with rare sparkling sunshine and an easing of restrictions. The mood was joyful, people were delighted to be out and celebrating (socially distanced of course) such a timely cause. The guest speaker was Lucy Turnbull AO who emphasised the importance of highlighting social change to enable and empower women in seeking to follow their chosen path.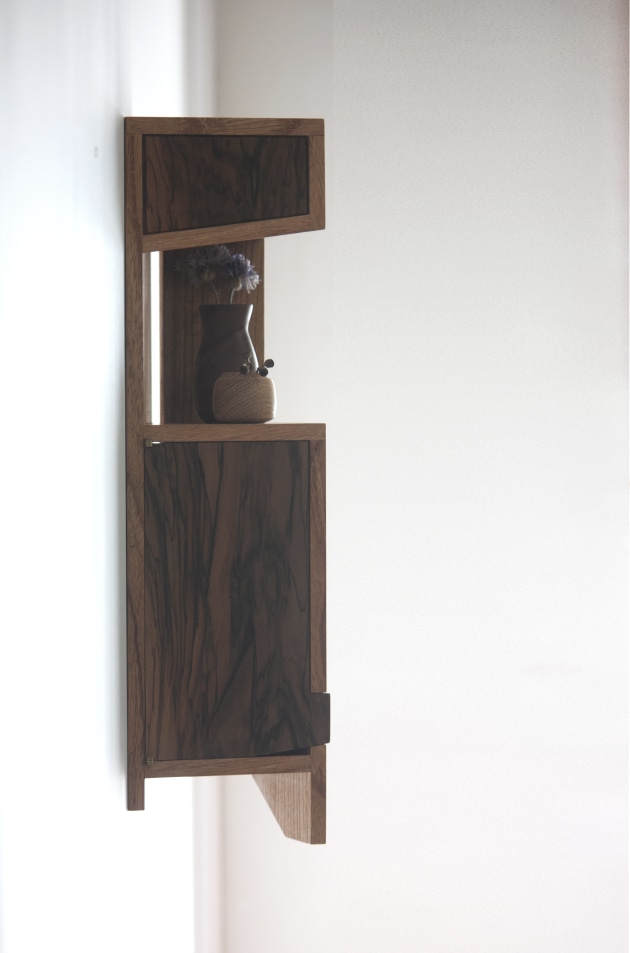 Bec Evans @becevansdesign 'The Angle Cabinet is a display place and home for small treasures, made from Californian walnut and Australian white cedar. The design is a playful exploration of joinery, geometry, enclosure and light – the construction resolved to complement a geometry that shifts as you walk past.'
Sara Smith @saraisnotasparky, Rae's Cabinet, walnut, brass. 'This exhibition sends a message to all women that there is room for our vision, and space for our work.'
The response
A number of sales were made on that first day, and several more occurred in the weeks following. Some commissions were also requested and accepted. The curators were interviewed for the local ABC, local press and Southern Tablelands Arts, articles have appeared in a number of newsletters and magazines and social media has been abuzz with posts from both makers and supporters.
Dale Dryen, Way off Broadway wall cabinet, Macrocarpa, MDF, brass, mirror. 'Through participating in this exhibition, I look forward to meeting other women makers. However, I do not wish to be seen as a woman woodworker, but to be acknowledged simply as a woodworker. I hope Beyond Ordinary gives younger women the opportunity to envisage such a career path and in the future not to be seen as extra-ordinary just because they are women in this field.'
Dozens of guided tours have been conducted for local interest groups, school classes, groups travelling from Sydney, the Blue Mountains, Wollongong and Canberra, as well as the regular visitors to Sturt. The response has been overwhelmingly positive. Comments include the words refreshing, accomplished, colourful, joyful, inspiring.
Phoebe Everill @phoebeeverill 'Beyond Ordinary has been a very positive experience for me, an opportunity to design, make and exhibit with my female peers, to celebrate our different journeys. The Reindeer Desk started with the magnificent raindrop blackwood sourced by Chris Searle in northern Tasmania. The design was always going to be about curves for me but this piece stretched me to a new sculptural level, everything hand shaped and finished. I am thrilled to be part of this landmark exhibition!' Photo: Terry Muller-Maher
A Women's Day Brunch attended by 50 people included a panel discussion with local exhibitors Ruth, Eliza and Dale, led by Gallery Manager, Slavica who posed questions about their journey to becoming women makers, their experiences and their hopes for the future of women in this field. This was followed by a guided tour of the exhibition and a visit to the School for Wood and the Sturt Archives which houses the historically significant permanent collection of works by international and national visiting artists of the past 80 years.
Tyla Veney @tylaveneycraft, Poise Hall Table, European beech. 'In response to Beyond Ordinary, I wanted to achieve a hall table that took a refreshing deviation from what's ordinarily seen on the market. The spheres are the heart of my inspiration as the rest of the elements weren't designed until I had them in my hands. The haphazard placement of the hand turned spheres, delicate shapes, and traditional construction techniques reveal my great admiration for the lively essence of Memphis design and the elegant complexion of Danish furniture. My experiences have unveiled one attribute that's apparent in all makers and that is that we are daring and Beyond Ordinary celebrates this.' Photos: Matthew Duchesne
Against the difficulties of the past two years the exhibition was an outstanding success. It is apparent that it hit the mark in its appeal and timing, and has achieved its aim of showcasing the diversity of women working in this field.
Photos without credits were taken by the maker of the piece.
Cover photo: Anna Hay
Beyond Ordinary: An exhibition of contemporary women makers was shown at Sturt Gallery in Mittagong, NSW from February 13 to April 3, 2022. Learn more about Sturt Gallery at www.sturt.nsw.edu.au
26
Vivienne Wong @vivienne_l_wong with Ella Havelka, Lorraine Tye, Linda Elliott. Galing Giilang/Water Stories. This collaborative piece brings together Australian materials and cultural stories of the Wiradjuri people from Wagga Wagga. Two planks slant towards the centre, reflective of the Murrumbidgee river banks, and lomandra grass (dirramaay) has been decoratively wrapped so that people sit between it. On the lower rail, inlaid fresh water mussel shells (bindu-gaany) evoke the shady junctions of the waterways. For the ancestors of the Wiradjuri people, finding bindu-gaany at these river junctions was the sign of a healthy river. The lomandra grass and mussel shells came from the land around Wagga Wagga. The timber used was salvaged blackwood from the Otways.
Jeanie Mulligan @studia.j Meow Haus cat sanctuary, walnut veneered birch ply. 'The length and intensity of the (Melbourne) lockdown shifted our focus to our immediate surroundings, giving rise to a longing for comfort and nesting. Meow Haus is a reflection of this period: a piece that helps to create a calm, safe and beautiful space for ourselves and loved ones – be it partners, family and by extension, our beloved fur babies.'
Ruth Thompson @shed_at_144 , Chair for Quiet Contemplation, NZ beech, Tasmanian myrtle veneer, Suzani fabric. 'Making objects is in our DNA. Combined with culture and knowledge, the need to make defines the human condition. As a furniture maker, I am often the recipient of surprised looks, as if the whole notion that a woman would choose to create in timber is a foreign concept. I believe the exhibition will show that women woodworkers are not an anomaly, just for the large part, unseen.' Photo: Peter Thompson
Linda Nathan @lindanathan.woodworder, Leaf platters 1 and 2, maple silkwood, 530 x 230 x 45mm and Wau beech, 530 x 200 x 20mm. 'Carving wood is a paradoxical kind of thing – the more you take away, the more you might be left with. Each of the pieces I've made for Beyond Ordinary is the product of time spent pleasurably in a process of gradual refinement. It intrigues me how some shapes and forms keep emerging in the things we make – and from a mix of influences and a personal aesthetic, the maker's identity appears.' Photo: Rebecca Nathan

Kim Johnston @bfdact, I know what we did that summer. 'This cabinet is a memorial to that loss by fire, to those trees, to the forests that will never be again. It is also a memorial to a craft that can no longer ignore the role it plays in that loss.'
Stephanie White @stephthewoodcarver, Sassy, bass wood, silky oak. 'Sassy the whippet snoozes in the corner of my workshops no matter the chaos and noise of the machines and students. Throughout my career in this male dominated industry, I have constantly been questioned as a woodworker, and there is disbelief and surprise that I can create with timber, run my own business, and use the rather large number of tools that I own. There are so many capable women woodworkers out there, we just have to make ourselves known, and support each other, which is what I feel this exhibition is all about.'
Lana Kagan @lanakagan, Cupric Room Divider, European beech, copper mesh, milk paint. 'As both a functional and decorative object, this piece addresses my generation's necessarily transient lifestyle. It is easily moved, designed to fit and can augment a range of small spaces. The panels are extremely fine woven wire copper mesh torched to oxidise the surface, bringing about the variation in colour.' Photo: Alastair Boell