Alexsandra Pontonio: Learn by doing

Alexsandra Pontonio in the Victorian Woodworkers Association workshop in North Melbourne, where she currently has a residency. Photo: Northside Studio
Interview by Linda Nathan
In the early stages of her career Melbourne designer maker Alexsandra Pontonio, 33 has achieved high profile recognition, including Maker of the Year awards in 2021 and 2020. Degrees in social sciences and furniture design gave way to a desire to build hands-on skills that could give voice to her ideas. Incorporating required new skills or processes into her designs became a means to a career end. I asked her about her path to becoming a full time maker.
Alex, you seem to be at the start of your career and yet you are one of the most awarded makers around. Virtually every piece of yours I've seen images for has received an award, or led to exposure at high profile events. It's wonderful – how do you account for that?
Honestly, I'm not sure. Accounting is not my strong point. Haha! I think I've been really lucky to do some interesting projects from the get-go, and I've had clients that really trust in what I do. I put a lot of work into the things that I take on. I'm grateful that this work resonates with people and has been recognised in the way that it has.
What made you switch from studying social sciences and environmental studies to furniture design?
As a young and impressionable student, studying social science was a great place to start. I was fortunate to have the space to really consider the world, my own place in it, and nut out some big picture thinking. The subjects I tended to give more attention to were those concerned with ideas, and my favourites were studies in politics, economics, social theory and philosophy.
At the time I had a limited understanding of how I could use my ideas in a career context and felt steered into areas like policy, regulation and planning. My brief foray into that world as an excitable 21 year old contradicted the fun and conceptual stuff I was more motivated by. I was also quick to realise that working at a desk in an office wasn't suited to me.
Looking back, I assume my switch was encouraged by trying to find a more tangible way to explore ideas. Designing and making furniture allows you to experience both the creative process and practical resolutions. Despite all the variables, furniture is quite an applied art form where you build with the purpose of function. The process can be imaginative, the outcome definitive.
Dining Table for Derby Street, Otways myrtle. 'The brief asked for a design which met halfway between "solid and robust" and "smooth and soft". A sturdy table end wraps around to a gentle sculpted side. The legs cradle the top with some pretty tricky curve work. Tactile and full of colour thanks to the crazy, hypercoloured myrtle I got to work with.' Photos: Nick Manuell
Did the furniture design degree you then undertook at RMIT take you in the direction you wanted to go? How did you develop your hands-on skills?
By the time I started the furniture design degree, I was looking to learn how to do, rather than how to think. I wanted to develop really practical and purposeful skills and was ready to roll up my sleeves and get on with things. Early in the course I questioned whether the degree was taking me in the right direction or if I should instead look for a more traditional learning path like an apprenticeship.
A turning point for me was a conversation I had with one of my teachers a term into the course. I expressed to him that I wanted to be a really good maker and that I felt like I wasn't learning enough of the traditional stuff. Amongst a few helpful nuggets of advice, he told me to build into my projects what I wanted to learn. This strategy guided my next few projects, and really, my projects to date tend to explore a new skill or process.
Hunting Wajima Loom Chair, 2016, bamboo board. 'A collaboration with Megan Stewart based on the shapes, colours and tools of the backstrap looms used by women in East Timor to weave traditional cotton tais. Connecting the simple elegance of mid-century design with the workmanship, traditions and materials of East Timorese crafts.' Shown at At Home – Modern Australian Design, Old Government House, 2016, Sydney. Photo: Matty Fuller
How much of your time goes into the design and how much goes into the making of things? Does one interest you more than the other?
I'm not yet at a stage where I can definitively separate designing and making. So far I have only really built one-off pieces, and so there is much thinking and problem solving embedded in that. As I build, I trial things, make little mock-ups, test out a process – I have to be creative about getting to solutions and design ways to do things as I go.
In terms of concept development, I tend to have a very clear idea in my head, (and on paper and in CAD, and mapped on spreadsheets) before I start docking any timber. Conceptually, I tend to sit on an idea for a while and do lots of direct and indirect thinking – ideation, sketching, concept development and lots of planning. This part of the process takes a lot of time, sometimes weeks. I tend to like the part I'm not doing at the time the most!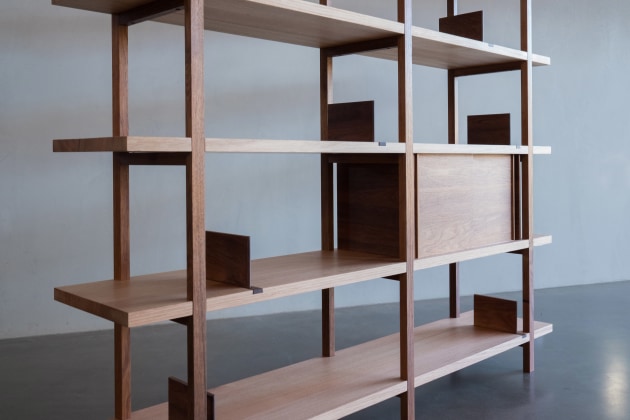 Flank (detail), Tas blackwood, solid and shopsawn veneer. 'A bookcase commission, born from function. The sliding dovetail bookends gesture equally to the piece's craft and utility. Interactive and adaptable, these can be used, moved or replaced by flat blanks. A nod to the detail, the shape of the uprights are notched into the shelves following the same 8° taper. Runner-up award Furniture category, Maker of the Year 2020. Photo: Alexsandra Pontonio
What are your aesthetic priorities when you design a piece? What do you aim for most of all?
I like to focus on an overall aim of a work, in particular the mood or feel I'm trying to achieve, and then ask myself whether it is meeting what I am aiming for conceptually.
In terms of priority, it is important that the whole composition of a piece feels right. To find this I look at things like balance, proportions, space and colour. Details and highlights come second, but are also very important to me. One of my teachers at university taught us not to make a piece too 'fussy'. From a design perspective, he said our work should only really try to achieve three main things visually. I like to consider this advice when I look at my designs, and see elements in terms of a hierarchy. If the piece conveys three main features which read in the right order, you know you're close to getting the composition thing right.
Ondalé (detail), American ash veneer, Tas blackwood. 'Inspired by the modern classics, this furniture piece is the result of a personal investigation into traditional woodworking technique and the process of cold- press lamination to explore the malleability of timber, a rigid and mostly unforgiving material.' Winner of Furniture Concept award at VIVID 2016, Tait Award for Design Innovation at Fringe Furniture Melbourne, 2016, and Future Leaders award at Craft Victoria's Fresh, 2016. Shown at Salone Del Mobile, Milan, 2016. Photo: Alexsandra Pontonio
What does sustainability mean to you as it relates to furniture design?
Gosh, what a question! I am still trying to work out what's right. Regarding my furniture design, first and foremost I aim to build for purpose and think the world already has enough stuff in it. I think you have to find a pretty good reason
to bring a brand new thing into this world. I make things I hope will outlast me. My nightmare would be creating something that ended up on the footpath one day.
I try to consider the environmental footprint of every part I incorporate into a build and minimise waste where possible. I consider the timber I work with, where it comes from and how much of it I really need to use. Where possible, I design for repair and try not to glue things which don't need to be fixed. I limit my use of epoxy glues or urethanes as I aim to consider the end life of what I make. Many of my works can be partly disassembled, so they are more easily moved and less likely subjected to damage.
Essentially, in terms of sustainability, as a consumer and someone who produces things, I feel the biggest impact you can make is with your dollars. Buy fewer things and buy the best quality you can.
Fire Sideboard, 2018, designed by Alexsandra Pontonio and made by Manapan Furniture, NT. Time spent in Arnhem
Land inspired the ebonised tambour and 'branch' shaped componentry. Photos: Christopher Tovo
What timbers and other materials do you prefer and why?
I try to use local timber as a starting point as I am concerned about the environmental footprint of materials which are imported. That said, I understand the local industry hasits own complexities. More recently I have dabbled into using some American and European timbers and have really enjoyed their working properties. Colour and figure is important to me, so that informs a lot of my decision making when it comes to timber.
I haven't incorporated many other materials into my practice, but fabric appears sometimes! My grandparents (nonni) were dressmakers and tailors, maybe it has rubbed off?
Boxkite, Tas blackwood, dowel-tensioned natural linen for the cabinet doors. 'Looking for a certain feeling of lightness, this piece was designed whilst delving into images of box kites and biplanes.' Winner Chests, Cabinets and Shelving category, Maker of the Year 2021. Photo: Alexsandra Pontonio
What part/s of the making process do you enjoy most and why?
I have such a complex relationship with the making side of things. I'm still stretching my skillset and so learning brings many challenges both practically and emotionally. My favourite part is putting down the finish, a time when I feel a real sense of ceremony and relief. Everything has to be right and in place to get to that point and you know you're close to the end.
Kenikie, blackwood, knockdown joinery. Photo: Alexsandra Pontonio
What's it like being a woman in a scene that is still mostly populated by men? Does that have any relevance for you as a maker, or any bearing on your work?
I think being a woman influenced me earlier, in that I put off pursuing this career sooner because I didn't really know how to start. I assumed the more traditional trade training pathways were going to be too 'blokey' and didn't know anyone else who was a furniture maker.
These days being a women in the scene seems less relevant to me. The longer I've been around, the more I've learnt of so many diverse makers. The part of the making world that I am connected to and know is very inclusive, where my skills, not gender, tend to be celebrated. I do like to advocate for women in the field and hope to be a role model to those considering the pathway. Perhaps I didn't look hard enough when I was looking to start, but I didn't find many women that I felt I could look up to.
How did the Manapan connection come about? With its ebonised tambour and branch-like supports, you said your Fire Sideboard recalled the memory of time spent in Northern Australia. Can you tell us a little about that? What were you trying to say within the design of that piece?
I wanted to move carefully in this space and at first wasn't sure how to approach a design for this distinctly Aboriginal owned enterprise. For me, it was important to tell a meaningful story and be relevant to the project, but also remain conscious of where my place was in it.
Looking for my own relevance, I reflected on a short time I had spent living up in the Northern Territory and used this as my starting point. I particularly remember my experience of the bushfires up there, and the charred landscapes I'd witnessed whilst driving through parts of the country. The absence of huge eucalypts was distinctive – instead, burnt shrubs, pandanus, woodlands and spinifex grasses, and vast landscapes completely blackened caught my attention. With a nod to a bigger story, these were the things I aimed to convey through the piece.
Biplane Sideboard, 2021, American white ash, dyed natural linen. Shown at Future Remains, an exhibition curated by Craft Victoria. Photo: Michael Pham
At what point did you decide to make woodworking your career? Do you find the business side of running a fine woodworking practice challenging?
Actually, it wasn't until things started to really lock down in 2020 that I switched into making woodworking as my mainstay. I was working at a university at the time as a technical staff member for the design workshops. As students moved off campus, my job there was no longer needed.
I do find it hard to wear all the hats at the same time as I run my own business, because when I'm on the tools I like to be focused on what I'm doing. I still haven't mastered the juggling act of trying to make, plan, design, do finances, be on top of email etc. It's early days though, so I'll just take it day by day.
Learn more about Alexsandra Pontonio at www.alexsandrapontonio.com and Instagram @apontonio
Below, Alexsandra Pontonio on the cover of Australian Wood Review, issue 114, March, 2022