This weekend: Rare trades expo in Gympie, Qld

From the Rotary Club of Gympie:
In 2002, the Rotary Club of Gympie presented its inaugural Quilt & Craft Spectacular. Over the years, the event evolved, consistently raising the benchmark. Now, overflowing with displays of over 200 beautiful quilts and artpieces, artisan exhibits and handmade markets, the event is considered to be one of the largest quilting and crafting events in South East Queensland.
In 2017, the club began looking at ways to add to the event in a way that was with Gympie's strong heritage background. The seed for hosting a gathering of authentic heritage tradesmen and craftsmen was planted at a meeting held at a local luthier/ woodworker's shed. In amongst the sawdust and shavings were random bits of beautifully carved and crafted guitars, sensory harps, intricately inlaid boxes, even a larger-than-life horse head. From the rafters dangled a forest of curved, turned and fluted legs, posts and planks, all in the process of become exquisite showpieces.
Shortly after that meeting, the club discovered a young-at-heart 85-year-old third generation blacksmith. His passion is creating perfectly detailed miniature reproductions of vintage model cars, trucks - anything with wheels - in metal. His garage is lined from top to bottom with shelves packed with his hand-forged, hand painted mini taxis, carts, trucks, ambulances – even, in pride of place, his bullet-riddled Bonnie & Clyde 1934 Ford Deluxe.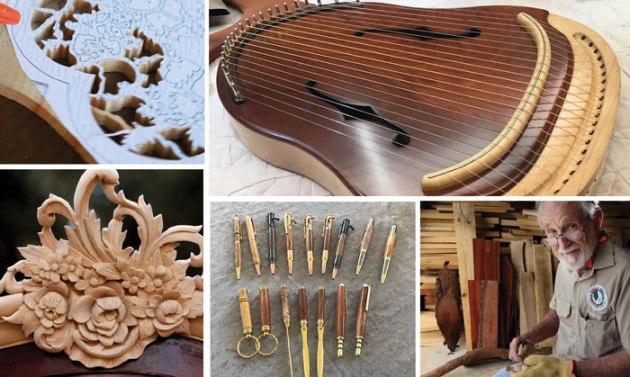 The search began in earnest for exhibitors, heritage tradesmen and artisans of almost forgotten arts. And slowly, they were found - most quietly honing their skills in their sheds, but without a common platform, a place to gather together and share information, to network, there was little opportunity to pass on their knowledge to preserve the longevity of their trade.
In 2018, with over 35 artisans onboard, the club hosted the inaugural Ancient Crafts, Rare Trades Expo, in conjunction with the Gympie Rotary Quilt & Craft Spectacular, on a warm October weekend. With inspiring non-stop demonstrations by skilled artisans and tradespeople, vintage displays and lots of old-fashioned camaraderie, the event was a roaring success.
This year the Ancient Crafts, Rare Trades Expo will be held October 30–31, 2021, in Gympie's Pavilion and surrounds, with over 45 demonstrators, exhibitors, displays and shows. Entry is $8 – all proceeds benefit charities through the Rotary Club of Gympie.
We are looking for a wheelwright, leadlighter, whipmaker and saddler....and authentic makers of other heritage trades. Please contact us on admin@ancientcrafts.org to apply.
Learn more at www.ancientcrafts.org