Reimagined: Design Fringe is a place to design the future

Above: Edward Linacre, Sun, 2021, Elton Group plantation timber veneer, brass and LED, Fringe Furniture 2021, 1500 x 1500 x 2000mm. Image courtesy of the artist.
From Design Fringe: A stool crafted from found objects. An intricate, woodworking masterpiece to stand the test of time. An amorphous ceramic object that challenges the limits of form and materials because... why not? For decades Fringe Furniture has been a space for designers to experiment and play, to look beyond the bounds of traditional furniture and design. After a longstanding history as Fringe Furniture, its time to design the future... with Design Fringe!
Design Fringe is Fringe Furniture reimagined – a safe space to show both the timeless and the bizarre, the inventive and the totally impractical. It honours the legacy of Fringe Furniture while looking forward into the future of the contemporary design industry. Design Fringe holds a (very artistically designed) mirror up to the who's who and what's what of the industry right now and celebrates innovation across design of all kinds. It's everything we loved about Fringe Furniture and more! With a fresh perspective and a slick new look, Design Fringe celebrates the changing face of design and amplifying the work of ambitious new design leaders.
Along with this new reinvigoration comes a new home, and we're delighted to be celebrating a new era in partnership with Linden New Art. Our curatorial partners at Linden have a track record of supporting brave new art by mid-career artists, and engaging visitors through inspiring, thought-provoking exhibitions of new work. Through our partnership we will create an exhibition that incorporates our long-living, much- loved furniture and design showcase, as well as reaching further into experimental design that forges forward to the cutting edge of contemporary design. A big day at the office, hey? Linden have provided new place for us to call home, and beyond their walls, Design Fringe will also take place at the Carlisle Street Arts Space in the City of Port Phillip.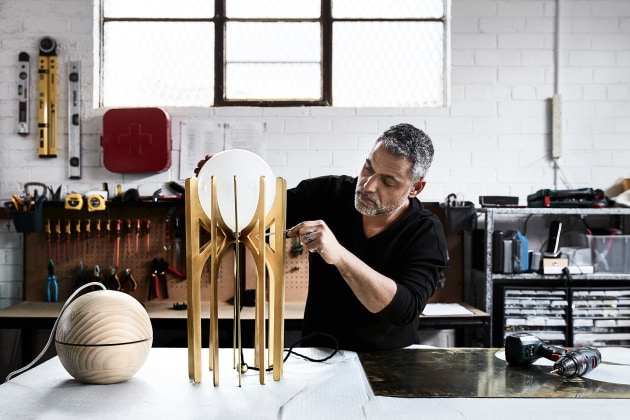 From Fringe Furniture 2021, portrait of Ilan El, 2021. Image courtesy of the artist and Linden New Art.
The Design Fringe program encompasses all there is to celebrate about the design industry. Along with the expanded exhibition in fresh new digs, the program solidifies its ties to industry with enhanced professional development opportunities for designers, and public programs that provoke and inspire. Design Fringe will also introduce a bold focus on reducing barriers and achieving greater diversity in design through a radically expanded equity initiative. While continuing to focus on increasing representation of female identifying and non-binary artists in design, the initiative will expand to encompass First Nations, Deaf and disabled and culturally and linguistically diverse designers and audiences.
Design Fringe will invite new audiences into the fold, with an exciting program of exhibitions and events that educate and inspire artists and audiences, while championing the bright new voices in the industry. Welcome to Design Fringe 2022 – a place for the ambitious, the innovative, the shape-shifting and the magic-making. We'll save you a seat at the table, and whatever other tables you can possibly imagine.
The Design Fringe exhibition will run from 16 September – 27 November 2022. Registrations are now open.