New release: Harvey compass roller guide

If you own a Harvey tablesaw, bandsaw, shaper or router table you may be interested in a new accessory that's available now for pre-order. However if you have other brands of machines with a standard T-slot mitre groove, or to be precise, a groove that measures 19.05 x 9.53 x 25.4mm, you can also use one of these accessories.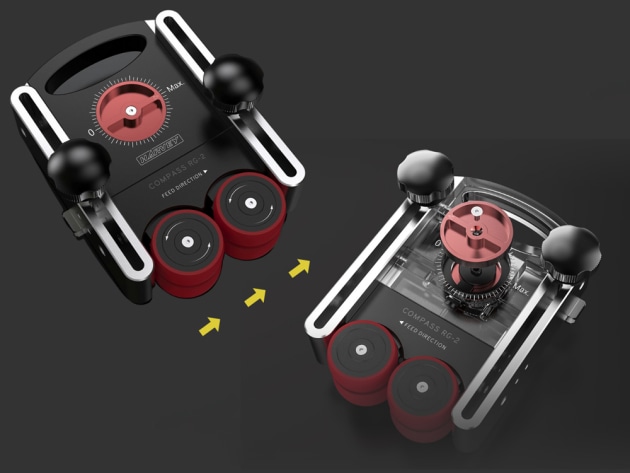 One-way roller bearings offer 'infinite' holding force adjustment
The Harvey Compasss RG-2 Universal Roller Guide is designed to firmly and evenly apply holding pressure to workpieces against fences in a variety of machining operations. The benefits are accuracy, safety and preventing the possibility of chatter.
Unlike featherboards, the Compass RG-2 uses guiding rollers to hold stock in place. The rollers are positioned on one-way bearings that force them to only rotate in the feed direction, reducing the chance of kickback.
Seamless T-slot mounts
This device has a unique independent suspension mechanism which sees each roller fitted with a pre-loaded spring that allows the rollers to move independently to maintain even vertical pressure. The holding force of this device is also easily and infinitely adjustable from 6.8kg to 10kg by simply rotating the adjustable knob which allows the necessary holding force to be applied based on cutting requirements.
Pricing information and pre-order at Gregory Machinery, see gregmach.com