Maker of the Year entries reflect a range of issues
 
Words: Linda Nathan, Wood Review editor
I love a good story. Why we make things can often be more important than how. Part of the excitement of our Maker of the Year awards (for me anyway) is learning about the back story to an entered piece. Some of this year's entries reflect a personal philosophy, while others portray the makers response to the world he or she lives in. Other entries work to build a theme through the techniques used. Here are a few examples.
Shown above, Isaac Ferguson's caricature of Walter White from theTV series Breaking Bad was an image he conjured to remind himself, a secondary school teacher, 'to be wary of cancerous compromise and not grow weary of doing good'. Read more about the idea behind Isaac's piece here.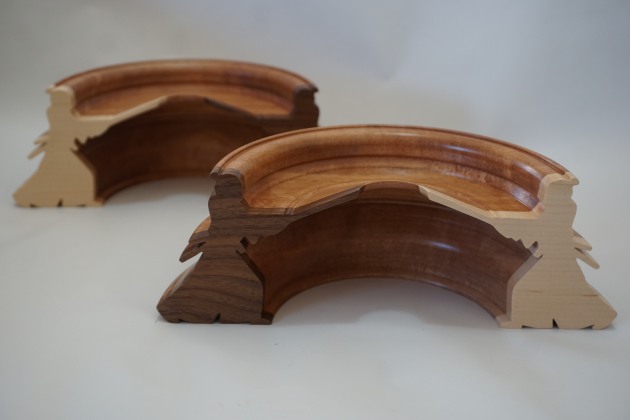 Also entered in the Art & Objects category, Simon Begg's Samurai is a clever rendition of the forces of good and evil as he uses German ringturning technique coupled with contrasting inlays to portray his warrior. If you think ringturning might be a simple process, think again. The success of a silhouette created with this technique is only known at the end after cutting it into sections – in this case that was five hours turning time later. See Simon's entry here.
US maker Courtney Starr's World category entry also carries a personal narrative. After seeing an image of Australia's iconic Jimmy Possum chair he was inspired to make his own, but in a way that tells his own story: 'I wanted this particular chair to look how the Covid-19 pandemic has made me feel. I reflected on all of the complex feelings I've experienced over the past year, and wanted to capture the unpredictable nature of the day-to-day emotions of being stuck at home.' Read Courtney's story here.
If your're planning to enter MOTY 2021 feel free to highlight the inspiration points for your piece in your entry description as well as mentioning the materials and processes used.
There are six categories and over $20,000 in cash and prizes on offer. Pre-earlybird entries closes soon at March 31. Enter your work now at this link: www.woodreview.com.au/moty2021
Wood Review's Maker of the Year awards are proudly presented by Carbatec and sponsored by Whittle Waxes and Felder Group Australia.
MAJOR SPONSOR
 SUPPORTING SPONSORS
PRIZE SPONSORS