Forest Tales: 22 designs from 14 countries

Curated and designed by Studio Swine, Forest Tales brings together 22 selected designs from the American Hardwood Export Council's (AHEC) recent projects, in a showcase of both global design talent and the beauty and versatility of American hardwood as a design material. The 22 featured designers hail from 14 countries.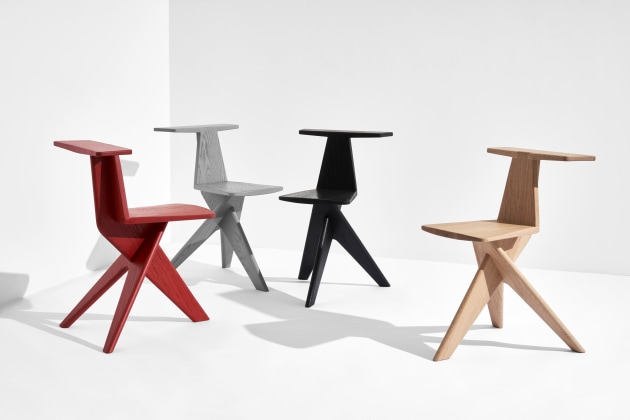 Migo 01 by Pascal Hien, Berlin, Germany, red oak. 'A playful, multifunctional companion object.' Made by Benchmark Furniture. Photo: Jason Yates
Forest Tales was shown at Milan Design Week June 3–12, 2022 and is the culmination of AHEC's creative work over the past two years. Studio Swine curated pieces from four projects, which despite the diversity of their output, are united through material – each piece is made from one (or more) of three underused American hardwood varieties: maple, cherry and red oak.
Ikare in American hard maple by Taiho Shin, Seoul, Korea is a flat-pack, stackable and glue-free shelving system that can grow or shrink to fit the space. Made by Evostyle, Australia. Photos: Rim Robinson
The projects
Connected challenged nine world-renowned international designers to create tables and seating responding to the isolation imposed by the pandemic. Discovered: Designers for Tomorrow gave a platform to 20 emerging design talents from around the world. Slow Design for Fast Change brought together nine young designers from the DACH countries (Germany, Austria and Switzerland to create furniture and objects characterised by sustainability, longevity and craftsmanship. A Seat at the Table was a new collaboration with Italian furniture maker Riva 1920 that sees four emerging Italian designers selected to create innovative, sustainable designs for solid-wood tables.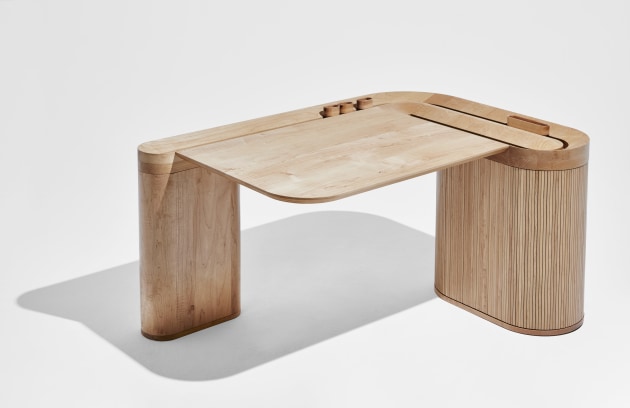 Winding Stream in American maple by Yunhan Wang Zuhai, China is a table for performing traditional tea rituals from home. Made by Fowseng. Photo: Winston Chuang
For the installation of Forest Tales, Studio Swine selected pieces from each project and incorporated them into a labyrinthine 'mountain' of wooden crates – a monumental and immersive exhibition design that invites visitors to enter, explore and discover a fresh perspective on furniture.
The Kadamba Gate by Ini Archibong, Lausanne, Switzerland in American cherry, red oak and thermally modified red oak was inspired by the Giant's Causeway in Northern Ireland. Made by Benchmark Furniture. Photo: David Cleveland
Conscious that many Milan exhibitions generate substantial amounts of waste, the exhibition was designed to be as material-efficient and close to carbon-zero as possible. The use of crates achieved maximum attention with minimal impact. The crates are multipurpose, used to display, ship, and store the exhibits, so there is no set to later dispose of.
Stem By Heatherwick Studio London, UK, American maple. 'Celebrating the power of biophilia by incorporating planting into curved CNC-machined American maple legs, clamped to a glass tabletop.' Made by Benchmark Furniture. Photo: David Cleveland
The wood
Maple, cherry and red oak are durable hardwoods that grow at a faster rate than they are harvested. Strong, beautiful and renewable, they are underutilised by the furniture industry – in some cases because they have fallen out of favour as trends change, in others because they are simply not well understood. With the exhibition and featured projects, the aim was to direct attention towards their sustainability, aesthetics, versatility, practicality.
Studio Swine, Humble Administrator's Chair and Table, American red oak and cherry. 'Drawing inspiration from the archetype of the traditional Ming chair and Chinese Gardens. Made by Benchmark Furniture.
Studio Swine
Studio Swine is a London/Tokyo based design studio founded by Japanese Architect Azusa Murakami and British Artist Alexander Groves. Their work straddles between the spheres of sculpture, installations and cinema, blending poetry and research into immersive experiences.
Leftover Synthesis By Simon Gehring, Stuttgart, Germany, American cherry, maple and red oak is a chair that explores better use of wood scraps. Made by Holzfreude. Photo: Ingmar Kurth
Propellellers in American maple by Maximilian Rohregger, Vienna, Austria. 'A table and stools inspired by the dynamics of a maple seed in flight, the clever screw thread design gives adjustable height.' Made by Holzfreud. Photo: Ingmar Kurth

The Roof Stool by Trang Nguyen Ho Chi Minh City, Vietnam, American cherry, red oak, hard maple. A collection of nesting stools, inspired by traditional Vietnamese roof tiles made with three American hardwoods. Made by Fowseng. Photo: Winston Chuang
Rocking Chair By Clémence Buytaert Paris, France, American red oak. A rocking chair that flat-packs. Made by Holzfreude.