Featured entrant, Maker of the Year 2021: David Cummins

Wood Review magazine's Maker of the Year awards presented by Carbatec are open to woodworkers and wood artists all around the world. In 2021, the awards carry a massive prize purse valued at over $20,000, including $8,400 in cash. World category winner receives AUD$1000. Enter at this link by August 22 to save 25% on entry pricing.
For Brisbane-based furniture designer maker David Cummins, the Innisfree sideboard was a very personal commission. "It was commissioned by my sister for her new home in Dublin. Not only is this the first time I have made a piece for a sibling but also the first time a piece of my furniture will find a home in Ireland. Due to this I felt this piece had to resonate with my whole family and tell a story which binds us all together.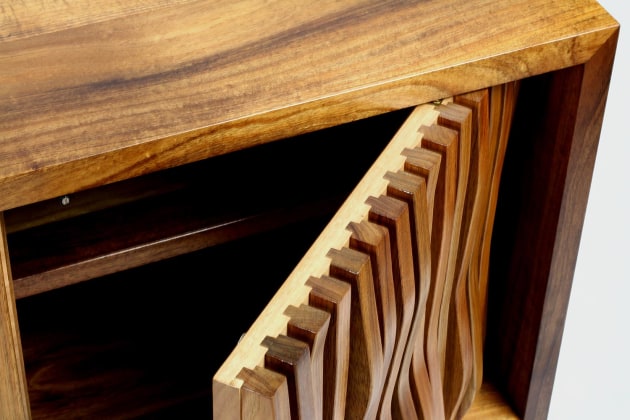 "Our father, Paddy, passed away suddenly 20 years ago but his absence is still keenly felt by our whole family, even after all these years. Hence the Innisfree sideboard is in memory of my father's love of poetry and his favourite poem, "The Lake Isle of Innisfree" by WB Yeats. The undulating form on the front of the sideboard is a visual representation of the 1943 voice recording of WB Yeats reciting his poem and a 1995 voice recording of my father doing an introduction of Yeats' recital of the poem for a cassette tape he made as a Christmas gift for family and friends. Yes he really did love this poem!
"The sideboard is made from Tasmanian blackwood and blackbutt, two contrasting but complementary timbers. These timbers represent the Australian connection to the story this piece tells, as this is where I learnt my craft and began my journey as a furniture designer maker. The undulating form is made up of 60 individual hand shaped pieces of blackwood. The subtle curves of the timber represent the ebb and flow of these two voices as they speak to us across the years. Tasmanian blackwood was chosen due to its broad variation in tone.
The carcase is mitred with a grain wrap. A tongue and groove joint was chosen to attach the slats to the doors as it creates an interesting visual detail, keeps the doors flat and shows off the blackwood endgrain. Due to the weight and thickness of the doors, offset brass hinges were used. A splined mitre joint was chosen for the legs for maximum strength, as all of the weight of the cabinet is transferred down to the leg joint."
See all entries and learn more at www.woodreview.com.au/moty2021
MAJOR SPONSOR
SUPPORTING SPONSORS