Featured entrant, Maker of the Year 2021: Dallas Gara, Canada

Wood Review's Maker of the Year Awards, presented by Carbatec, encourage and promote talented and innovative woodworkers from Australia and New Zealand. However with a new 'World' category, the Awards are now connecting makers all over the globe. Here we meet Dallas Gara who lives in Alberta, Canada. Dallas works full-time as a geophysicist, however woodwork is a consuming passion.
What is it about Sam Maloof's work in particular that inspires you?
I love all of Sam's work. His wood choices, the beautiful curves in his designs, the exposed joinery – all of it was incredibly inspiring. My favorite pieces were his rocking chairs. They were very intriguing because the construction was not obvious to me; how one curve met another and swept perfectly into a square tight joint. They are beautiful, comfortable and functional.
You mentioned that in your day job you are a geophysicist. Do you see any parallels with geophysics and woodworking, or is it the differences between them that interest you?
I think one really strong parallel is the math involved in each. Mathematics plays a very important role in geophysics and I find that has helped when designing or assessing the structural strength of a piece. I get into some pretty deep trigonometry sometimes. I predominantly work with 3D seismic which is a data represented in three-dimensional space. I think this has been helpful when trying imagine what a project might look like. It can be very challenging to physically sketch certain elements of a piece and a lot of the time I am working off what I have in my imagination because I simply cannot draw it.
All that being said, the two disciplines are also very different. Geophysics has a large theoretical component. You interpret data and integrate it with data from other disciplines to generate a range of possible outcomes for a given situation. Nothing is absolute until you execute on your predictions. Woodwork is more tangible. It has an exact outcome that you have a lot more control over. You can physically see and touch every element throughout the building process, and edit or change things as you go to affect the final outcome. I find it a lot less stressful.
Have you always been a woodworker? Did you undertake any formal training or courses?
I started woodworking around 2014. Six years ago I took a woodworking course where I built a Sam Maloof inspired rocker. I had never used a jointer, a router table or a hand plane…it turned out to be a crash course in woodworking. This was a turning point for me, and has been my only training so far. I love my job, but hope that one day I can spend more time in the shop.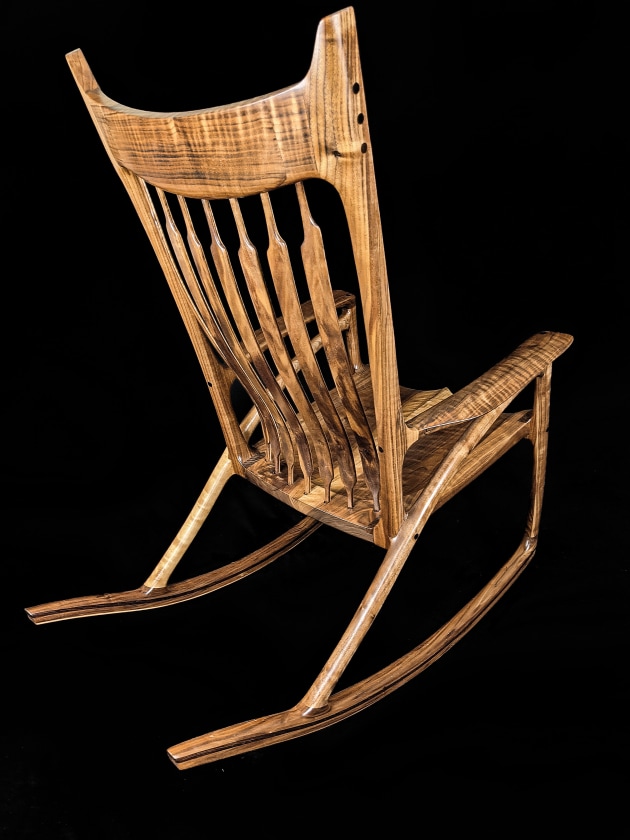 Above: Sculpted Rocking Chair, Dallas Gara's Maker of the Year entry.
Much of your work features wood with exciting figure and grain. What are your favourite species and why?
I really like working with walnut and cherry. Walnut is a very forgiving wood. It is easy to carve and the joinery has always remained stable. I really like the variety of colours within walnut and the darkness of a piece once it has been oiled. I also really like cherry. The fact that it darkens with time is really appealing. I have seen pieces that I made years ago and the patina is stunning. I really like to accent with quilted maple, but it's pretty hard to find.
What's the best thing about woodworking?
I think wood is a really incredible medium to work with. There are so many possibilities and so many applications for woodwork. All the different colors and grain patterns of wood can allow for amazing creations. There are a lot of rules that govern how wood should be finished and joined...but once you master those rules, the possibilities of what can be made are seemingly endless.
...and what's the worst?
All the rules…ha! Just kidding… The worst thing I find about woodworking is that halfway through a piece I really want to start the next one.
Walnut dining suite with curly maple details
What's your best advice for other woodworkers?
The best advice I could offer is be true to what you enjoy building. I feel most inspired when I am working on a piece that I am excited about. I go to sleep and wake up thinking about it. Hopefully your style and what you enjoy building will show through in your pieces.
Learn more about Dallas Gara at https://www.garawood.com and Instagram @garawood
Entries for Maker of the Year presented by Carbatec are now closed. This year, winners and runners-up will share in a prize pool of $20,000, including $8400 in cash prizes. Finalists and award winners will be showcased online and in a special Maker of the Year issue of Australian Wood Review magazine in December 2021. Subcribe to Wood Review magazine.
MAJOR SPONSOR
SUPPORTING SPONSORS

PRIZE SPONSORS