Philip Ashley visited the factory of Danish company Carl Hansen and Son in May 2005 and observed a high technology operation dedicated above all to the quality and faithful reproduction of Hans J. Wegner's classic designs.
Some of the most classic and recognisable designs are chairs. Gerrit Rietveld (1888-1964) designed the famous Red and Blue and Zigzag chairs. They may not be very comfortable to sit on, but these iconic designs will last forever.
Arne Jacobsen designed the Egg chair, one of the most influential post-war furniture designs and the Ant chair (1951) for Fritz Hansen, a commercial chair manufacturer based in Denmark. The ant chair is familiar in restaurants, public halls and other high-density seating situations. If you saw one, you would know the design instantly.
Carl Hansen (no relation to Fritz) specialises in classic design chairs by Hans J. Wegner. Carl Hansen has been making Wegner's designs since 1949 when the Wishbone chair went into production with a woven fibre seat. Other designs include the Shell chair a three-legged chair designed in 1963 featuring a lacquered bent plywood frame with wool seat elements. The Shell chair sells for around $2,000 each.
Above: Shell (top) and Wishbone chairs
The stackable Elbow chair dating from 1956, is one of the most difficult chairs to manufacture but this is now achieved with high technology. Carl Hansen also produce a number of other classic Wegner chair and table designs so well regarded they are exhibited at the Museum of Modern Art in New York. Carl Hansen is a company built on quality, technology and relationships; but most of all, design.
Hans J. Wegner
Hans J. Wegner trained as a cabinetmaker before attending the Copenhagen School of Arts and Crafts, where he later lectured from 1946–1953. From 1938–1942, he worked as a furniture designer in Arne Jacobsen and Erik Moller's architectural workshops and in 1943 set up his own studio. Inspired by classical portraits of Danish merchants sitting in Ming chairs he designed the Chinese chair, the first of a series of chair designs that helped establish Denmark as an international leader of modern design. The Wishbone Chair is widely considered to be the most successful of the series.
Wegner is one of the principals of Danish Modern furniture. His designs were intended to stand on their own merit, and not necessarily form part of a set. He has a deep understanding of furniture for everyday life, his designs characterised by a dedication to practicality and comfort. His furniture is not only beautiful but also practical. Wegner said, 'Many foreigners have asked me how we made the Danish style, and I've answered that it was rather a continuous process of purification, and for me of simplification, to cut down to the simplest possible elements of four legs, a seat and combined top rail and arm rest.'
Wegner's preferred method of working was to start with a sketch from which he would make a 1:5 scale model followed by a full-scale prototype. Before beginning production, each piece of furniture was drawn at full scale on a single sheet with the drawings — two elevations and a plan view, superimposed on one another. Wegner says, 'A chair should allow freedom of movement and accommodate more than one sitting position'.
Throughout his long career he has designed furniture extensively for Johannes, Carl and Fritz Hansen. His furniture includes cabinets, tables and other works, but his (almost) 200 chairs are what he is most remembered for including more recently, airport seating. Wegner and other famous architects and designers are all around the same age and in their heyday, inspired each other to competition and excellence. Hans always looked to a new design each year. For his work, the Royal Society of Arts, London made him an Honorary Doctor in 1959. In 1992 he handed over his design studio to his daughter Marianne who continues to look after his designs and follow in his footsteps. Hans Wegner celebrated his 91st birthday on April 2nd 2005 and still receives a royalty for every chair produced.
Factory visit
I visited Carl Hansen and Son in May 2005 with a study group from Holmesglen Institute and RMIT University (Melbourne). Finn Tang Thomsen of the Danish Institute of Technology introduced us to director Knud Erik Hansen. The company Carl Hansen and Son is 100 years old and located in Aarup near Odense in central Denmark. The new 6,000 square metre complex was built to create an environment planned to maintain traditional craftsmanship, modern technology and pride in making what may be the most beautiful and sought-after chair designs in the world. Nowadays production is entirely Hans Wegner's design and is sold in North America, Japan and throughout Europe. Knud Erik previously managed a bedding factory and bought Carl Hansen and Son from his brother who was not interested in expansion.
While the present factory in Aarup employs all the very latest technology, all products are still made with attention to detail and traditional construction methods by the long-time staff. Oak, cherry and walnut timbers are delivered three times a day. The wood is steam bent as required, or machined in four automatic Zuckermann copy lathes. All reject timbers are returned to the supplier for credit. Sophisticated five axes CNC machines are used to shape some complex components. Carl Hansen uses CNC machines because low technology countries are unable to compete against the repeatability and consistent quality. The furniture designs are also very difficult to copy. As an instance, the Elbow chair side, back and front rails are curved and meet at the legs. Designed in 1956, it was believed to be too difficult to manufacture economically but that was until new technology came along.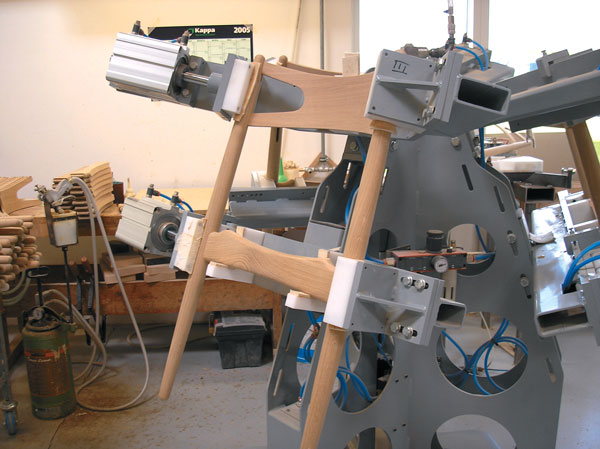 No mechanical fixing is used on the product and all assembly is done with traditional cabinetmaking joints such as dowels, and mortise and tenons. Some species (especially oak) often move during the (glue) drying process so the assemblies are held in custom-made clamps until dry. A significant part of the process is in sanding the product and some of this work is done with computerised robots, almost human in their movements, sanding complex shapes on a 24 hour a day schedule.
Robots are becoming more common in the European furniture industry and Denmark is a world leader in robotic technologies through the Odense University College of Engineering's Robocluster. Apart from this, the finishing of the product is often outsourced because this process is very time-consuming. Before sanding, all the parts are soaked in a solution of soap and water to raise the grain; this results in a glossy, smooth finish that is a characteristic of the product. The end of the process is the weaving hall. Forty weavers weave only eight chairs a day in a bright, spacious and quiet environment but are penalised if they do more. The quality of finish is too important to risk.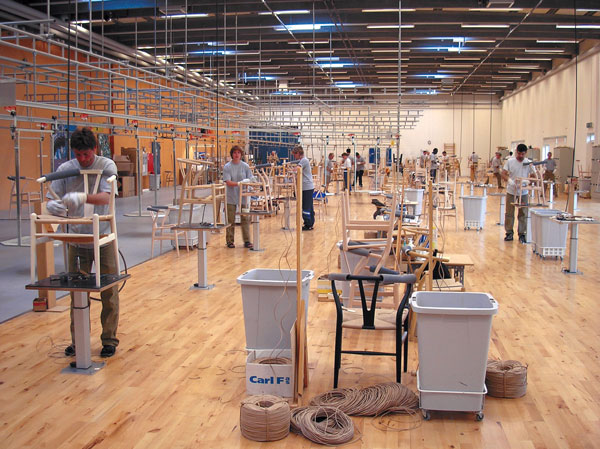 Design sells
'The design sells itself' is a lesson for all would-be designers and furniture makers. Drawings from the 1940s are still used in the modern factory. Recently Marianne Wegner paid a visit to the company to inspect the designs. She observed that the Wishbone chair back legs were not as her father designed. Pulling out the drawings, Knud Erik asked what the problem was. Marianne produced a drawing with a later date and modifications to the design so production was stopped while alterations were made. Such is the influence of the designer!
Marianne is an accomplished furniture designer in her own right and recently designed a table where no person sat near a leg. The table was designed for the lucrative Japanese market but turned out to be too big. Wegner's designs are manufactured under licence and cannot be modified. This can only be done in consultation with the designer. Minor modifications have been made to some of the chairs for comfort and width. An extreme example is that over the last 20 years Wegner's chairs have been raised 20mm due to the population getting taller.
Today, Carl Hansen produce four times the number of chairs they made four years ago. Carl Hansen is 95% in the retail market while the namesake (Republic of) Fritz Hansen is primarily contract and commercial. Knud says that for Carl Hansen, relationships in business lead to new customers. Progress has also been made partly due to the loyalty of their staff that assists in the development of new product, often coming in unpaid over the weekend to develop new processes.
The high cost of the product makes efficiency all that more important and plenty of time is devoted to ironing out the wrinkles. Engineers are often employed to look at minor changes to the design and manufacturing process in a continuous improvement schedule. New technology is used to allow the company to expand, lowering costs and maintaining quality. Knud says the company 'does not make much profit per chair but we make a lot of chairs. We have made the same chairs for 54 years. We ship worldwide at moisture content of 8% and have less than 1% breakage. Our future looks good and recently, at the Milan fair we saw current trends are to steel, glass and plastics but we feel that wood is coming back into fashion'.
Overriding commitment to maintaining high quality and design values continue to give Carl Hansen and Son their well earned international reputation.
Photos: Soren Larsen
Reprinted from Australian Wood Review, issue 49, 2005. Philip Ashley is AWR Machinery Technology editor.
The corporate video produced by Carl Hansen and Son and published in 2014 gives further insight: