Making waves: Optical illusion marquetry box

Ronnie Rozenga's Marquetry Optical Illusion Box literally made waves as a shortlisted World category entry for last year's Maker of the Year Awards.
Ronnie Rozenga @ronnie_rozenga lives in Holland and describes himself as a restoration carpenter, furniture maker and marquetry artist. In a just-released video he shows the process of making the marquetry lid. The box is made from fiddleback ash, wenge, jatoba, maple, padauk and ebony.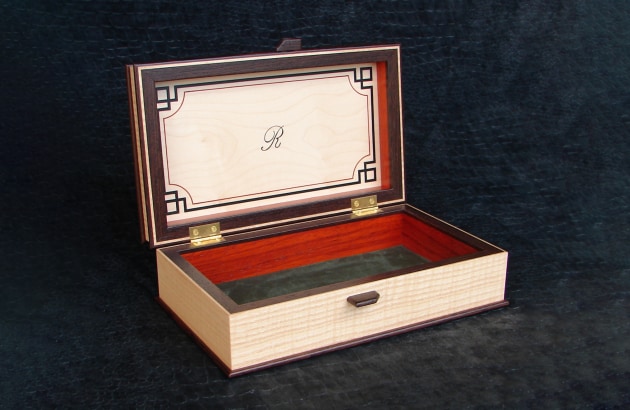 'The basis of the marquetry is a perspective drawing with a wavy pattern. I had seen this design once and reconstructed it by making a perspective drawing with a vanishing point to the right,' he explained. 'The maple for the marquetry is selected on a curved grain that follows the waves of the drawing. The grain of the jatoba follows the straight lines of the drawing. Sand shading provides extra depth. The inside of the lid is made of maple. The 3mm lines are inlaid with ebony, as is the initial. The thinner 0.9mm lines are inlaid with padauk. The lid closes by means of hidden magnets in the wenge parts. The bottom of the box is lined with green fabric.'