Make a hybrid shooting board/sawbench
 
Words: John Totenhofer
Photos: Jedda Lemmon
Hand planes are the workhorse of the hand tool kingdom, but squaring the edge of a board can take a lot of practice. this is where a shooting board comes into its own.
This shooting board is a little different from the typical style, as it is more of a hybrid of a saw stool and a japanese planing board (dai). A dai is traditionally a heavy piece of timber at which you sit at one end, tatami mat posture (cross-legged), and pulling, not pushing your hand tools.
The height is comfortable for cross-cutting (as I am doing above) with your chosen hand saw, which it is good to reacquaint oneself with, or if you are a beginner starting to use one. I like a panel saw for 19mm material and a fine Japanese saw with no spine for small sections.
If you build one of these shooting boards make it comfortable for your height. The stool's core work is squaring endgrain but l have made a parallel sliding fence (fig.1) so that after docking material to length I can plane it to the desired width with no need for a marking gauge. This done, you square ends and then all components should be square, parallel, and dimensionally the same.
This is particularly handy when preparing drawer sides or boxmaking. The height of the stool should mean that you can put your body weight behind the plane or, if you like to, sit down and use it like a Japanese dai.
The design for the dai stool came about because I was teaching woodworking one night a week and I wanted my student to be able to square wood accurately without machinery after stock is dressed two sides. One feels a real sense of achievement doing things by hand, and using a hand plane is one of the best ways to become sensitive to grain direction and the workability of different timber types.
The plan shown in figures 2 and 3 is a guide only and you should suit your dai stool to the space and material you have. Use well seasoned timber that you can touch up with a hand plane as you may need to flatten it at the end unless you have a wide jointer. I had some old oregon and hardwood for the high wear area.
The stool should be heavy enough not to slide when you put your weight behind it, and it can help to place a non-slip mat under the legs.
If you choose to build a dai stool like mine you will find it a valuable companion to your workbench when it is cluttered, or you have an item that sits too high to work on.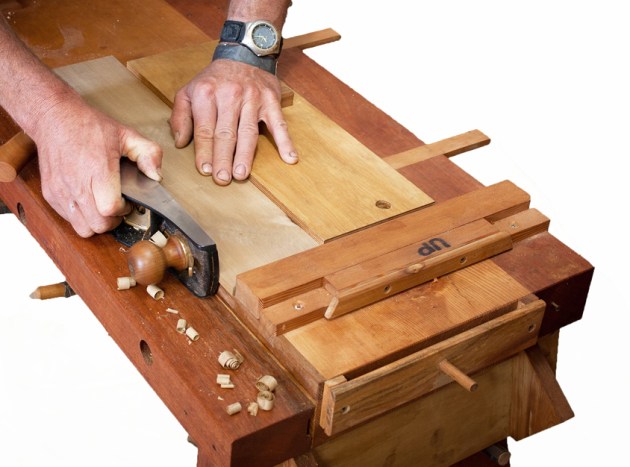 First published in Australian Wood Review magazine, issue 80.
John Totenhofer is John Totenhofer is based in the Illawarra, NSW. His core work is building and he enjoys fine woodwork and being in the bush in his spare time.