How to make stick furniture
 
Above: The finished chair, made with sticks, branches and a board.
Words and photos: Jeff Donne
Forever the challenge is to get from an inspired beginning to a satisfied end without falling while you wander, bumping your head and forgetting where you were going in the first place.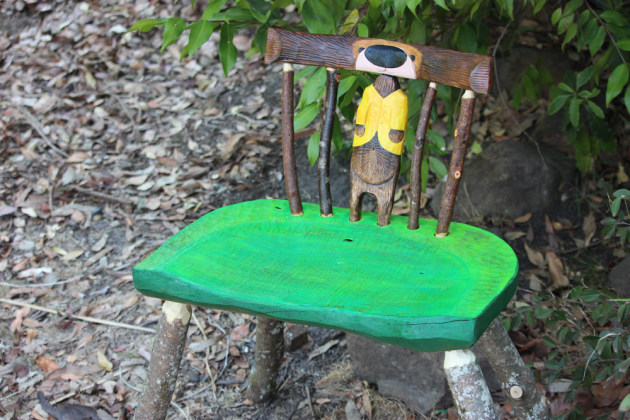 That would be the muddleheaded approach to woodworking that sends you in every direction with the exception of the one place you want to go. But sometimes wonderful things come from a wander through the woods.
I was asked to make a chair, a stick chair that makes the most of the bits and bobs we have hiding in the shed, garden and woodpile. But I couldn't think which way to go. So I wandered.
I thought about memories of old Welsh stick chairs I'd seen, Jögge Sundqvist's folk art carving style, and Dan Mack's stick chairs that inspired my early work back in the 90s, but muddleheaded I remained.
Which is, or course, who I am, a muddleheaded man at best. And since we should try leaving a part of who
we are in the things we make, I found a light bulb of inspiration being lit by none other than Ruth Park, creator of The Muddle-headed Wombat.
And so a chair was born, with the real challenge being not to make it a 'hidjus old pollywobble!'
1. Some of the tools I 6. used, but all you really need is an axe, knife, saw and drill.
A few tools
Making a stick chair means you can use many of the tools you already use for carving spoons or other slöjd* projects.
At its most basic, a stick chair can be made using the following tools:
For this project, I used some extra tools:
• A tool for hollowing the seat – a carving gouge will do the job, but I used a hand adze and a Swedish bowl hollowing tool called a trågskav
• A froe for splitting wood,
but your carving axe will do the same job
• A small Japanese gouge used for texturing the wombat 'fur'
• A homemade club for assembling the chair
• And a Veritas tenon cutter (5/8"), but a carving knife will do the same job
2. Swedish trågskav, also 7. known as a scorp.
Sticks and boards
Use what you have at hand. I used thin sycamore stems for the legs, black sheoak sticks for the spindles, a chunk of poplar left over from a wood chop event for the wombat back splat, a bent cherry branch for the comb, and a small slab of cracked and sorry-looking silky oak for the seat. All of it I had sitting in my shed.
3. Future chair: sticks and an old, old board.
As a puppet and spoon maker these are my favourite materials because they are full of life, readily available, and devoid of straight lines. This can of course be a problem because there is no line of reference, but if approached in the same way we make spoons and puppets, it becomes a chair that grows from the tree's will and limitations, producing a joyful collaboration.
Dry or green wood
Start with a picture you transferred from your imagination to your notepad and then cast your eyes around your shed, woodpile and garden. See what fits the bill. If you find things that kind of fit, then go with that, but if not, think about adjusting your design to the materials you have.
If all of the sticks you have are green (freshly cut), that's great as it will be easier to work, but keep in mind that wood warps and shrinks as it dries, so don't go carving all of your tenons to size just yet. I find using a dry slab of wood for the seat a better option to avoid any cupping or warping later on.
All of the wood I had was dry, so after cutting things to size I was able to whittle most of the tenons to size straight away. For the legs, I used an axe to get things started and then finished whittling with a knife. Everything else was done with just a knife or my fancy Veritas tenon cutter.
4. Sawing legs to length with a pruning saw.
5. First design: 'start with a picture you transferred from your imagination'.
6. Carving tenons: lean forward with elbows on knees for a safe carving position.
 7. An alternate safe hold when whittling leg tenons.
What size?
By now you may be wondering where the cutting list is. How big should this thing be? Well, other than the distance from floor to seat, everything else is open to your imagination and the materials at hand. For an adult chair, the distance from floor to seat should be about 450mm. Bear in mind the legs will be splayed so they will need to be cut longer than 450mm to accommodate the seat height. I made mine a little shorter because I wanted it to be comfortable for both adults and kids.
When selecting wood for the legs, consider something fairly thick – but not overly chunky – because wood in-the-round doesn't have the same strength as cleft wood. For this reason you should keep the leg tenons fairly thick too; I made mine 25mm.
8. Always chamfer the tenons to ease entry into mortises.
9. The leg tenons are now ready.
10. The Veritas tenon cutter attaches to a power drill.
11. Sketching out the seat shape and contours.
12. Initial hollowing using an adze and supporting my wrist.
13. A trågskav, also known as a scorp, was next used to hollow the seat.
Shaping the seat
Carving the seat comes next. In more conventional chairmaking you would drill the leg and spindle holes before carving the seat, but this piece of wood was riddled with cracks and I wanted to get the feel of what I was dealing with before plunging a drill bit in. Sure enough, I found all manner of cracks and giant bug holes, but the strength was still there.
I started the seat carving with a hand adze to rough things out, and then I used my Swedish trågskav to refine things a little. The grain was all over the place so I found myself constantly changing from cutting across and along the grain. Going across is easier, but it leaves a rougher finish. I wanted a finish showing off the tool marks so I ended with gentle cross-grain cuts.
Next, I did some basic shaping of the seat rim using a combination of saw and axe. Again, I was looking for a textured finish that shows off the tool marks.
14. Using an axe to shape the edges and back of the seat.
15. Refining the seat shape and finish with a knife.
16. Splitting the comb with a froe ona workshop made log and branch sawhorse.
17. The axe comes out again for initial shaping of the comb.
18. A line is drawn on the angle guide to mark the spindle mortise angle. Every hole is set at a different angle to suit the stick.
19. Drilling leg holes using a scrap wood angle guide.
20. One hole drilled with the aid of the angle guide.
21. A dry test fit allows for adjustment of angles.
22. Next job is to drill holes for the spindles and back splat.
23. Fitting the comb onto the back splat ready for positioning spindles.
The back splat and comb
And now for the fun part: carving the wombat. The body – in chair speak this is known as the back splat – is carved from a piece of poplar. Far from being the toughest wood around, it did, however, make it much easier to carve. The strength was bolstered by the spindles either side, which are made from black sheoak, a much stronger wood.
24. Establishing spindle angles before drilling holes in the comb.
25. Lining up the spindles.
Carving the shape and details was achieved with two primary knife cuts: 1. Severing the fibres by pushing the knife edge into the wood to trace a line – for example the hem of the coat. 2. Pivoting the back of the blade off your thumb to undermine the severed fibres, leaving a ledge where the line was. Additional detail was carved with a 6mm Japanese carving gouge to achieve a textured finish for the fur.
The head and face are carved into the comb of the chair. To prepare this piece, I started with a naturally bent cherry branch and split it in two using a froe to guide the split.
26. Marking spindle mortise hole angles.
I used my axe and knife to tidy up the surface and I then applied the same knife techniques mentioned above to carve the details. The face requires slightly deeper cuts to really bring out the facial features, and the tip of the blade is used more for the finer parts such as the eyes. Take this part slowly for the sake of you and the wombat!
Drilling mortises and fitting spindles
Next, I drilled holes. Spindle tenon diameter can be dependent on the size of stick, but in this instance they were 5/8" at the bottom (I used imperial because my Canadian Veritas tenon cutter doesn't come in metric), and 12mm at the top to fit nicely into the comb.
27. Comb fitted. No glue needed because of ill- fitting tenons – extra strength can be achieved by drilling and pegging the end spindles.
Whittling tenons to fit is where you curse not using straight wood. Every hole needs to be a slightly different angle to accommodate the curve of the stick. Much of this is done by eye, feel and memory, but is made a little easier once one end of the stick is in place.
28. Paint and linseed oil really bring out the texturing.

Spindles, for example, can be tapped into their seat holes, while you hold and draw pencil lines onto the comb showing the angle of the tenon.
It is perfectly normal to get these slightly off, which is part of the miracle of stick furniture, because a row of slightly ill-fitting tenons pushing in opposing directions can really strengthen things up. This eliminates the need for glue in most cases. Here the legs were glued in, but not the spindles.
With all tenons driven into place using your homemade mallet, you now have a chair ready for refining. If it wobbles, even up the legs using some wood scraps to prop up the short leg, check it's fairly level, and then use an off-cut and pencil to mark on each leg where it needs to be sawn.
And now sit. It's a glorious feeling.
I painted mine for that whimsical look. If you want to do the same I suggest some watered down artist acrylics sealed in with some linseed oil.
Is it fine furniture? No. Is it a chair that is a fine experience to make,
sit and read the Muddle-headed Wombat in the garden while sipping elderflower cordial? Absolutely!
* Slöjd or sloyd is a system of handcraft education developed in Finland in the mid-1800s that went on to be taught worldwide for varying lengths of time. It is still taught in Scandinavian schools.
Jeff Donne is a professional spoon carver, treecraft teacher and puppet maker from the far south coast of NSW. He runs
regular puppet and spooncarving workshops in many places, including Sydney, Canberra and Pambula NSW. See: www.spoonsmith.com.au