Customise your dowels
 
Words and photos: Raf Nathan
Dowel joints have been used for thousands of years. Drill a couple of holes, tap in a wooden insert and bring two pieces of wood together for a joint that is quite strong. Dowels are not perfect for all joint applications but their versatility sees them used in a variety of industrial and small scale situations. Some specialist dowels can be bought and you can make you own.
Ready-made dowel for use in cabinetmaking is readily available in various sizes from trade suppliers and hardware stores. Standard diameter sizes for cabinet work are usually 6, 8 and 10mm, in lengths of around 50–60mm. Commonly used timbers are ash and beech. This type of dowel has tiny grooves running lengthwise to facilitate insertion and adhesion (the grooves hold the adhesive and allow air to escape).
Larger diameter dowel is also available in longer lengths but generally without the grooving. You can cut a small groove into this type of dowel if you wish as trapped air can stop the dowel from being fully inserted. Dowel lengths made from Tas oak, meranti, pine and jarrah are available from hardware and timber yards in diameters up to 50mm.
Miller dowel
Released in North America some years ago and now available in Australia a radically different approach to dowel jointing is offered with the Miller dowel. Forget about dowelling jigs or drill presses because the Miller dowel system is designed to eliminate their need.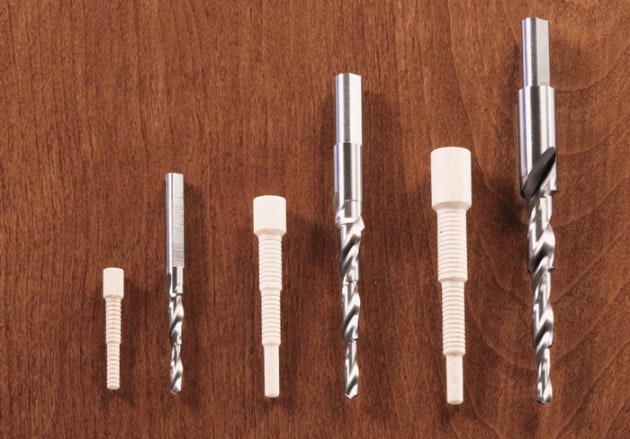 Stepped drill bit and three sizes of birch Miller dowels
The system has two components: an engineered dowel and a stepped drill bit. The small dowels are turned and have four steps along their length. The two middle sections have horizontal grooves to hold glue while the end step acts as a cap which, when levelled to the surface of a cabinet or shelf, gives the appearance of a wood plug. The corresponding drill bit is stepped, starting at the smallest diameter which allows the drill bit to be guided freehand.
Drill holes in outer timber component, apply glue to dowel and tap in place.
As you would expect, you need to first mark hole positions and then drill them. A small ridge at the top of the drill bit acts as your depth stop. Glue is applied to the dowel, which is then driven home. As the dowel is driven into the wood it forces both parts together and locks them in place. The horizontal grooves in the centre of the dowel act in concert with the end step in the manner of a nail head. Once the glue has set the protruding piece of dowel is sawn flush and gives a decorative appearance. The dowels come in three sizes and a selection of timbers: birch, cherry, oak and walnut.
Cut-away showing Miller dowel compared to standard furniture dowel.
Naturally, the overall effectiveness of the dowels will depend on your ability to drill accurately. Whilst there are virtually no instructions it's fairly easy to figure out the process. You may find it helpful to use a drill with a vertical guide to obtain perfectly perpendicular holes. The drill bits are relatively expensive at $22, $31 and $37, and hard to sharpen with their stepped profile. Dowel price will vary but will be around 30–40 cents. The system suits both professional and novice woodworkers but is more suited to one-off style production.
Making your own
On the odd occasion when you've run out of the commercially available variety a dowel making device can be handy, but for special jobs it will be invaluable. Exposed dowel joints can be decorative when made from either a matching or contrasting timber species. Short sections of dowel in chosen timbers can also be used for door or drawer knobs or as plus. If you want to be able to produce custom dowels there are a few options.
Workshop-made dowel plate
The simplicity of the dowel plates is its greatest virtue. For occasional use a rough dowel plate can be shop-made. Drill a hole to the required size in a piece of dense hardwood, say 70mm wide, 130mm long and 19mm thick. Hand plane the top face smooth. Select the wood to be dowelled and plane the square edges down close to final size. Driving this through your wooden dowel plate will produce useable material.
Lie Nielsen and Chinese-made dowel plates
Chinese-made dowel plate
A hardened tool steel plate with pre-drilled holes will also allow you to hammer through roughly sized timber to make your own dowel lengths. Two plates you can buy are the Lie-Nielsen and a Chinese version which is obviously a direct copy. The Lie-Nielsen comes with a short instruction sheet stating it is made from A2 tool steel hardened to 60 Rockwell and then cryogenically treated. The Chinese plate comes without a product description or instructions. Made from a softer metal it wears quickly and loses its lightly etched markings on honing; the Lie-Nielsen is deeply etched and shows little wear.
Lie-Nielsen dowel plate
When you use a dowelling plate it's best to prepare your timber as close to the finished diameter as possible, which means planing off the edges or corners. The dowels you will produce will be usable as is for jointing. If you want dowels that are acceptable for show work you'll need to get out the sandpaper.
Veritas dowel and tenon cutter
A more sophisticated dowel making solution is offered by Veritas with their dowel and tenon cutter. Like a large pencil sharpener, spinning wood is simply fed into the cutter with a drill. A hefty cast alloy body holds the carbon steel cutter. The cutter edge is radiiused and can be moved back and forth on a serrated face which is locked in place with allen screws. The body has a large entrance hole and an exit hole sized to accept the finished dowel. There are three sizes of cutter available: 3/8", 1/2" and 5/8".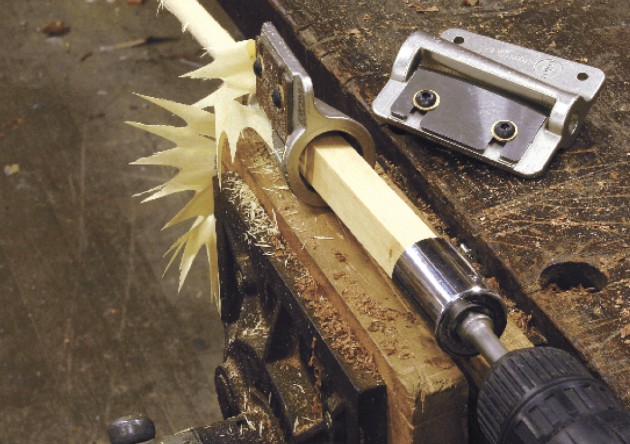 The 3/8" Veritas dowel and tenon cutter is mounted in the vice; the 1/2" model is on the bench.
To use the cutter you first square a length of wood— it needs to be oversize by a few millimetres all around. Almost any length of dowel can be made, but for lengths over 600mm or so you will need to make up a simple support. It is best to secure the cutter in a bench vice. The wood is then mounted in a socket head fitted to a drill (a cordless drill is fine). The dowel lengths produced will be relatively clean, but you'll need to sand them if they will be exposed. Best results are produced with a freshly sharpened cutter and when you feed the wood through at a slow speed. The adjustment of the cutter position means you can tune the tool to cut dowel a little under or over the nominal size.
Veritas basic dowel maker
Veritas basic dowel maker
Veritas also make a more sophisticated dowel making unit. The Veritas Basic Dowel Maker can make dowels from 1/4" up to 1" in diameter. It takes a while to understand how the tool works and to set it up, but once you've got it sorted you can quickly make short and even long lengths.
Two adjustable cutters are the reason why. The first cutter removes most of the waste and the second cutter is set to take a finishing cut. Wood is mounted in a socket head like the other Veritas unit, again using a drill to feed it through the tool. It is a substantial unit made from cast metal and will suit the maker wanting maximum flexibility in producing dowel in any timber and any size up to 1" (25mm).
Dowel joinery is an ancient, tried and tested system. With a range of ready-made dowels available, or the option to custom-make your own, it's an adaptable and easy to use everyday woodworking solution.
Raf Nathan is a Queensland based woodworker and furniture maker.