Reviewed: WoodRiver dado set

Review: Damion Fauser
New to the Australian market from WoodRiver is a stacked dado set for cutting grooves and dados on a tablesaw. At 200mm (8") in diameter and with a standard 5/8" arbor size, this set will be compatible with most 250mm tablesaws on the market. The large 200mm diameter will give a higher circumferential tooth velocity and shallower tooth entry/exit in the cut, both of which will assist with yielding cleaner cuts than smaller 150mm (6") sets.
Made in Israel from quality components – German steel and premium Ceratizit carbide teeth, the set includes the two primary sawblades as well as a set of five robust chipper blades. The tooth count and size on the primary blades is good, with each blade having 24 teeth and generous gullets for waste removal.
Tooth geometry has been well thought out also, with the primary blades having every sixth tooth as a raking tooth. Combined with the raking tooth profile on the chippers, this set yielded cuts with perfectly flat and smooth bottoms. Common to all dado sets are the sharp little valleys from the points of the ATB teeth in the very corners of the cut, but on this set it was very much minimised, which is a credit to the tooth design and manufacturing on this tooling.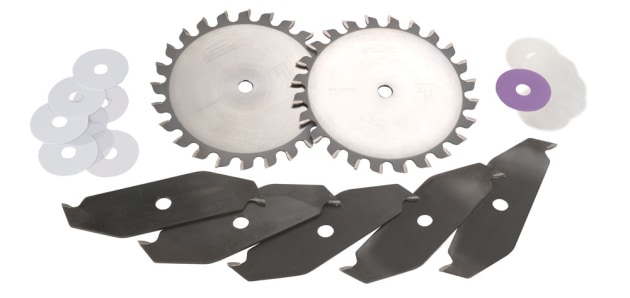 Also included in the box is a set of spacer shims for dialing in precise dimensions. In a very clever move, this set has been colour-coded for each shim thickness. I know with my own set of shims on my tooling, I need to measure them each time with calipers to verify their exact thickness, so this colour-coding is a fantastic idea. The shims are indexed on the included card with both metric and imperial thicknesses. Don't let the prospect of conversions stress you out, simply work to workshop reality. By this I mean add chippers and shims to your approximate dimension, make a test cut and add/remove shims as required. Dress your mating stock accordingly to the final dado width and you're good to go.
The set is capable of cutting dados up to 24mm in width which is substantial for a set this size. As with any dado set be wary of the stress that deep and wide cuts can place on your arbor, so multiple shallow passes are much preferred.
I ran a series of cuts in some particleboard, as well as some rip and crosscuts cuts in a piece of dense hardwood. All cuts were super clean, and I was particularly impressed with the tidiness of the cut in the particleboard, with no tearing or chipping evident.
Considering the quality of this set for $297.50 at time of writing, it's extremely good value.
Review set supplied by Professional Woodwork Supplies, www.woodworksupplies.com.au
Damion Fauser is a regular contributor to Australian Wood Review magazine.