Review: Parken Drill Press

Above: The Parken drill press is not supplied with a chuck, but is pictured here with an Albrecht keyless chuck.
Review and photos: David Luckensmeyer
A drill press needs to drill holes precisely in a variety of materials. That means it requires: an accurately calibrated quill or spindle that can indicate hole depths, a solid moveable table, the ability to change speeds, and next to no run-out. Most drill presses on the market, more or less, have these features. But very few presses actually tick all the boxes. I bought a Parken drill press in 2014, and these are my thoughts on the purchase.
Parken Engineering has been open for business since 1945, as a partnership between 'Pardy' Haussegger and Ken Pizzey, with the name 'Parken' derived from a combination of their names. Michael and Karl Haussegger (brothers) took over the business in 1972 and have been working out of the original factory site in Clayton, Victoria, ever since. The company is busier than ever – 'flat out' to quote Karl in a recent conversation I had with him.
Above: Showing the belt pulley system.
Amongst their line-up of machines, which are wholly Australian-made, are a series of bench and floor model drill presses, ranging from $2,300 to $5,700. I purchased the top-of-the-line B8 variable model in 2014 for $5,562. Its specifications include a spindle travel of 140mm, throat depth of 260mm, 90mm solid precision ground hard chrome column, 380mm diameter table, integrated VFD with speeds from 10–10,000 RPM, MT3 (for the chuck), a capacity of 1,173mm between spindle nose and base, and the machine weighs in just under 200kg.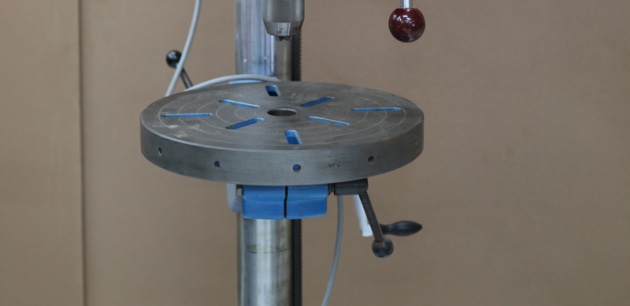 The Parken has a solid, movable 380mm diameter table.
Anyone can read those specs on the website. But how does the drill press perform year after year in a professional environment? Very well indeed. The Omron VFD and the 1.5kw S1 continuous duty rated motor has not skipped a beat and it is so easy to decrease or increase spindle speeds electronically. As such, I rarely need to change the belt location on the pulleys and there is no perceptible vibration in the system.
Quick depth measurements via a well calibrated zeroing mechanism.
The large spindle travel is essential for deep holes but it is the depth stops I love most on this press. On one side there is the usual vertical threaded rod and double nut system for accurate repetition. On the other side is a lovely machined and calibrated aluminium zeroing mechanism for quick measurements of hole depths. All one has to do is line up the '0' mark when the drill bit is resting on the surface of the timber to be drilled. As long as the hole depth is not absolutely critical (which it often is not), I can tell instantly how deep the hole is, to the nearest millimetre.
I've skipped over lots of other desirable features, including the e-stop for emergencies, reversing feature for tapping of threads, integrated LED light, thrust bearing for the table up-and-down mechanism, and precision-made 12 point indexing pin. Some won't like the fact that the table does not tilt, but that has not bothered me. A couple of years back the on-off switch broke and had to be replaced. And the VFD does emit a high-pitched noise that takes a little getting used to. But overall, this machine is a joy to use, and will no doubt outlast me. I love owning a little bit of Australian manufacturing history.
Parken machinery from www.parken.com.au
David Luckensmeyer is a Brisbane based woodworker and furniture maker, learn more at www.luckensmeyer.com.au