Review: Hafco BP310 Bandsaw

Review: Damion Fauser
The middle size of a range of three saws, this machine has been designed and appointed to suit the home user, and considering the price range, it has some handy features. Supplied for testing with a Starrett 1/2", 6tpi blade, this machine required very little tuning to perform some clean and effortless cuts in hard and softwoods up to 75mm thick. The machine can accept a cut height of 165mm, but very careful blade selection would be advised in this case.
Top and bottom guide sets were European wheel-style ball bearing lateral guides and roller thrust bearings. Adjustment on the guides was not quite tool-less, with an allen key required for the lateral adjustment of the wheels.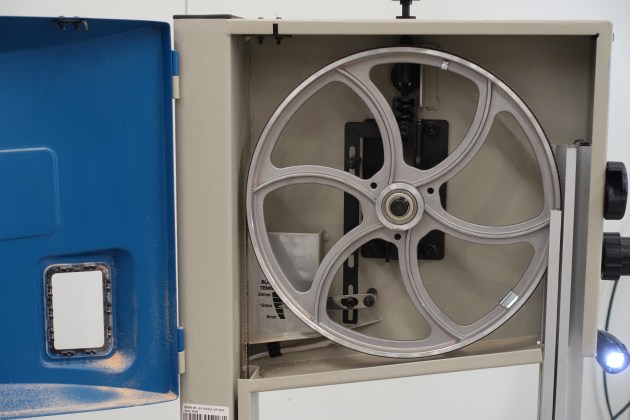 Upper housing showing tension indicator.
Lower wheel housing showing dust port.
All adjustments are easy to make, with a quick-release tension lever, hi-low rip fence on a rail with ruler, solid rack-and- pinion table tilt (to 45°), quick-release adjustment of the pulley for changing between the two available speeds (370 and 800 m/min), smooth and lockable post height adjustment and a lockable wheel for blade tracking.
There is a window to view the blade tension indicator, but I also would have liked to see a window on the side of the upper cabinet for viewing the upper wheel when setting the tracking.
Safety has been well thought out, with an emergency stop switch that is easy to see and reach as well as independent micro shut-off switches in both wheel housings to deactivate the motor when a cabinet door is open.
Hi-low extrusion fence
Situated at a good operating height on a steel stand, with a cast iron operating table of 480 x 390mm and weighing a mere 62kg, this machine won't take up too much space and is relatively easy to move around. The 0.75kW (1hp) single phase 10amp motor is perfectly adequate for the range of cuts this machine can make when matched with the correct blade.
Some good design work has gone into this machine with its onboard storage for the included pushstick, mitre gauge and set of adjustment tools, and adjustable LED light.
Handy dust collection tray in lower wheel housing.
Dust port accepts multiple size hoses.
The rear dust port has multiple diameter connection outlets and there is a handy removable dust collection tray below the bottom wheel housing.
Currently this bandsaw is on sale at $715, with smaller BP255 and the larger BP360 also available. This range comes with a two-year warranty and will suit the home user who is conscious of budget and space.
Available from Hare & Forbes Machinery House, www.machineryhouse.com.au/W952
Damion Fauser is a Brisbane based furniture designer maker, see www.damionfauser.com