Reviewed by Raf Nathan
This is a benchtop system designed to assist boxmakers or cabinetmakers with the assembly of various projects. The Deluxe Kit 2 that I was sent to review included X-Mats, L-Supports and Box Clamps. Additional mats and accessories can be bought separately.
X-Mats are modular 12 x 12" resin sheets that interlock to extend to any size. Large moulded indentations in the sheets accept workholding fittings. The large L-shaped support fittings are locked into the X-mat sheet with hand knobs. Once tightened down the supports sit at exactly 90° and being 100mm high they offer secure support for the workpiece.
All this means that box or cabinet components can be positioned on the mat and securely supported during assembly. With all the parts supported you are free to glue or screw everything together without worrying about pieces falling over or not be aligned correctly. For example plywood or other panels can be supported vertically while assembling with screws or similar.
Accessories like the X-Mat Anchor allow you to add in your own wood devices to extend system capabilities. You can make moveable stops or clamp supports for example.
X-Mat Fingers are small plastic inserts with four prongs that raise up parts for polishing. Sitting in the mat means they won't move in use and the material used in the X-Mat is a special resin that repels polishes and glues, so need to worry about any polish splatters. I deliberately poured glue and shellac on one of the mats to test this, and the results were positive.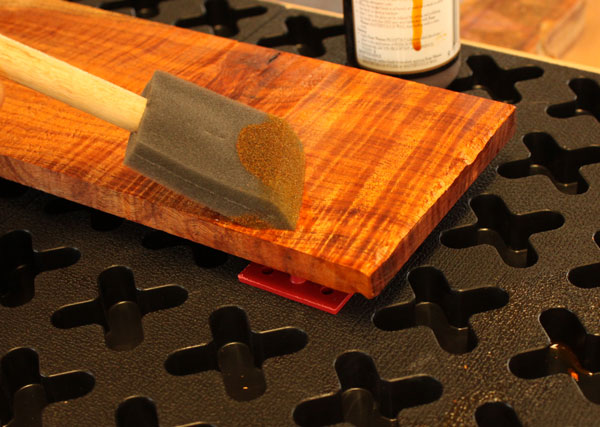 Also supplied were Woodpeckers box clamps. With these you have a unique fitting that clamps the corner joints of cabinetwork tightly. At first I was unsure about the functionality of these but in use they gave a tight and strong grip to butt or mitre joints. The box clamps can be used above or below the workpiece; you choose a knob for above use or use the allen key to lock them if used below.
For boxmaking and small scale assembly and finishing work this is a handy workholding and clamping system that you could easily learn to depend on. By using a number of mats you could set up a workstation for kitchen cabinet assembly and similar.
Supplied for review by Professional Woodworkers Supplies, phone (07) 9776 1521, see www.woodworksupplies.com.au