Woodcraft Goes to the Opera

Thirty-five years later, the exhibition staged by the then-named NSW Woodworkers Group in 1985 remains one of Australia's landmark exhibitions of woodwork. Furniture designer/maker and NSW Woodworkers Association founding member Leon Sadubin recalls how the group went about organising it.
At the conclusion of Woodcraft 83, the NSW Woodworkers Group's1 fifth exhibition since its formation in 1978, we set about to 'design and construct' the best woodworkers' exhibition seen to date. The exhibition hall at the Sydney Opera House appealed to us as a non-pareil venue; all we had to do was to secure it somehow and come up with the goods. We were an unincorporated but well organised group of highly enthusiastic woodies, used to running exhibitions on the smell of a tung oil rag. The next bash would require serious financial commitment. It would require a veritable junta to run it.
Michael Gill, Settle, silky oak, scrub beefwood, with detail also shown
The bearded men who indeed became known as the junta were Henry Black, Gerard Gilet, Alan Wale, Richard Crosland, Michael Gill, myself, and last but by no means least, Paul Freeland and Les Miller (non conformists, clean shaven). Richard Crosland with the assistance of Mike Jefferys ( then Lighting Master at the Opera House) persuaded the Sydney Opera House Trust to 'lend' us their space free of charge for three weeks, which they did 'as a service to the Arts'.
Woodcraft Goes to the Opera was booked for June 11–30, 1985.
 Leon Sadubin, Refectory Table, blackwood
The junta then set out to achieve the following crucial steps. Richard Crosland and I designed the poster featuring a white cedar block bandsawn in the shape of the Opera House set on a sheet of glass, looking as though it was innocently floating away. We invited three distinguished notables to do all the vetting, jurying and selecting of pieces submitted for exhibition. Every light was rounded up to ensure our space looked like Aladdin's Cave. And we had the cheek to demand from the Trust that the whole hall was painted black to enhance this effect.
Bernard Gay, Dining Table with intarsia (detail)
To ensure that woodcraft was indeed 'going to the opera', we commissioned Peter Kolasinski, fine woodworker and group member, to photograph each participant so that we could display our images throughout the exhibition, very much in the style of the dramatic cast of the Opera House productions.
Neil Scobie, Tree Carved Platter
We engaged an exhibition designer (Yolande Clarkson) and invited Pamille Berg, Artworks Coordinator for the New Parliament House architects (Mitchell, Giurgola & Thorp) to launch the event as opening speaker, supported by Dr Wal Gentle, Forestry Commissioner of NSW.
Paul Freeland and sculptures
The most powerful memory I have of the event is going into the exhibition hall on opening night with my wife Ginny, both feeling completely overcome and overwhelmed, having to exit for fresh air before regaining our composure and re-entering what undoubtedly was the most extraordinary wood exhibition ever.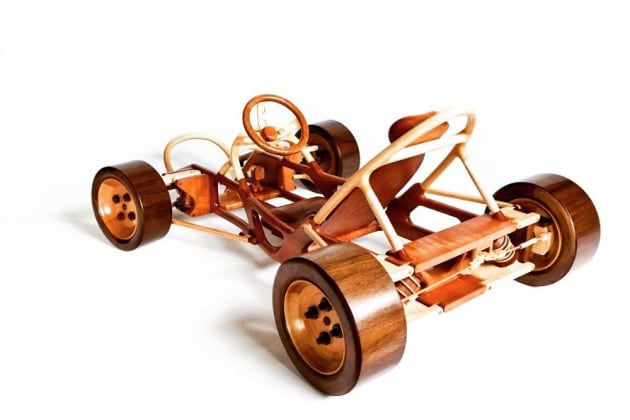 Richard Crosland, Go Cart
To list the participants of Woodcaft Goes to the Opera and their works is mandatory: Paul Freeland, sculptures of great intensity. Alain Babinard, kinetic cabinet. Alan Wale, coin storage boxes. Richard Walker, rosewood and Huon pine desk. Craig Lewis, library furniture. David Lockwood, precision furniture and tools to tolerances beyond us all. Mike Darlow, turned hardwood columns. Rob Parker and David Tucker, chainsaw hewn tables and sculptured dining setting. Grant Vaughan, rosewood cabinet, red cedar bowl and oval mirror. Henry Black, three legged table and chair, and huge lock and key. Jamie Kutasi, brightly coloured cabinets. Robert Neville, Greene & Greene inspired desk and chair. Laurens Otto, intricate traditional woodcarving. Leon Sadubin, three metre long refectory table. Harry Arnall, woodturned bowls. Geoff Hannah, traditionally inspired cabinets with high detail and verve. Richard Crosland, that Go Cart! Clive Warner, extreme hewn furniture. Eric Rayner, Dame Edna's spectacles mirror and nest of tables in silver ash. Michael Retter, marquetry to make you sigh in despair. Nick Hill, fine dimensioned stools and coffee table. Neil Scobie, 'tree carved' platters. Les Miller, cedar blanket chest and woodturning. John Commachio, blackwood sideboard. Bernard Gay, over the top intarsia table called Dinner for Eight. Stefan Bruggisser, organic sculpture forms. Michael Gill, silky oak settle with shaped seat and inlaid cockatoos flying through a Gillesque forest. Laurie Oliver, Krenovian glass fronted cabinet and bench seat. Hans Westermann, those timeless 'please touch me' spoons. Nick Masterman, clinker sail boat. Peter Dorman, dining furniture.
 Grant Vaughan, Bowl, red cedar (Henry Kendall Collection)
The public response was remarkable and the Opera House Trust invited us to exhibit again in 1987. One concern expressed by some commentators was the lack of reference or homage to obvious influences: Krenov, Maloof, Nakashima and Alan Peters. No one of course mentioned the much less obvious influences: Schulim Krimper, Borge Mogensen, Michael Cooper, Jimmy Possum, Shaker furniture, Norse stave churches, woolsheds, axe handles and spokeshaves, hewn farm buildings, larrikinism, perfect breaks…
Hans Westermann, Spoons, red cedar and rosewood
From my own point of view, the realisation of a long held ideal to promote wood as part of the craft movement was achieved. The Woodworkers Group of NSW reached a maturity which was difficult to comprehend. Our first few exhibitions were practice runs for something really extraordinary. Woodcraft Goes to the Opera was like a high tide mark; it left flotsam well beyond the beach right up in the forest, and really influenced many of us and many more woodworkers to become enthusiastic and involved. I will let the incorrigible Michael Gill, the association's then newsletter editor, have the final word2:
'Thank you to all those who honoured their commitment to the exhibition manning roster, who forced catalogues on tightfisted freeloaders, who dusted and cared for their colleages' exhibits and business cards, who scrubbed the scuffs off those bloody matt-black plinths and, most importantly, managed to drag themselves away from their own exhibit to propagandise and "sell" their fellow woodies' work. Congratulations to Grant Vaughan, whose work was so much admired, so often that it became bloody tedious! So help me, if I had a dollar for every time somebody raved about that bloody bowl, that bloody oval mirror and that bloody cabinet, I would be a rich man.'
1. The NSW Woodworkers Group is now known as the Woodworkers Association of NSW, see www.woodworkersnsw.org.au
2. NSW Woodworkers Group Newsletter, July 1985
Leon Sadubin is best known for his furniture in the new Parliament House and the Powerhouse Museum in Sydney. He designs and makes furniture from his studio in Gerringong, NSW.
Henry Black, Lock and Key, Huon pine